This article first appeared in Digital Edge, The Edge Malaysia Weekly, on October 19, 2020 - October 25, 2020.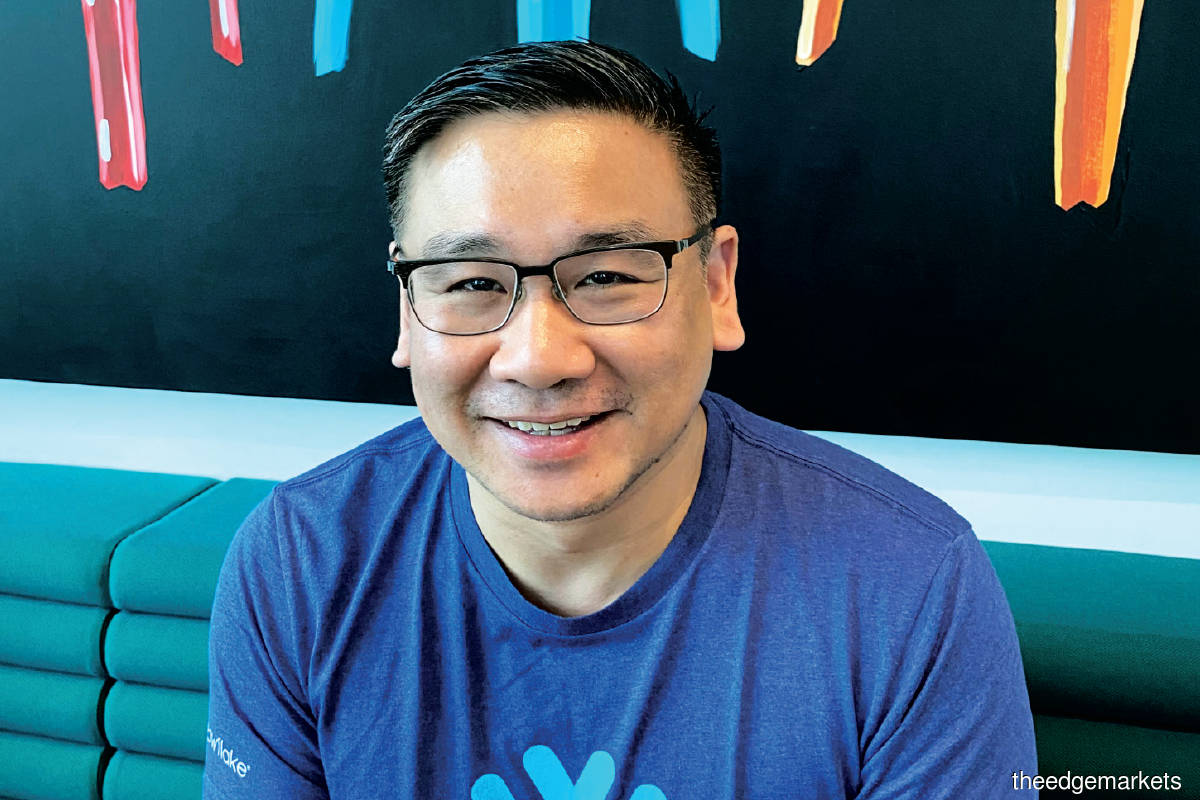 The world is seeing a massive explosion in the amount of data that is being generated. The global datasphere will grow from 45 zettabytes in 2019 to 175 zettabytes by 2025, according to the International Data Corporation (IDC), says Geoff Soon, managing director for South Asia at Snowflake.
"This boggles the mind because if you store 175 zettabytes of data on DVDs and stack them all up, you would have enough DVDs to go around the world 222 times," he notes.
The exponential growth of data is driven by several key factors, such as the Internet of Things (IoT) data and social media usage. Soon explains that traditionally, it was mainly humans generating the data but now, there are devices embedded into manufacturing processes, personal devices and mobile phones, all of which are generating a lot of data.
Touching on social media, he compares how people interacted with the internet 10 years ago and today. With the various types of social media platforms out there, the amount of posts, videos and communication has increased by leaps and bounds.
"Ten years ago, we used to [communicate] through text, chat rooms and email, but now, everyone is posting videos on TikTok and images on other platforms, causing the data load to explode," he observes.
With the emergence and development of 5G, all of this is set to grow even more. Soon says people are still trying to predict the impact of 5G, adding that while most generally associate 5G with speed, in actual fact, it is about bandwidth.
"Rather than connecting 1,000 or 10,000 devices to a base station, we want the ability to connect one million devices. With this massive amount of bandwidth, we see data absolutely exploding across the region in all sectors," Soon says.
Snowflake is a data platform built on the cloud and has been around for about eight years. It spent the first three years creating a new architecture to work on the public cloud, which allows organisations to bring together all the data they keep in silos to distil insights and analytics on how they can improve the way they run their business, develop new products and look at the potential areas of disruption.
Earlier this year, Snowflake filed its papers to go public after its last funding round in February, which valued it at over US$12 billion. The company's shares started trading on the New York Stock Exchange on Sept 16 under the ticker "SNOW". Goldman Sachs, Morgan Stanley, J.P. Morgan, Allen & Co and Citigroup were the lead underwriters for the offering.
Soon says this is an important milestone but it is not the end as the company has a very significant journey ahead of it.
"When I look at what we've achieved, it's definitely something to be pleased about, but I'm more excited about the promise of this region, specifically South Asia. We see some very interesting growth taking place in a couple of areas here," he says.
"South Asia has got some of the highest adoption of social media and we're seeing mobile commerce skyrocket. Asia is an incredibly exciting market for us because the digital penetration is just so broad and it's not focused or concentrated in a certain area."
Disrupting the market
Over the last decade, the barriers to entry for companies to obtain efficient manufacturing solutions have been decreasing. Soon points out that the cost of automating a factory is decreasing and the ability of robots to perform complex tasks is also improving. It cannot be denied that the cost of equipping factories with IoT centres and devices will result in optimised yield.
In that regard, Soon says what is really going to sell Malaysia in terms of foreign technology investments is a strong digital foundation for companies to build technologies on. This is important, especially since the Covid-19 pandemic saw the rapid digitalisation of small and medium enterprises (SMEs) all over the world.
In Singapore, where Soon is based, the tuition industry went from the classroom to online classes within a week.
"All industries have been disrupted and it's amazing because this is not an industry that is run by one or two big players; it's an industry that is run by thousands of mom-and-pop stores. Every SME moving forward will need to embrace digitisation and the ability to offer products and services physically as well as virtually."
Another industry that was completely disrupted is food and beverage (F&B). This is probably the hardest-hit industry in most countries, says Soon, as it faces cash flow and supply chain issues, as well as being able to operate at only half capacity due to Covid-19 restrictions.
"They've had to almost instantaneously overnight work out how to take up e-commerce, manage their supply chain digitally, partner with delivery partners and work out ways to market themselves because the days of people discovering your restaurant are all gone.
"SMEs are making a significant move towards digitalisation and analytics to really understand customers that they may never ever meet and that's where Snowflake hopes it can play a very significant role. Companies can leverage our technology to come up with greater insights on how to manage their customers," says Soon.
Prior to joining Snowflake, he worked at a big data company and while he was there, he realised that while big data was a useful technological advancement, it was incredibly complex to use. The barriers to entry were also very high. This meant that only the top 15 or 20 companies in Malaysia had any hope of utilising big data platforms.
One had to be from a bank or telecommunications company to use the previous generation's big data solutions. What Snowflake has done is completely reimagine these solutions, says Soon. The first thing it did was make its solutions 100% based on the public cloud because that is extremely accessible.
"What I mean is, specifically, the likes of Amazon Web Services, Microsoft Azure and Google Cloud. We've built our solution on top of the public cloud infrastructure, because regardless of whether you're in Malaysia, Thailand, Philippines or Singapore, you will be getting high service levels out of it."
By building Snowflake's data solution on the public cloud, more companies have access to its services. So, for example, if one company uses AWS and another uses Microsoft Azure, both these companies will be able to access Snowflake because it has been built to accommodate both these cloud infrastructures.
"One of the interesting things we see more and more, especially in larger organisations, is that each of the three major clouds have significant benefits and disadvantages and [these companies] take the multi-cloud strategy. That's really where Snowflake is positioning itself moving forward," says Soon.
"We want to be a multi-cloud provider of your data. It's not just about the infrastructure of the public cloud, it's also about the applications on clouds. Many organisations store data in applications, such as Service Now for sales or Workday for human resources. Snowflake sees itself bridging the data in these cloud infrastructures so that the data on premise and the data on cloud is brought together."
The second thing the company realised was that if it developed a solution that was incredibly simple to use, it would reduce the barriers to entry and dramatically increase its total addressable market. Soon explains that if a solution is made complex, Snowflake would only be able to sell it to the top 50 companies in the country.
"If I make something simple, I can sell it to 100,000 enterprises — everything from SMEs to large corporations," he says.
"I would say the combination of the public cloud infrastructure being very available in Malaysia, these brand new data platforms architected from the ground, and the fact that it's not going to cost SMEs an arm and a leg, have made it incredibly easy for organisations of any size to adopt these types of technologies.
"If you look at Zoom, anyone can swipe a card and have a Zoom account for video conferencing, which would have been impossible 10 years ago. It's the same thing with e-commerce … we can start selling whatever we want on the internet with a few clicks.
"We believe exactly the same thing is happening to advance analytics and manage-your-entire-enterprise data. It should be as easy as going to a website, swiping a credit card and getting started straightaway."
Soon says regulations and safety are other concerns with companies, which is something Snowflake has taken the time to address. He explains that there are two layers of regulation — the first is regulation that is applied across the entire country like the Personal Data Protection Act 2010 (PDPA), while the second is industry-specific, such as the Health Insurance Portability and Accountability Act (HIPAA) for medical professionals.
With this in mind, Soon says companies tend to choose software platforms that make it easy to comply with regulations and safety, which is what Snowflake has incorporated in its software. "When you start to look at software-as-a-service (SaaS) companies, the great news is, a lot of the work has been done for you where all you need to do is pay us for the service.
"We are the ones spending time at the back end ensuring that we constantly maintain compliance with all these standards."