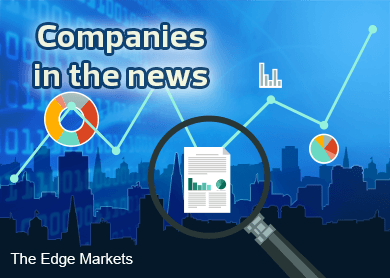 KUALA LUMPUR (May 22): Based on corporate announcements and newsflow today, stocks in focus on Monday, May 25, could include: CN Asia, Ewein, Perak Corp, Scanwolf, Cocoaland, IGB, Pos Malaysia, Landmarks, Sarawak Plantation, Hua Yang, AMMB, Sime Darby and Samchem.
Industrial equipment manufacturer CN Asia Corp Bhd (fundamental: 0; valuation: 0.9) plans to diversify its business to property development by acquiring two adjacent plots of land in Selangor, totalling 237.48 acres, for RM20.5 million.
In a filing to Bursa Malaysia, CN Asia said it has signed two separate sale and purchase agreements today, to effect the purchase. One was with Crystal Bond Sdn Bhd who owns a plot of 117.66-acre land with a net book value of RM300,000, while the second was with Marvellous Production Sdn Bhd who owns the remaining 119.82 acres with a net book value of RM6.6 million.
Both plots are located on Jalan Balakong, Seri Kembangan.
To finance the land buy, CN Asia has proposed a cash call to raise up to RM45.38 million via a 2-for-1 renounceable rights issue — based on an indicative issue price of RM0.50 per rights share — together with free warrants.
Under the proposed cash call, it plans to issue up to 90.765 million rights shares on the basis of two rights shares for every existing share, along the issuance of up to 68.07 million warrants on the basis of three warrants for every four rights shares, which will be offered for subscription at an entitlement date to be determined later.
CN Asia said it will determine the final issue price, once it has received regulatory approval for the rights issuance.
Penang-based metalsheet maker Ewein Bhd (fundamental: 1.55; valuation: 1.4) said it is unaware of any potential takeover offer for the company.
It was responding to a news report, quoting sources, that Ewein could be the target of a reverse takeover, with the takeover price to likely be between 90 sen and RM1.20.
"The board of directors of Ewein wishes to inform that they have no knowledge of the reported statement and the article, nor has received any takeover notice and as reported by the article," it said in a filing with Bursa today.
Perak Corp Bhd (fundamental: 1.9; valuation: 1.7) saw its net profit ballooned to RM15.35 million or 15.35 sen per share in the first quarter ended March 31, 2015 (1QFY15), compared with a net loss of RM2.03 million or 2.03 sen per share, on increased land sales from its township development segment and port operations.
In filing with Bursa, Perak Corp announced its revenue more than doubled (124% increase) to RM50.86 million in 1QFY15, from RM22.62 million in 1QFY14.
Perak Corp added it "may" be able to achieve satisfactory results in the financial year ending Dec 31, 2015 (FY15).
Scanwolf Corp Bhd's three substantial shareholders have filed a suit and an ex-parte injunction application to stop the company and its nine directors from appointing new directors before an extraordinary general meeting (EGM) is held on June 17.
In a filing to Bursa today, Scanwolf (fundamental:0.75; valuation:0.3) said the company has been served with an originating summons dated May 18, a notice of application (ex-parte) dated May 19, and an affidavit in support of an injunction by the plantiffs — Abdul Hamid Abdul Shukor, Cedric Wong King Ti and Yii Long Ging.
The plaintiffs are seeking an order to prohibit the nine directors, through their employees, agents and nominees, from appointing new directors for Scanwolf, pending disposal of the originating summons.
Fund management firm Navis Asia VII Management Company Ltd, on behalf of Navis Asia Fund VII LP, has proposed to take over all the assets and liabilities of Cocoaland Holdings Bhd.
In a statement to Bursa, Cocoaland (fundamental: 2.5; valuation: 1.4) said it received a non-binding indicative offer letter dated today from Navis Asia, for the proposed acquisition.
The firm will deliberate on the offer at a board meeting scheduled next Monday (May 25), and will make further announcement to Bursa in due course.
IGB Corp Bhd's net profit rose 10% to RM65.1 million in the first quarter ended Mar 31, 2015 (1QFY15), from RM59.2 million a year ago, on higher revenue, which rose 13.7% to RM334.3 million, from RM294.1 million previously.
IGB Corp (fundamental: 1.6; valuation: 2.2) told Bursa that the improved quarterly performance was underpinned by improved contributions from its property development and property investment divisions.
On prospects, IGB Corp expects 2015 to be a challenging year, hence it is "cautiously optimistic" its FY15 performance will be satisfactory.
Pos Malaysia Bhd's net profit plunged 61.9% to RM19.9 million or 3.71 sen a share for the fourth financial quarter ended March 31, 2015 (4QFY15), from RM52.2 million or 9.72 sen a share a year ago, on higher operating expenses.
Revenue for the quarter was also down 6.8% to RM395.54 million, from RM424.37 million in 4QFY14.
In a filing with Bursa, the postal group said net profit for the full FY15 dropped 20.1% to RM127.05 million or 23.66 sen a share, from RM158.98 million or 29.6 sen a share in FY14.
Revenue, however, rose 4.7% to RM1.49 billion, from RM1.43 billion in FY14.
Going forward, the group said its performance for FY16 is expected to remain favourable.
Resort and property developer Landmarks Bhd has slipped into the red in the first quarter ended March 31, 2015 (1QFY15), after posting a net loss of RM1.54 million or 0.32 sen per share, from a net profit of RM1.6 million or 0.33 sen per share.
In a filing with Bursa, Landmarks said its earnings were dragged by its "continued construction works for infrastructure and the Crystal Lagoon in Phase 1 of Treasure Bay Bintan" in Indonesia, which are ongoing and have yet to make any positive financial contribution to the group.
Quarterly revenue, meanwhile, was up 9.6% to RM19.3 million, from RM17.62 million. Properties like The Andaman saw higher average room rate, which rose 11.9%, boosted by the hotel's newly-renovated rooms, and food and beverage offerings.
Moving forward, Landmarks (fundamental: 1.65; valuation: 0.9) said it is cautiously optimistic on tourism in the region.
Sarawak Plantation Bhd's net profit for the first quarter ended March 31 (1QFY15) plummeted 57.4% to RM7.4 million or 2.65 sen per share, on lower realised average selling prices (ASP) and lower sales volumes of crude palm oil (CPO) and palm kernel (PK).
This compares to a net profit of RM17.4 million or 6.23 sen per share in the previous corresponding quarter. The firm's revenue also came in 31.8% lower at RM70.9 million, from RM104.0 million in 1QFY14.
In a statement to Bursa, Sarawak Plantations (fundamental: 2.4; valuation: 2) said CPO and PK realised that average selling prices had decreased by approximately 15.5% and 13.1% respectively.
Property developer Hua Yang Bhd said its net profit fell by 21% to RM29.7 million or 11.25 sen per share for the fourth quarter ended March 31, 2015 (4QFY15), from RM37.81 million or 14.32 sen per share a year ago, on lower revenue for its property development division.
Quarterly revenue fell 23% to RM152.11 million, from RM198.26 million in 4QFY14, as the property developer faced lower sales recognition and slower construction progress.
Despite lower quarterly earnings, its net profit for full FY15 was up 34.6% to RM110.56 million or 41.88 sen per share, from RM82.17 million or 31.12 sen per share in FY14; revenue rose 14.4% to RM583.58 million, from RM509.89 million in the same period.
Hua Yang (fundamental: 1.7; valuation: 2.4) declared an interim dividend of 8 sen for 4QFY15, bringing total dividend for the year to 13 sen.  
AMMB Holdings Bhd's net profit rose 12% to RM519.22 million in the fourth quarter ended March 31, 2015 (4QFY15), from RM463.71 million a year earlier, mainly on bad loan allowance write-backs.
The write-backs had mitigated the impact of lower revenue, as interest and Islamic banking income fell, AMMB said in a filing to Bursa Malaysia today.
It said revenue was lower at RM2.22 billion, compared to RM2.44 billion.
For the full year, AMMB (fundamental: 1.7; valuation: 3) said its net profit climbed to RM1.92 billion, from RM1.78 billion a year earlier. Revenue, however, decreased to RM9.14 billion, from RM9.61 billion.
The group has proposed a dividend of 15.3 sen per share for 4QFY15, bringing full-year dividends to 27.3 sen.
Sime Darby Bhd's net profit fell 55% to RM386.04 million in the third quarter ended March 31, 2015 (3QFY15), from RM852.53 million a year earlier, on lower contribution from its plantation, industrial and automobile divisions.
Sime Darby's (fundamental: 1; valuation: 1.1) revenue declined to RM10 billion, from RM10.1 billion.
For 9MFY15, net profit declined to RM1.32 billion, from RM2.16 billion a year earlier. Revenue contracted to RM30.86 billion, from RM31.39 billion.
Sime Darby's president and group chief executive Tan Sri Mohd Bakke Salleh said: "The third quarter of the current financial year continued to be negatively impacted by tough business conditions, amidst macroeconomic headwinds in several regions."
Mohd Bakke also said that Sime Darby is unlikely to meet its headline key performance indicator (KPI) target of RM2.5 billion net profit for the financial year ending June 30, 2015 (FY15), and a return on equity (ROE) of 8.5%. Instead, he said the group is now hoping to close FY15 with a net profit of RM2 billion to RM2.1 billion.
Industrial chemicals distributor Samchem Holdings Bhd is aiming for a 5% revenue growth in the financial year ending Dec 31, 2015 (FY15), by securing more business from regional markets.
The firm intends to achieve the target by securing more clients across Malaysia, Vietnam, Indonesia and Cambodia, said Samchem's (fundamental: 0.5; valuation: 2) chief executive officer Datuk Ng Lian Poh.
(Note: The Edge Research's fundamental score reflects a company's profitability and balance sheet strength, calculated based on historical numbers. The valuation score determines if a stock is attractively valued or not, also based on historical numbers. A score of 3 suggests strong fundamentals and attractive valuations)