This article first appeared in The Edge Financial Daily, on July 9, 2019.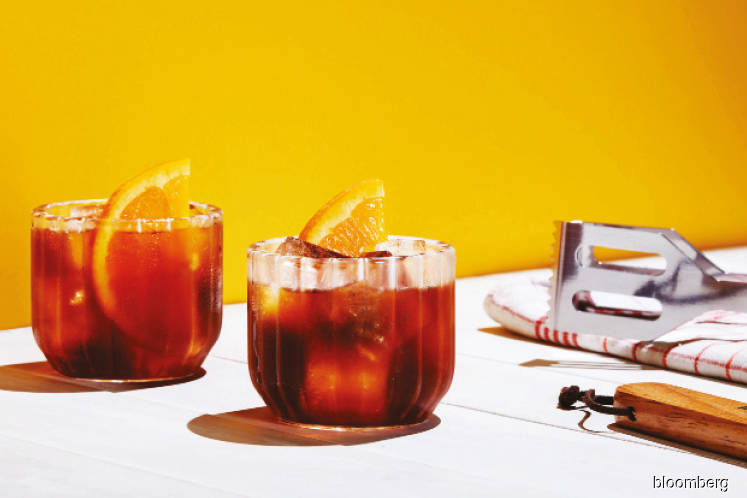 Did summer even happen if you did not have or attend a backyard barbecue? Not in our world.
But with all the pressure it takes to be a grill master — and major pitfalls to avoid — from bringing the briquettes to a perfect glow, marinating the meat just right, and making sure the dog does not snatch it while your head is turned, you are naturally going to want some liquid encouragement. Beer is the obvious choice to quench your thirst as you stand over a scorching grill. Once it is time to feast, however, impress your guests with something much more sophisticated.
Dry Rob is a twist on the classic Rob Roy (basically a Manhattan with Scotch), but with enough tweaks to make it the perfect companion to summertime meat-eating. For the whisky, Compass Box's Great King Street Glasgow Blend is a bartender favourite thanks to a high malt content that works well in cocktails. A little sweet and a little smoky, it is a great gateway to peated blends. "Most blended Scotch whiskies use under 30% malt, and we use 65%, giving a lot more depth, flavour and finish while still getting the mixability of a blend," said Kerrin Egalka, the director of sales, Eastern US, for the brand.
Dolin dry vermouth is another staple behind top bars for its light body and refreshing acidity, packed with alpine herbs such as rose, chamomile, and génépi (wormwood). Ramazzotti, an amaro similar to a Fernet but less intensely bitter, includes heavy notes of vanilla and citrus — some even say it tastes a bit like Coca-Cola. These lighter, herb-inflected ingredients pair with the smoky Scotch to ensure your drink holds up next to generously seasoned cuts of meat.
If you have access to large ice cubes, either hand-cut or mold-made, use them here; they will melt more slowly, allowing you to sip the drink over the course of the meal. But on a hot summer day, any ice will do.
Combine all ingredients in a mixing glass and add ice. Stir for 20 seconds, then strain into an ice-filled old-fashioned glass. Garnish with orange peel.
Put lime in coconut for an easy, make-ahead beach cocktail
Setting a masochistically early alarm and venturing out for a full day at the beach is one of the best ways to spend a summer Saturday (or Friday). Arriving early means getting your pick of location, as well as some relative quiet on the sand before the masses descend.
But what do you do if you want to serve cocktails? 6am is hardly the ideal time to be juicing limes, measuring ingredients and packing up enough ice to last you the day. The solution is a dead simple, make-ahead daiquiri you can bottle and toss in the freezer overnight. All you need to do in the morning is grab and go.
The hallmark of a well-made daiquiri is bright acidity and balanced sweetness — rum, fresh citruses and simple syrup, that's it — but for extra tiki flair, split the base between a conventional white rum and a coconut-infused liqueur. Coconut rum gets a bad rap for tasting like sunscreen, but Rhum Clément from the island of Martinique brings a characteristic grassy freshness of rhum agricole to its Mahina Coco unlike the misbegotten Malibu of your youth. It is well worth the effort to seek out. For the white rum we prefer Flor de Caña 4 Year for its light body and relative depth of flavour next to other white rums.
To approximate the dilution you would have gotten by shaking the daiquiri fresh with ice, add a precise amount of water before bottling. This brings the spirit mix to a lower alcohol by volume. And if you time it right, you will get to the beach just as the mixture is thawed enough to serve — it should be a bit slushy and stingingly cold. Try to avoid using an insulated water bottle because the drink will take forever to thaw.
Brian Miller, a partner and beverage director at New York tiki bar the Polynesian, calls daiquiris the perfect beach drink "as necessary as suntan lotion and a towel. If you can't have fun at the beach with a daiquiri in your hand, you do not know how to have fun".
Prepare the night before in a non-insulated one-litre water bottle. Place in the freezer overnight to get slushy; remove about two hours before drinking. To serve, shake the bottle briefly and pour into individual glasses — or drink straight from the bottle. Keep in mind when planning your day that lime juice tastes best when used within 24 hours of juicing.
For simple syrup
Combine equal parts sugar and water in a small pot over low heat, stirring occasionally until all the sugar is dissolved. Let cool before using. Keep in the refrigerator in an airtight container for up to one week.
Get fired up about the big game with this chili-spiked beer recipe
Whether you are a superfan or a reluctant plus-one, when it comes to sports, beer is what you are drinking when you are watching — be it at home or in the arena. But what do you do if you find plain beer a bit boring? Enter the Michelada, a simple but infinitely riff-able Mexican concoction of beer, hot sauce and lime.
Micheladas are great for sporting events for a few reasons. First, they are dead simple and rely on easy-to-find ingredients that transport well or could be easily "borrowed" (such as limes and hot sauce) from a concession stand. Second, their measurements are very forgiving; you can eyeball this one just fine. Third, on a hot summer's day, that hit of salt provides some needed electrolytes. And last, since they are essentially flavoured beer, there is less risk of having a few too many and forgetting about the game you came to watch in the first place.
The origin of this drink, as with most cocktails, is a bit murky. But no matter, authenticity is not really the goal here. Flavour is.
"I have yet to see a definitive version of a Michelada, and I don't think I'd ever take anyone seriously if they claimed to have the ultimate recipe because tastes vary so widely," said Pasha Morshedi, the owner/bartender at Rosewater in Houston. For example, he became enamoured of ones made with Negra Modelo, a darker beer, after astronaut Jose Hernandez (the first to tweet from space in Spanish) made him one.
Without much deference to an "official" recipe, you are free to play around with beer types, different hot sauces and spice blends on the rim of the glass such as shichimi togarashi, pimenton or garam marsala, just to name a few.
Our variation uses a light beer to allow the heat and tangy complexity of the Korean-style chili sauce to shine though. Both Tajin and Momofuku's Ssam Sauce (now distributed by Kraft Heinz Co) are available online, if not at your local grocery, and serve as useful pantry staples beyond drink-making.
Wet the rim of a chilled pint glass with a lime wedge and dip in the spice blend to coat. Combine lime juice and Ssam Sauce in a separate glass and stir to combine. Fill prepared pint glass with beer, add the lime-sauce mixture and stir gently.
Refreshing tequila-watermelon cooler is the perfect picnic drink
Picnics call for refreshing, unfussy long drinks — Arnold Palmers, mojitos — drinks that do not take too much prep and provide ample hydration. But moreover, ones that hold up well to transport and long, languorous days in the sun. The Sandia Fairy, something of an elevated watermelon margarita, exceeds on both counts. It will also pique the curiosity of any cocktail nerds in your group with an unexpected combination of flavours.
"I like mixing the pepper and soil flavours of the tequila with the sweet, herbal taste of absinthe," said Victor Lopez, an agave-spirit enthusiast and long-time bartender at PDT (Please Don't Tell), the famous neo-speakeasy in New York's East Village. And for the base, the most iconic of summer fruits: watermelons.
Watermelons have a great capacity to support and blend well with a wide variety of flavours, be they salty elements like feta cheese or sweet accompaniments such as berries and stone fruits. Here the juice bounces off the savouriness of El Tesoro and tempers the rich, woody notes from the bourbon-barrel ageing. The tequila's herbal notes are brought out by the fennel, mint and tarragon of the St George Absinthe. "They're like two great friends that come together," said Lopez — which is exactly how a picnic should be.
Using the mint only as a garnish provides a fresh-eyed hit of aromatics without dialling up the herbaceousness too much. If you cannot find the specific bottles listed, ask your liquor store for a reposado that says "100% de Agave" on the label, so you know it is the real deal; any absinthe would do in a pinch, even pastis, if pickings are slim.
For technique, the trick is to pre-batch, which is to mix it ahead of time to finish in the glass, rather than lugging everything to the park. If you do not have a juicer, you can puree watermelons in a blender and strain out the solids to get fresh juice. And you might find yourself needing to add a little more simple syrup depending on the ripeness of your watermelon.
Combine all ingredients in a container and stir, chilling for up to two to three hours before serving; watermelon juice is very fragile, so anything beyond five hours is pushing it. At your picnic, pour directly into collins glasses with ice or serve in an ice-filled pitcher to allow guests to serve themselves. (Just note that the more time it sits over ice in the pitcher, the more dilution you will get from melting.) Take a sprig of mint and clap it between your palms to release the oil, and garnish along with a small slice of watermelon. — Bloomberg