This article first appeared in The Edge Financial Daily, on November 6, 2019.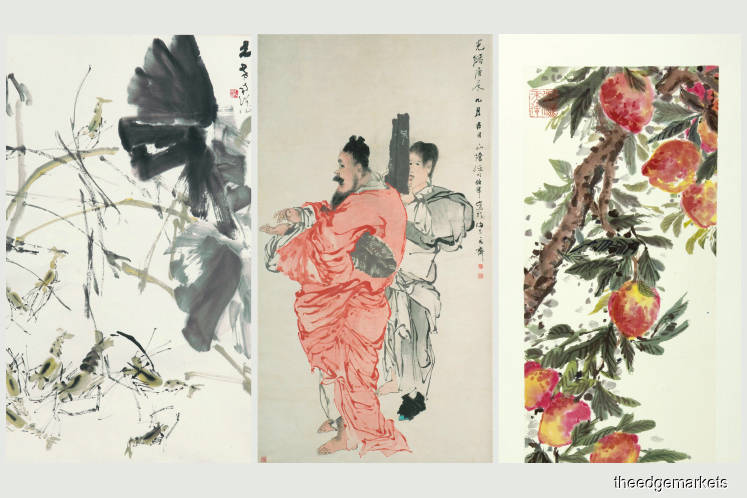 Singapore's Asian Civilisations Museum is presenting the largest showcase of the late Dr Tan Tsze Chor's esteemed Xiang Xue Zhuang Collection from now till next March, celebrating the passion of Chinese art and connoisseurship, and exploring the collection's cultural impact and influence in advancing the arts scene among the local Chinese community in 1950s–80s Singapore.
 Living with Ink: The Collection of Dr Tan Tsze Chor features over 130 artistic and cultural masterpieces from Dr Tan's collection that underscore creative expressions of Chinese art, including prized pieces by respected Chinese artists Xu Beihong, Qi Baishi, Ren Yi, and Pan Tianshou.
 Through the lens of Dr Tan's collecting career, visitors will get a glimpse into the vibrant art world that blossomed across overseas Chinese communities in Singapore and Malaya amid the turbulent years of the 20th century. Works of local artists such as Liu Kang and Chen Wen-hsi, who moved in Dr Tan's circles while he was building his collection, are also on show — illustrating how his collection influenced and inspired local artists.
 Director of Asian Civilisations Museum and Peranakan Museum Kennie Ting explained, "Living with Ink will appeal not only to lovers of Chinese art who are aware of this collection in Singapore's and the region's art collecting history, but will also reveal to local and visiting audiences that we have an extremely important and valuable collection of Chinese ink art right here in Singapore — one that is rarely presented in its entirety."
 "As a strong continuation of the museum's Season of Chinese Art, Living with Ink provides a fresh perspective and visually arresting displays of ink painting and calligraphy. We want to reacquaint visitors with the values, symbolism, and aspirations of the ancient Chinese in a memorable fashion — hence it is important that the Xiang Xue Zhuang collection's tale be retold to a new generation of audiences, by way of a completely new perspective, one relevant to a contemporary society preoccupied with questions of identity," Ting added.
 The exhibition opens with an introduction to the literati persona adopted by Dr Tan, in "In the Studio" section, before presenting the socio-political circumstances in 20th-century China that made it possible for overseas Chinese businessmen like Dr Tan to collect Chinese art.
 Next, Appetite for Ren Yi outlines the development of the local art scene through the lens of Dr Tan's activities in the art world, including his collection of paintings by the famous Shanghai painter Ren Yi (also known as Ren Bonian). Tan lent some of his Ren paintings to Taipei's National Museum of History in 1982, and also donated some to the Hwakang Museum of Chinese Cultural University, Taipei.
 The exhibition culminates in Gatherings by the Seaside, exploring the connections between pioneer Nanyang-style painters and the Shanghai-school painters they trained under — this physically manifested in the literati gatherings that took place at Dr Tan's home. These gatherings, beyond being a meeting of artists, collectors, and connoisseurs, provided local artists unprecedented access to international works of art in Dr Tan's collection, which informed and inspired the local Nanyang artists of the 1950s.
Curator Conan Cheong shared, "The exhibition explores the importance of Dr Tan's Xiang Xue Zhuang collection in Singapore, and how it prompted a local Chinese community to form a shared Singaporean heritage outside mainland China. Just as how early Nanyang artists grappled to find a Singaporean Chinese identity at the time, I hope that through this exhibition, visitors are inspired to take the time to contemplate and rediscover their own cultures and identities."
 As a complement to the exhibition, Asian Civilisations Museum will present family-friendly programmes, guided tours, lectures, and weekend festivals. These include exclusive curator tours with Cheong, where participants can gain behind-the-scenes perspectives and discover little-known facts about highlights from the over 130 treasured artworks on display; a series of "literati lessons" where visitors can pick up artistic skills like Chinese ink painting, stone seal carving, and papermaking; and an exciting weekend cultural bonanza (Feb 28 to March 1, 2020) that brings Chinese culture to life with an interactive performance of the Eight Immortals, a showcase of traditional martial art form Tai Chi Guan, and more fun-filled programmes suitable for adults and kids alike.
---
Living with Ink: The Collection of Dr Tan Tsze Chor runs until March 22, 2020 at Singapore's Asian Civilisations Museum. For admission charges and other information, visit acm.org.sg.