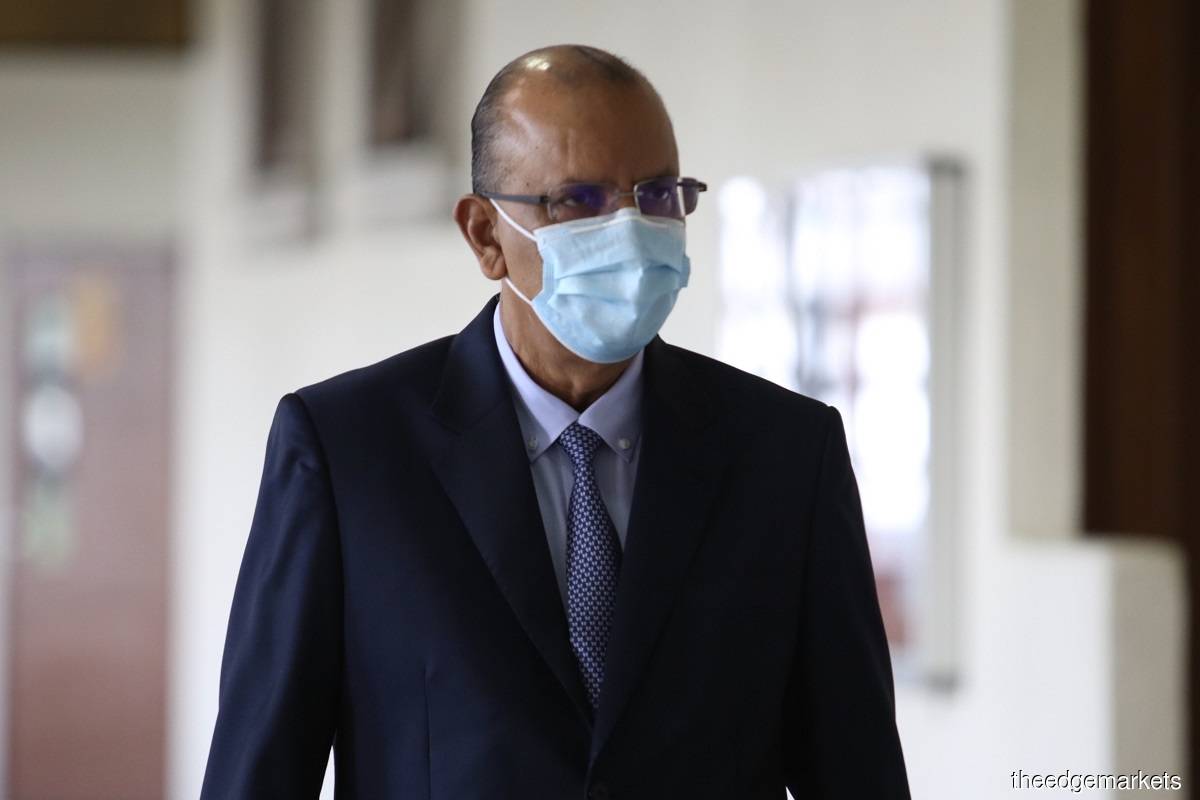 KUALA LUMPUR (Aug 24): Former chief secretary to the government Tan Sri Dr Ali Hamsa testified today that the fateful Feb 24, 2016 1MDB audit report coordination meeting ended in a good-natured manner, with no expression of apprehension by the then auditor-general Tan Sri Ambrin Buang.
This is in contrast with a previous testimony by National Audit Department (NAD) director Datuk Nor Salwani Muhammad that Ambrin looked sad and upset after leaving the meeting room.
She had spoken of how Ambrin was so shaken after attending the meeting that she heard him mumbling to himself, "what is the purpose of the audit?"
Nor Salwani was the touted heroine when she was revealed in court to be the person who recorded the proceedings of the meeting, which became a key evidence in this case concerning the alleged tampering of the 1MDB audit report.
The Feb 24 meeting was convened by Ali on Datuk Seri Najib Razak's behest after the former premier said he was not satisfied with the contents of the 1MDB audit report for 2015 which was set to be tabled at the Public Accounts Committee (PAC).  
Today, Najib's lead counsel Tan Sri Muhammad Shafee Abdullah referred Ali to the statement made by Nor Salwani.
Shafee: If someone claims that he or she saw Ambrin literally exhausted and drained of his energy when he left that room that day, what would be your comment?
Ali: Yang Arif, the Feb 24 meeting ended in a jovial mood. I sent Ambrin to the door, and he seemed normal.
During his testimony today, Ali also reiterated that he never put any pressure on Ambrin to make the amendments to the 1MDB audit report as discussed in the meeting.
He said he had attended audit sessions with Ambrin on more than 10 occasions involving various agencies and departments under the Prime Minister's Department during his tenure as chief secretary, and that the decision is always up to the auditor-general and the NAD.  
In fact, Ali claimed that he had built a long-standing relationship with Ambrin as both were veterans in the public service, and that he always regarded Ambrin as his senior.   
"He (Ambrin) may look friendly in the meeting, but the decision [to amend or not] is still up to him. He may be accommodative, but he makes up his own mind," Ali said.
Najib is charged with abuse of power as a public officer in his capacity as prime minister and finance minister in altering the 1MDB audit report which was to be tabled to the PAC. This was so that no action could be taken against him by Parliament.
Meanwhile, former 1MDB president and chief executive officer Arul Kanda Kandasamy is charged with abetting Najib.
The trial before High Court judge Mohamed Zaini Mazlan continues tomorrow.
Edited by S Kanagaraju
Read also:
Najib told me 'talking points' will be provided for 1MDB audit report coordination meeting — Ali Hamsa
For more stories on the 1MDB audit report tampering trial, click here.