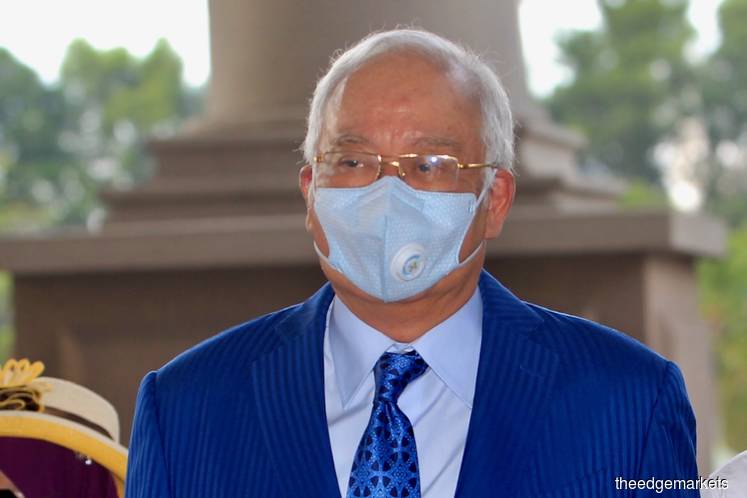 KUALA LUMPUR (June 2): The High Court here today was told not to convict based on the "court of public opinion" for former prime minister Datuk Seri Najib Razak's SRC International Sdn Bhd trial.
In his submission today, defence lawyer Farhan Read urged Justice Nazlan Mohd Ghazali to follow the law and facts in deciding whether to convict the 66-year-old.
"The court of public opinion immediately links Najib and SRC with Jho Low, Paris Hilton and lavish spending; however, that luxury is not available to us. We have been going through many haystacks to find the needle of proof in this case," said the lawyer.
Farhan was making his submission on one of Najib's charges concerning his alleged abuse of power by approving government guarantees on loans worth RM4 billion from the Retirement Fund Inc (KWAP) to SRC.
Farhan surmised that although Najib did have a role in securing the loans in 2011 and 2012, he did not have anything to do with the RM42 million ending up in his accounts in 2014 and 2015.
"The needle of proof in this case is that we cannot say he had the intention to do something in 2011 and 2012 that he could not have seen happening down the road in 2014 and 2015."
Farhan added that the law and facts should prevail in this case, although he does not blame the public for being outraged as these are serious allegations.
He also argued that the move to take SRC away from his parent, 1Malaysia Development Bhd, and place it under the Minister of Finance Inc (MoF Inc) was for better government oversight into the company, instead of covering up misconducts as the prosecution has claimed.
Farhan then said that if Najib had the "evil scheme" to loot public funds from government-linked companies, the move to exert more government control over SRC would be counter-intuitive.
SRC was placed under MoF Inc in 2012, which the prosecution has alleged that he did so to keep the company under his control as finance minister.
The lawyer also said that Najib could not have possibly been involved in the movement of RM42 million into his personal accounts as the statement of accounts was deliberately hidden from him.
"We are not beneficiaries of donations; we don't have under our belt the weight of the concerns of this country. Unlike us, Najib had no time to keep track of his funds," he said, adding that the public's understanding of Najib's life was perceived wrongly.
"The general public always checks their bank statements and looks into the money coming in and going out of their accounts, but he (Najib) was a prime minister at that point of time. How do we impose on him our understanding of things, when he comprehended it in a whole different sphere being a prime minister?" he asked.
Najib is facing criminal breach of trust and money-laundering charges involving the transfers of the RM42 million SRC funds to his accounts.
He has also been charged with abusing his power by approving government guarantees on loans worth RM4 billion from KWAP to SRC.
The Edge is covering the trial live here.
Users of The Edge Markets app may tap here to access the live report.