This article first appeared in The Edge Malaysia Weekly, on May 9, 2022 - May 15, 2022.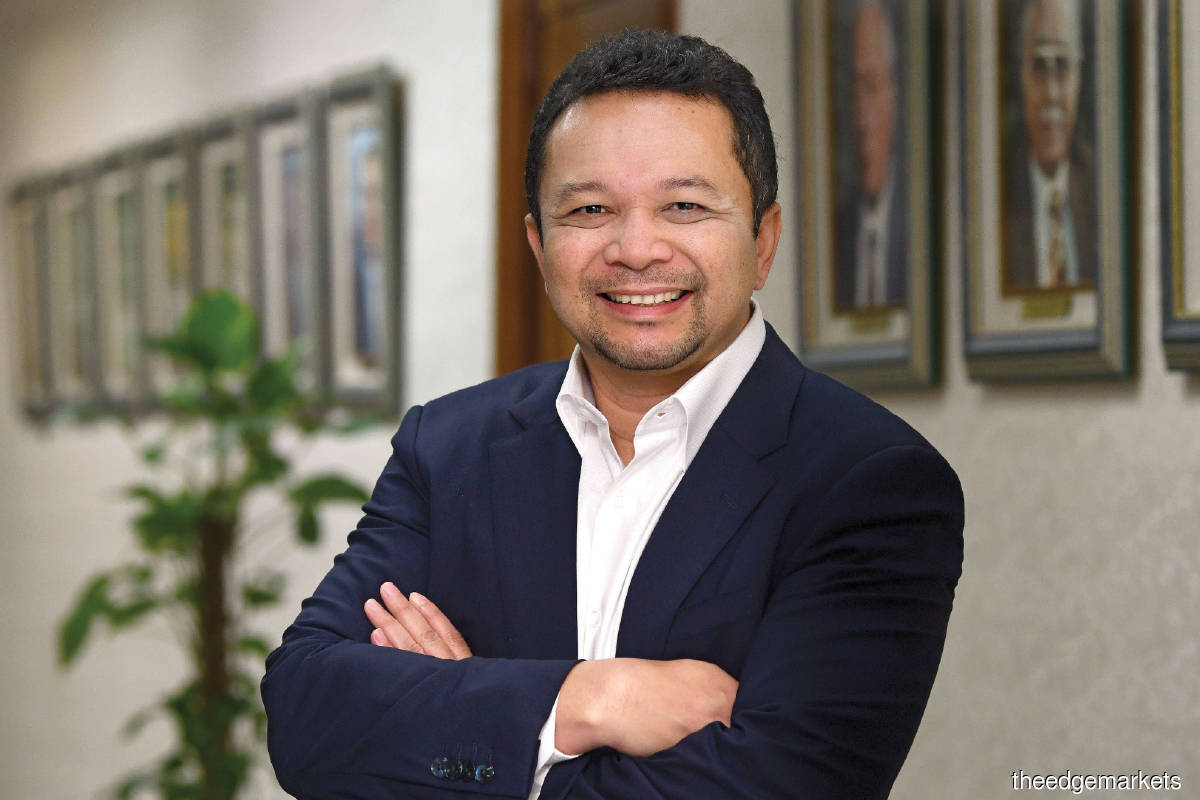 The main concern now is to really deliver the ships. There are two fronts here — the financial front and the security front. The ships are needed for the navy to really [ensure] security. Our (LTAT's) main concern is on the financial aspect. As long as we have a solutions package, a decision that protects us from financial disaster, then we are okay." — Nazim
Strategic objectives under LTAT's Transformation Plan
1) Deliver competitive and sustainable dividend returns over the long term
2) Enhance benefits and fulfill social well-being of the Armed Forces
3) Maximise operational efficiency through innovation and adoption of technology
4) Nurture and develop a dynamic and high-performing workforce
5) Promote an inclusive culture throughout the organisation
THE Armed Forces Fund Board, or better known by its Malay name Lembaga Tabung Angkatan Tentera (LTAT), had been paying out total dividend rates in the mid-teens for close to three decades to its army personnel members.
But things changed in 2019 when the fund declared for its financial year ended Dec 31, 2018 (FY2018) a dividend rate of only 2% — the lowest since its establishment in 1972 — as LTAT's net profit fell by half to RM221 million from a restated net profit of RM459.5 million in FY2017.
At issue then were financial irregularities in the fund's accounting of its financials that had taken place in previous years and included, among others, paying excessive dividends amounting to RM500 million, dipping into retained earnings and recognising income that had not been earned to justify dividend payouts.
Since then, dividends have improved (see Table 1) and while they are nowhere near the rates during the fund's good old days, the government's decision to proceed with the littoral combat ship (LCS) project should steer the fund towards a stronger footing and avert financial disaster. This would then support the fund's future dividend payout.
For the last few years, a major drag on LTAT's performance had been the controversial LCS procurement project, which had been delayed since 2019.
The government's decision, announced on April 20, was made after taking into consideration the Royal Malaysian Navy's (RMN) needs and the financial implication of over RM4 billion on the 400 vendors involved in the project, Senior Defence Minister Datuk Seri Hishammuddin Tun Hussein had said.
The LCS project is undertaken by Boustead Naval Shipyard Sdn Bhd (BNS), an associate of Boustead Heavy Industries Corporation Bhd (BHIC). Through BHIC and Boustead Holdings Bhd (BHB), LTAT has an indirect 50.65% stake in BNS; directly, it has 10.38%.
BHIC is a 64.99% subsidiary of BHB, in which LTAT has a 59.4% stake.
The RM9.1 billion contract for the construction of six units of LCS for the RMN was awarded in 2011. The contract was finalised in 2014, with the first ship to be delivered in April 2019. However, not a single ship has been delivered thus far.
The LCS, beset by cost overruns and variation orders, has been an albatross around Boustead Group's neck as it faced continuous delays.
Consequently, BHIC fell into the red, registering losses after tax in FY2018, FY2019 and FY2020, mainly due to delays in the LCS project, which was impacted by a revision of project costs due to variation orders and increases in its project finance cost. As a result, BHB also fell into the red, dragged down by losses at BHIC as well as Boustead Plantations Bhd (in which BHB has 57.42% equity interest).
While it is not clear what a continuation of the LCS project entails and what the terms and conditions might be, in an interview with The Edge, LTAT CEO Datuk Ahmad Nazim
Abdul Rahman speaks of a "solutions package" that would avert financial disaster for Boustead Group, and eventually LTAT.
Otherwise, the fund would have been hit by a RM2.1 billion impairment that would have resulted in its members enduring a six-year dividend drought.
However, Nazim, who has two decades of experience in corporate management, corporate finance and investment, and served as CEO of Pelaburan Mara Bhd from 2013 to 2018, says the "solutions package" is not a bailout of LTAT or the Boustead Group. He also declines to reveal details of the package.
"The main concern now is to really deliver the ships. There are two fronts here — the financial front and the security front. The ships are needed for the navy to really [ensure] security. Our (LTAT's) main concern is on the financial aspect. As long as we have a solutions package, a decision that protects us from financial disaster, then we are okay," Nazim says.
The Edge understands that the continuation of the LCS project will see the release of progress payments to BNS. Subsequently, the vendors will be paid. BNS's and BHIC's cash flow should improve and they may even see write-backs of the provisions made in the past on the project.
With this lifeline for the LCS project, Nazim is confident that BHB can now move forward as a business entity, which, in turn, is good news for LTAT.
"We focused specifically on the resolution of the LCS because it is a major drag on Boustead Group. Killing two birds with one stone, you address a specific issue at a single company, and it results in the whole group being in a better state to perform in the near future," he adds.
LTAT, in fact, would like to see its interest in BNS reduced.
"When I first joined, we thought that if this (LCS) is not resolved, it would really threaten the solvency of the fund," says Nazim, adding that LTAT led the process in working out a solution with the Ministry of Defence and the RMN.
Portfolio rebalancing a work in progress
LTAT has been on a five-year Transformation Plan since 2019. The plan, conceived during former CEO Nik Amlizan Mohamed's tenure, remains in place and a work in progress.
"She put in place the Transformation Plan. I came in, I didn't reinvent the wheel. The focus is on executing this Transformation Plan right now," Nazim says.
The plan comprises five pillars of strategic direction in areas related to corporate governance, investment, stakeholders' management, infrastructure and talent management.
To LTAT's credit, the fund also sought to reverse decades of risky practices — where management control was concentrated in the CEO position held by Tan Sri Lodin Wok Kamaruddin from 1982 to 2018 — that had exposed the fund to much of the problems it faces today. It put in place a corporate governance structure, policies and guidelines to govern internal practices to ensure due processes are adhered to. Various board- and management-level committees were set up to strengthen the decision-making process through more robust checks and balances.
When Nazim was made LTAT's CEO 11 months ago — taking over from Datuk Seri Amrin Awaluddin, who had stepped down in April last year to serve as Lembaga Tabung Haji's CEO and managing director — a mid-term review was undertaken, following which the fund further defined five strategic objectives to enhance the Transformation Plan.
"Overall, I would say we are on track. Various initiatives have been initiated and implemented since 2019, particularly to strengthen organisational structure and governance as well as to increase capacity and competency. From now onwards, we are increasing our focus on execution and implementation of improvements of our core systems as well as reengineering business processes to achieve better efficiency and productivity," Nazim says.
However, LTAT's double-digit, mid-teen dividend returns of yesteryear are not sustainable, he states. Instead, the fund will abide by its benchmark of at least 1.25% above the fixed deposit rate.
"In the previous [years], yes, the model was different and the strategy was for LTAT to operate like an investment fund. That model translated into LTAT holding strategic stakes in some of the companies, having substantial interests and even managing some of the companies," he explains.
However, that is not the right model for a retirement fund like LTAT, which is not, as Nazim puts it, "in the business of managing companies".
"We have to relook at our portfolio, our assets and companies," he says.
LTAT's high exposure to the Boustead Group — via its 59.4% interest in BHB and total interest of 45.5% (comprising LTAT's direct 33.08% and effective interest of 12.4% via BHB) in Affin Bank Bhd — has proven to be its Achilles' heel in recent years as troubles at the group hobbled the fund. The fund considers its large stakes in these companies as part of its legacy portfolio.
In LTAT's 2019 annual report — the fund's latest and publicly available — it noted that its two biggest investee companies BHB and Affin Bank did not provide any returns in FY2019 due to weak financial performance and impairments across key business sectors in the Boustead Group.
In the past, LTAT's investments in both companies generated between 45% and 55% of the fund's overall gross income during the year. Investments in these two subsidiaries accounted for approximately 50% of LTAT's assets under management (AUM) of RM9.5 billion in 2019, it noted.
LTAT's AUM of RM9.78 billion today is still highly concentrated with 46% exposure to the Boustead Group and Affin Bank. The investments are highly illiquid and not generating as much income as before, with no dividends from BHB for three years from FY2019 to FY2021.
Hence the need to rebalance and diversify the fund's portfolio.
Nazim says LTAT will be guided by the strategic asset allocation (SAA) framework put in place by Nik Amlizan and LTAT's first chief investment officer Haniz Nazlan, who was instrumental in drafting the SAA for Permodalan Nasional Bhd for the fund's five-year transformation programme in 2017.
Nik Amlizan left LTAT to head Kumpulan Wang Persaraan Diperbadankan (KWAP) in 2020 and Haniz has also left LTAT. The CIO at LTAT is now Muhammad Fitri Othman, who was with PNB for 11 years.
Under the SAA, LTAT's three core investment strategies call for a restructuring of its legacy investments, diversification into fixed-income securities and global equities, and reducing its exposure to private equity (PE) and real estate.
A rebalancing of its portfolio to reduce the concentration risk to the Boustead Group will see LTAT reducing its stakes in BHB and Affin Bank.
Nazim says any divestment will have to be at the right price. As such, the process will take time.
"The focus right now is to enhance the value of these core holdings because they are the ones that affect the solvency of the fund," he says.
LTAT is working towards its ideal asset allocation of 50% in equities, 20% in fixed-income securities, with the balance in other asset classes, namely PE, real estate and strategic assets.
While the rehabilitation of the portfolio may take a few years, LTAT's contributors must be relieved to see the improvement in dividend rates from the low of 2% in 2018.
Nazim stresses that the 4.1% dividend declared for 2021 was solely declared from the current year's net profit. This is an achievement for the fund as not only was the brought-forward retained earnings from 2020 not utilised for the 2021 dividend payout, LTAT was also able to increase the retained earnings, post-dividend declaration.
"We try as much as possible not to declare dividends from retained earnings. It should just stop at net profit, which is more conservative. It also means that we can't declare like in previous years, but at least, we maintain the right level of reserves and provide a sustainable return over the long term," he adds.
This year, Nazim says LTAT has what it calls "Mission 5:50", which is to declare a dividend rate of 5% in conjunction with its 50th anniversary on Aug 1.
Another item LTAT needs to check off its list in order to put itself on a solid foundation is to amend the Armed Forces Fund Act 1973.
With the passing of the proposed amendments by parliament — within the year, Nazim hopes — LTAT's funds will be guaranteed by the government while a framework to drive the diversification and rehabilitation of its portfolio will be put in place.