This article first appeared in Options, The Edge Malaysia Weekly, on July 8, 2019 - July 14, 2019.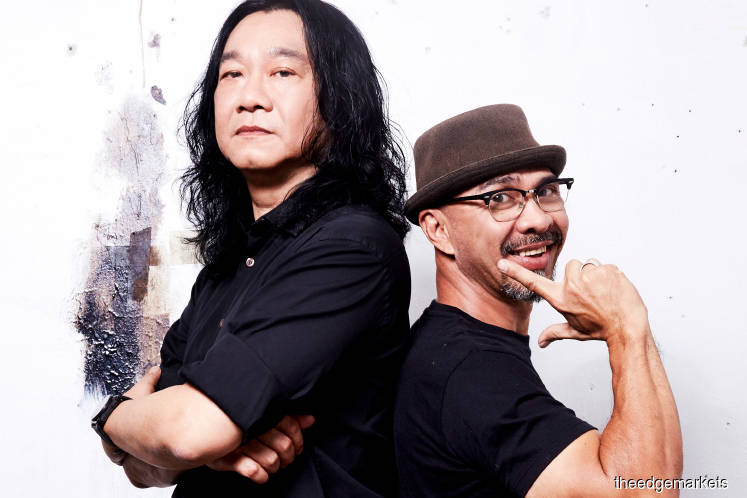 In the world of haute horlogerie, timepieces can, and often do, double up as miniature works of art. But Bell & Ross Asia general manager Tong Chee Wei and celebrated Malaysian contemporary artist Jalaini Abu Hassan made a conscious decision to keep both their worlds separate yet entwined in an upcoming collaboration. Diana Khoo finds out more about their upcoming spectacle of spectres.
It has been 15 years since Jalaini Abu Hassan shook up the country's contemporary art scene with his brooding and mysterious Mantera collection. Comprising works done in charcoal, bitumen and ink, the series was inspired by sacred invocations, the name itself — a derivative of the Sanskrit "mantra" — an immediate giveaway. Through his hands, mystical words come to life in the form of dark, sepia-toned images, conjuring up visions of the shadowy realm of pawang and bomoh, a world where spirituality holds sway over the physical and one that is in stark contrast to the modern, moderate Muslim identity Malaysia is trying to propagate.
But it is hard to deny the power of blood and lineage. The artist is, after all, descended from a line of shamans and storytellers, the penglipur lara of old. "My grandfather had a book of mantras written in ancient Thai script that I stumbled upon. There were some words in Arabic, some in Malay too … and I remember how the back pages were stapled together and not to be read as they contained black magic incantations."
In person, the artist affectionately referred to as "Jai" by all and sundry could not be farther from the stereotypical image one has of a successful, "tortured soul". There is no hippie-style hair nor paint-splattered clothes — well, not outside of his studio anyway. Jai is often garbed in smart, form-fitting t-shirts and cool jeans, accessorised with a hat and a Bell & Ross timepiece. It was the watch that lit the spark for what will be the artist's latest collection.
For the full story, pick up a copy of The Edge Malaysia (July 8, 2019) at your nearest news stands or visit optionstheedge.com.