This article first appeared in City & Country, The Edge Malaysia Weekly, on May 2, 2022 - May 08, 2022.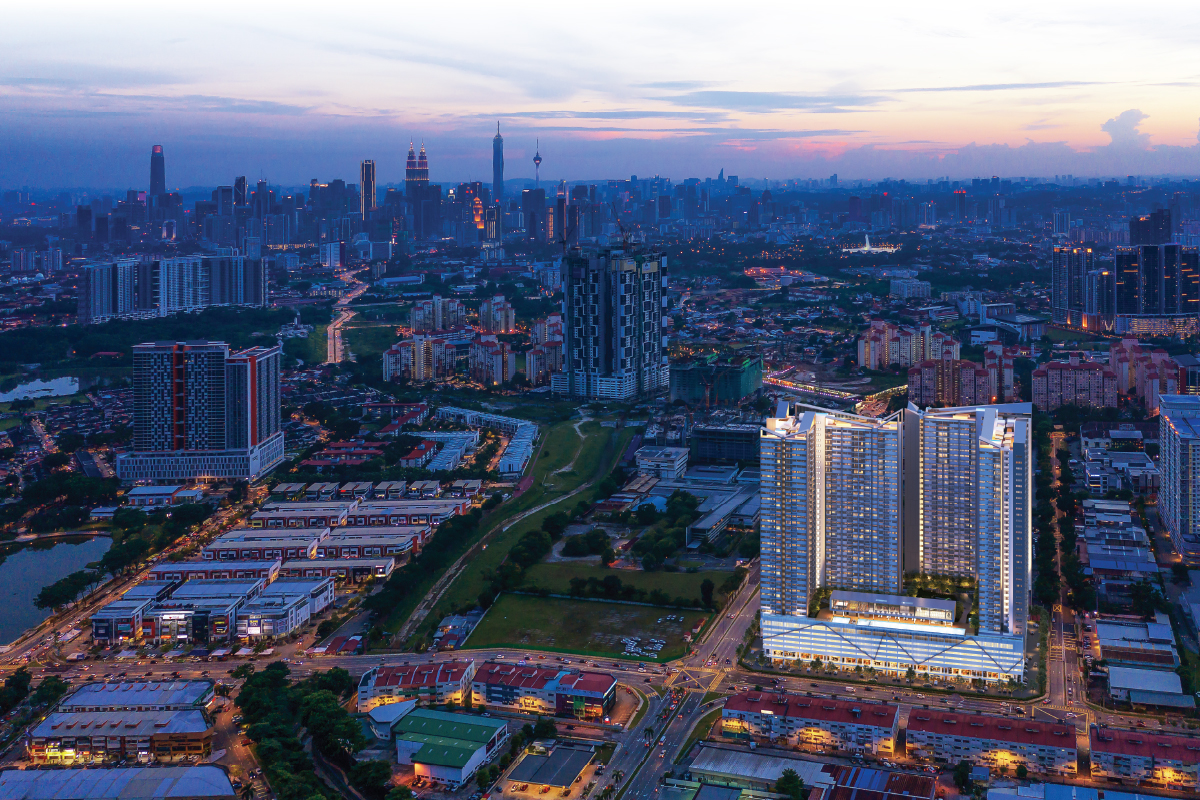 On the back of Malaysia's recovering economy, Mah Sing Group Bhd is optimistic about its property market strategy that focuses on offering affordable high-rises in central business districts and landed houses in strategic, suburban locations with good catchment areas around the country.
"Our M-Series projects, such as M Luna, M Adora, M Arisa and M Vertica, have been seeing healthy take-up rates amid the Covid-19 pandemic. Tapping into the robust affordable home market that supports the national homeownership aspirations, a good-quality home with a functional layout that is strategically located is able to offer an enhanced quality of life, including social mobility, improved career prospects and access to good schools or nearby amenities," Mah Sing founder and group managing director Tan Sri Leong Hoy Kum tells City & Country in an email interview.
Mah Sing is an established name in the country with more than 20 years of property development experience. In its financial year ended Dec 31, 2021 (FY2021), the group's property sales returned to pre-pandemic levels at RM1.6 billion.
"This is an increase of 45% compared with RM1.1 billion in sales in 2020 as well as an increase from pre-pandemic sales of RM1.5 billion in 2019. The growth was driven primarily by strong execution, the success of our M-Series projects and effective digital marketing initiatives," says Leong.
This year, the company will continue to focus on affordable properties targeting first-time homebuyers, as the fundamental demand for properties remains strong domestically due to the young demographic and resilient new household formations, says Leong.
"We plan to launch RM2.4 billion worth of projects and target a 25% increase in new property sales to RM2 billion for 2022. Price points will be attractive, with 60% of properties below RM500,000 and 94% below RM700,000."
According to him, the company's project development team engages closely with the local authorities to ensure compliance with regulations and guidelines, and that projects are on track for delivery. "We focus on effective project management, from land banking to construction and ultimately handover, towards ensuring timely completion of the projects at the specified quality."
In terms of undeveloped land bank, Mah Sing has 2,022 acres with an estimated gross development value (GDV) of RM22.65 billion to support future growth. "Our balance sheet remains strong, mainly due to the group's disciplined financial management and strong execution of strategy of driving growth through strategic landbanking and quick turnarounds," Leong continues and adds that unbilled sales is RM1.9 billion.
He notes that Mah Sing's cash flow remained strong last year, despite the lockdowns, owing to several vacant possessions. "We recorded a year-end cash balance of RM1.02 billion. This is in addition to three new land acquisitions and ongoing works."
Meanwhile, Mah Sing is continuously looking to add to its land bank. "Backed by the company's strong balance sheet and fast take-up of our ­M-Series projects, we are constantly on the lookout for strategic land bank. In addition to the Klang Valley, Johor and Penang, we may also seek suitable land for affordable landed products in Seremban, Melaka and Perak, which will be financed by equity or internal funds or borrowings, or a mix of these sources of funds," says Leong.
New projects
One of the key projects for the company this year is M Astra in Setapak, Kuala Lumpur, which is set to be launched in June or July. According to Leong, the project has secured about 7,275 registrants to date.
With a GDV of RM618 million, the mixed-use development sits on a five-acre leasehold parcel and will comprise two 39-storey towers with a total of 1,426 residential units. The three-bedroom and four-bedroom units will have built-ups ranging from 850 to 1,044 sq ft and prices starting from RM399,000.
Leong says the units will be suitable for first-time homebuyers, upgraders, young couples and young families who prefer the city lifestyle and ready amenities. Some of the units will come with balconies, which can be used as a private outdoor space for gardening or exercise.
M Astra will also have 24 two-storey shops on the ground floor. These will measure 1,420 to 3,637 sq ft for the typical units and 5,338 to 6,468 sq ft for the drive-through units. Their indicative prices start from RM1.69 million.
Leong explains that contactless technology will be used within the development. To reduce physical contact, a delivery parcel locker will be provided for residents. "Some green and sustainable features will also be incorporated in the project, including LED lights in common areas to save energy, enhancing indoor air quality through cross ventilation, using low volatile organic compound (VOC) paint in all units as well as rainwater harvesting to irrigate the landscaping."
Other features of the project will include an automated waste collection system, electric-vehicle charging stations and regenerative elevators, which use energy-efficient elevator technology.
The neighbourhood where M Astra is located is easily accessible via Jalan Kuching, Jalan Gombak, Middle Ring Road 2, the Duta-Ulu Kelang Expressway, Kuala Lumpur-Karak Expressway and Ampang-Kuala Lumpur Elevated Highway, and is linked to the upcoming Setiawangsa-Pantai Expressway.
Another upcoming project is M Panora, a strata freehold landed residential development in Rawang, Selangor, which is slated to be launched in August this year. It is the developer's fourth development in the area, following M Residence, M Residence 2 and M Aruna.
Sitting on 45.38 acres, M Panora has a GDV of RM300 million and will feature 396 two-storey super link homes with indicative prices starting from RM650,000. The 24ft by 65ft homes will come in four-bedroom, three-bathroom layouts with built-ups of 1,770 to 2,026 sq ft.
According to the developer, the low-density development has only nine units per acre and aims to provide a zen-inspired living environment through integrating natural aspects into its design. "Homes at M Panora will be located on a naturally elevated land and will have a northwest and southeast orientation. Units will feature practical layouts, offering flexibility for future renovation and maximising usage of space. The units will also come with a 24ft-wide frontage or car porch, which can fit up to two cars," Leong notes.
"The target market is mainly owner-occupiers, including newlyweds, upgraders, multi-generational families, as well as buyers from the surrounding areas such as Sungai Buloh, Kepong, Selayang, Petaling Jaya, Damansara and Kota Damansara," he adds.
M Panora will be a gated-and-guarded community with perimeter fencing, CCTV surveillance, radio-frequency identification (RFID) system and security patrol. The monthly maintenance fee inclusive of sinking fund is estimated at RM180.
"There will also be a five-acre central garden with four sections, namely Zen Residence, Paradise Garden, Pine Forest and Green Avenues, with facilities such as a Zen garden, swing pavilion, labyrinth/meditation garden, children's playground, barbecue area and a bird sing cage pavilion. It will cater for residents of all walks of life, from the young to the elderly," says Leong.
M Panora enjoys easy access to highways such as the North-South Expressway, Kuala Lumpur-Kuala Selangor Expressway (Latar) and Guthrie Corridor Expressway. The Rawang KTM Station is within an 8.2km radius of the development.
The developer is also planning to launch M Senyum in Bandar Baru Salak Tinggi, Sepang. Registration of interest started in 3Q2021 and the project has so far secured 10,000 registrants, notes Leong.
The 100-acre development has a GDV of RM681 million and will comprise 1,176 two-storey terraced houses. The four-bedroom, three-bathroom units will measure 20ft by 60ft, 20ft by 65ft and 20ft by 70ft, with built-ups of 1,555 sq ft for intermediate lots and 1,630 sq ft for corner lots. Indicative selling prices start from RM450,000.
Another upcoming project is M Nova in Kepong, which will be launched in 3Q2022. Registration of interest for the estimated RM790 million GDV project started in 1Q2022. The project will offer serviced residences with indicative built-ups of 700 to 1,000 sq ft and tentative selling prices from RM318,000. It will be the developer's third project in the area, following M Luna and Lakeville Residence.
Ongoing projects
Mah Sing's ongoing projects are Meridin East in Johor Baru, M Aruna in Rawang, M Vertica in Cheras, M Arisa in Sentul, M Luna in Kepong, M Adora in Wangsa Melawati and M Oscar, off Kuchai Lama in Kuala Lumpur.
The developer opened for sale Erica Phase 2 @ Meridin East in Pasir Gudang on Feb 17. With a GDV of RM108.25 million, Erica Phase 2 will consist of 210 two-storey link homes. The four-bedroom, three-bathroom units will measure 18ft by 70ft, with built-ups of 1,601 sq ft, and are indicatively priced from RM425,000.
Delphy, the final phase in M Aruna, was launched in March and has achieved a take-up rate of 95%. The 96.7-acre M Aruna township with an estimated GDV of RM520 million was launched in 2018. Delphy has a GDV of RM108 million and comprises 177 two-storey link homes with prices starting from RM662,800.
In July last year, the developer launched the last block of M Vertica. The RM425 million Block E comprises 646 units priced from RM480,000. In total, the entire M Vertica has 3,600 units spread over five blocks on an 11.25-acre parcel. 
M Arisa, launched in 1Q2020, has an estimated GDV of RM652 million and is 80% taken up. The project has two 55-storey towers with more than 1,590 units priced from RM380,000.
Meanwhile, M Luna and M Adora have seen a 90% take-up since their launch in June 2020 and July 2020 respectively.
The RM705 million M Luna comprises two 57-storey towers with a total of 1,672 serviced apartments and prices starting from RM385,000. M Adora has a GDV of RM378 million and comprises two 31-storey towers with a total of 677 residential units. Selling prices start at RM468,000.
M Oscar was launched in 4Q2019 and is 82% taken up. The RM500 million development comprises 910 apartment units with prices starting from RM428,000.
Planning ahead
Moving on, the developer plans to explore new construction technologies to be more efficient in terms of construction costs. Its strategic focus will remain on meeting environmental, social and governance (ESG) criteria.
"Through these challenging times, we have learnt to expect the unexpected at all times. As such, we will continue to provide products that are in line with market demand because such properties will attract buyers owing to their strategic location, affordable price points and well-designed features," says Leong.
To avoid business interruptions, Leong notes that the group will always plan ahead and establish contingency plans. "We have always believed in integrating technology into the business processes and have engaged in digital transformation since before the epidemic. Technology has become one of the most important tools in the property market, and the pandemic has accelerated the entire adoption process.
"This is where we will continue to leverage the strengths of the existing digital market platforms to boost sales by streamlining the processes from awareness to payments. Moving forward, we will strive for excellence in our management and operations, and one of the lessons learnt from the pandemic is a renewed commitment to resilience," he adds.