This article first appeared in Personal Wealth, The Edge Malaysia Weekly, on July 1, 2019 - July 07, 2019.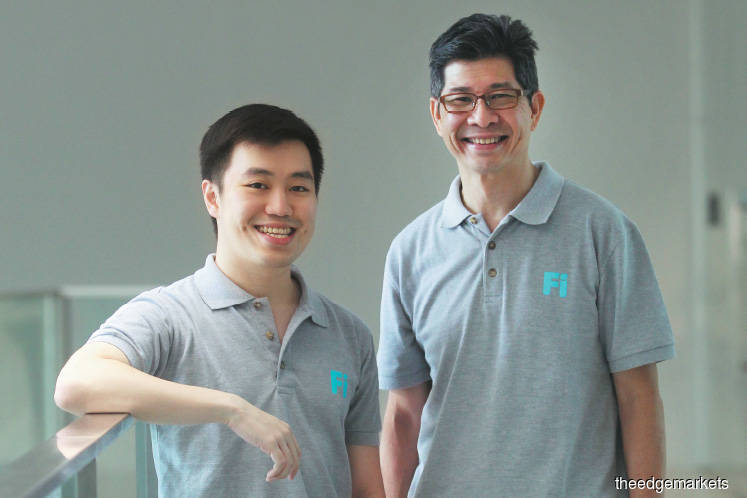 Malek Ali was running the show at BFM Media Sdn Bhd when he discovered his passion for educating consumers about their personal finances. This led him to relinquish his post as managing director of the business and financial radio station, and go back to being the founder of a start-up company at the age of 52.
Armed with RM2 million raised from investors, he took over U for Life — the first local online insurance provider — a joint venture between German reinsurer Hannover Re and New Zealand insurance software company Intelligent Life. The investors include Tan Thiam Hock, founder of Alliance Cosmetics; Ng Kay Yip, co-founder of JobStreet Corp; and Asgari Stephens, the principal of seed capital venture firm Intelligent Capital.
Malek then renamed the company Fi Life Sdn Bhd and officially launched its platform in May. Fi Life remains the largest online platform for term life insurance in Malaysia. Its products continue to be underwritten by Tokio Marine Life Insurance Malaysia Bhd.
In an interview with Personal Wealth, Malek says there are several reasons that led to the launch of Fi Life. One of them is his passion for being an entrepreneur and building up new businesses.
"It is uncommon for insurance players to call themselves entrepreneurs [as it gives the impression of taking on too much risk]. But I would still call myself an entrepreneur. I'm not worried that it would affect our business as long as we are doing things right," he quips.
The company was named Fi Life as it represents many of its aspirations, be it Fair Insurance, Financial Independence or Fantastic Interactions.
Malek became interested in the area of personal finances during his time with BFM. "BFM gave me the opportunity to interview CEOs, market analysts and experts in the financial industry. After the interviews, I would have a chat with them. That's when I found out that they could get a little lost when it comes to [the topic of] personal finances. And we are talking about seasoned executives here," he says.
"I realised that many working professionals didn't pay enough attention to their own money, even though they are supposed to be some of the smartest people in town."
During this time, Malek also found out that an area within personal finances that most people were confused about is insurance products, especially when they were sold an investment-linked plan.
"Back then, I was already a graduate of Harvard Business School's MBA programme. But I still didn't understand investment-linked plans. The insurance agents were telling me that you pay your premiums and this money will be put into an investment fund. The insurer will withdraw money from the fund [to pay for cost of insurance]. Then I asked what will happen to my investment if that's the case?
"As he explained, I asked more questions about the fund's performance and why it was not good. And this agent would start talking about the downcycle in the market. After an hour or so, you might still not fully understand the product and even forget that you're buying an insurance policy for protection, not investment," he says.
Until today, such confusion regarding investment-linked plans continues to persist, he adds. "Many still don't know how an investment-linked policy works despite owning one. This is where my entrepreneur instinct kicks in to say: 'Let's address this issue!'"
Last year, Malek relinquished his post as the company's managing director and started his new venture in insurance.
"I'm now on BFM's board of directors and still a shareholder. I don't manage day to day [anymore] and only give advice," he says.
Separate insurance from investment  
Malek says the best way to address consumers' confusion about insurance plans is to separate their protection and investment money, and manage them individually.
For the portion of money allocated for protection, consumers could buy a term life insurance plan that does not have a savings or investment component, he says.
Policyholders of term life insurance plans would only need to know that one part of their premiums will be deducted for agents' commission as well as insurance companies' marketing and distribution costs. The remaining sum would go to the cost of insurance that provides them with life coverage.
In comparison, investment-linked plans have a more complex structure. Policyholders would need to understand that their premiums paid would be used to purchase units of an investment fund of their choice. The total value of these units, also known as the account value, would depend on the fund's performance. The insurance company would sell off some of these units for cash to pay for the cost of insurance.
Malek says there are several benefits of buying term life insurance policies. Firstly, consumers will have a clearer understanding of what they have bought. "For instance, you pay a certain amount of premium to buy a term life plan that provides you with a RM1 million coverage. When something happens to you, you get paid RM1 million. That's it.
"People could easily understand the basic concept of insurance and how it works in its simplest form. But when you combine protection and investment, even a Harvard MBA holder finds it challenging to understand."
In addition, he says, the premiums of term life insurance plans are generally lower than those of investment-linked plans for the same amount assured.
"Investment-linked policies, in general, charge higher premiums because of an additional layer of charges, such as the annual management fee, which is imposed on investment-linked policyholders who put their money in one or more underlying investment funds," Malek says.
He adds that the amount of money saved by paying lower premiums could be used to invest in other instruments for potentially higher returns.
Some insurance agents tell consumers that investment-linked plans could help them generate additional returns over the long term when the underlying investment funds outperform the market and enjoy good returns. However, Malek questions the performance of these funds.
"Do they perform as well as other unit trust funds or robo-advisers in the market, for example? We do not know exactly how each of these investment funds has performed. But from our understanding, they have not been great," he says.
Providing protection-only plans
Following the rebranding, key enhancements were made to Fi Life's online insurance service, according to the company. These include the expansion of age eligibility and coverage period of its policies, greater eligibility for higher cover for certain age and income categories, and premium savings of up to 10% for RM1 million life cover.
Malek says Fi Life will focus on selling term life insurance plans. "For us, insurance should be bought solely for the purpose of protection."
He says Fi Life will be advocating this wealth management approach to consumer. In line with this, the products listed and sold through the online platform will only be for protection purposes. The products include term life insurance, critical illness add-on cover and personal accident cover.
Malek says the platform will provide explanations of the key features of the products in simple terms. The objective is to remove insurance jargons that often confuse the consumer.
Simplicity is something that Fi Life wants to showcase on its platform. Malek says the financial world has a tendency to make things complex. An example is the 2008 global financial crisis, which was caused by selling products with complex structures for the purposes of chasing profits. "That's an extreme example. But it shows how a simple product such as mortgage was turned into a complicated derivative product.
"For us, we want to go back to basics. We want to keep the products simple and make this a differentiating factor between us and our competitors."
The platform has also streamlined its underwriting process so that consumers could purchase a simple insurance plan online that suits their needs. "It would take you only about 10 minutes to complete the whole purchasing process. We could ask more questions than some other online platforms, but we would provide other benefits [in return]," says Malek.
For instance, he adds, the sum assured for Fi Life's products could go as high as RM1 million (without requiring medical examination), compared with RM500,000 by most other platforms.
"Many of them may ask you three basic questions and you have a maximum sum assured of RM500,000. We think this is not enough for a lot of people, especially those who have a family. We could provide RM1 million [sum assured] because we have a very robust underwriting system," says Malek.
On top of this, the platform does not impose a blanket rejection for people with prior medical issues, he says. "Some insurance companies may straightaway refuse to insure you, once they knew that you were admitted into the hospital in recent years due to certain conditions. For us, we would ask further about what it was and would still consider offering you a policy."
Malek says consumers could opt for a critical illness add-on cover when purchasing a term life insurance policy through Fi Life. The policyholder could pay a little more premium for the add-on so when he is diagnosed with certain critical illnesses (such as cancer, stroke and heart attack), he can be paid 25% of the total sum assured in advance by the insurance company.
"Let's say you bought a term life insurance plan that provides you with a life coverage of RM1 million. When illness strikes, you can claim RM250,000 to support your family. After that, your term life policy will continue to be in force, but with a reduced sum assured of RM750,000, payable upon your death or total and permanent disability," says Malek.
He adds that the premiums of these products are competitive compared with other similar products in the market.
Currently, Fi Life's insurance plans are yearly renewable term life products where premiums are reviewed and could potentially be adjusted every year. However, Malek is looking at offering consumers level-premium products in the future.
Fi Life strives to rebuild its momentum
Malek Ali took over U for Life at a time when the company was struggling financially, mainly due to changes in management. "The company was owned by two foreign firms that are based in Germany and New Zealand, and they were recruiting local talent to run U for Life. When there was a change in management, things didn't go well and the company couldn't execute its plans smoothly," he says.
"Secondly, the customer acquisition cost was too high. It struggled to maintain its marketing costs at a reasonable level and was burning too much cash. This mistake is not uncommon. I did the same thing in the earlier stages of my career [as an entrepreneur]."
Malek saw these problems as solvable. All the company needed are leaders who can provide a clear direction and lower operating costs at the same time. Hence, Malek teamed up with Tan Jiann Meng, a 29-year-old former analyst of a local asset management firm, to help craft a philosophy for Fi Life Sdn Bhd and lay out his plans for the company.
One of the main cost-cutting measures he did is to move the company's server to the cloud.
"Prior to this, it had a data centre and leased some equipment to run it. It was a relatively big cost and it took us about three months to move it to the cloud," says Tan.
Both of them are also keeping an eye on the marketing cost while running the company with a lean team of eight people.
"We also have a simple and lean service centre that allows our customers to reach out to us through WhatsApp," says Malek.
As of June, Fi Life has more than 3,000 active insurance policies in force, covering more than RM500 million in sum assured. Of these active policies, some of them were bought under the U for Life brand. How far away is the company from breaking even?
"We are expected to break even when we have 5,000 policies," Malek says, adding that the target is achievable as U for Life had previously sold about 8,000 policies before it was acquired.
"U for Life really worked hard to penetrate the market, even though they lost some momentum in the past few years. Our mission now is to rebuild the momentum."
On the side note, Malek says he did not quit the day-to-day management of BFM 89.9 because of the anonymous letter that went viral last December alleging rape and sexual harassment cases had occurred in the company. "No. It has nothing to do with that at all. The handover [of the management role] was done in the middle of last year. It is mainly because BFM is already stable and the people who have worked with me in the last 10 years needed to grow.
"Meera Sivasothy, who started out as our news reader, rose to become our general manager before taking over my previous role. I had grown the company from level 0 to 10. Now, it is their job to bring it from 10 to 20."