This article first appeared in City & Country, The Edge Malaysia Weekly, on March 28, 2022 - April 03, 2022.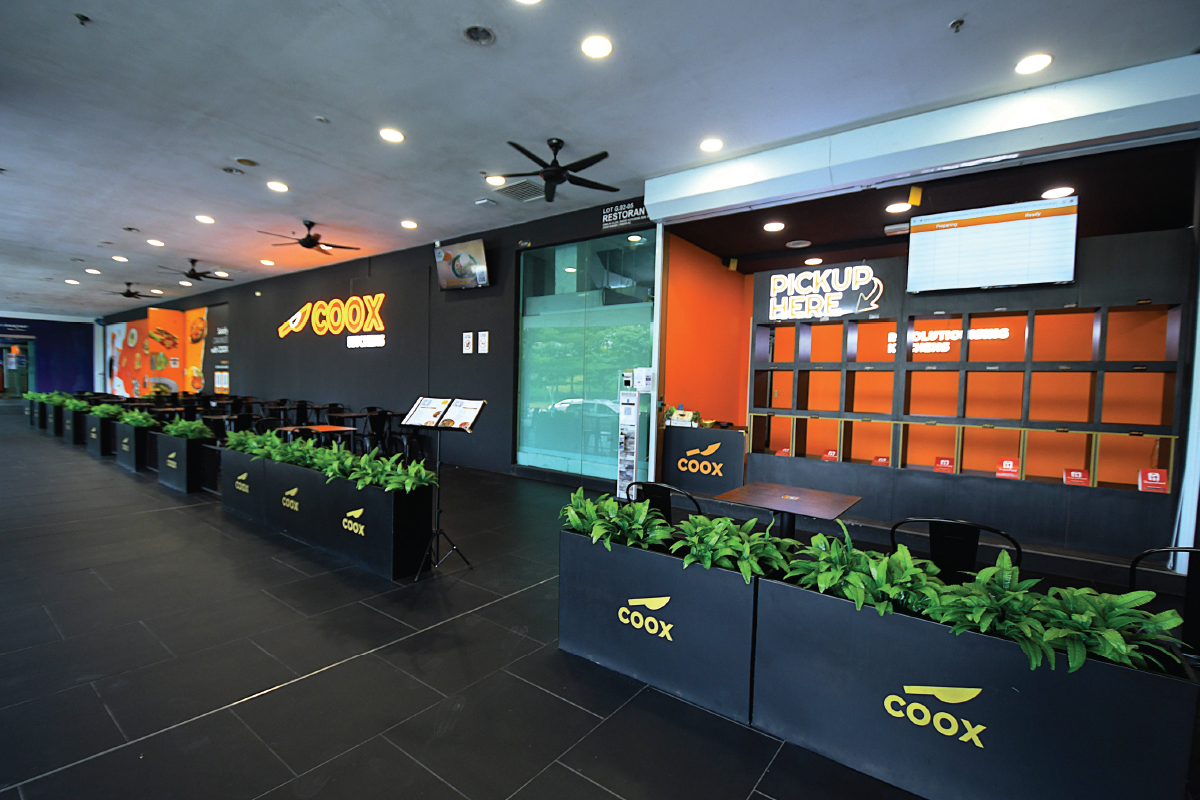 Cloud kitchens, which are essentially commercial kitchen space catering for delivery-only F&B businesses, have established their presence in the market, especially over the last two years when consumers have relied heavily on food delivery services during the pandemic, property consultants say.
"The cloud kitchen concept started here prior to the Covid-19 pandemic and was being actively pursued and evaluated to see if it could be operated locally. But with the pandemic hitting us suddenly in 2Q2020, this concept has cemented its role and presence in the F&B industry, and is definitely here to stay," says Savills Malaysia group managing director Datuk Paul Khong.
Cloud kitchens are attractive because of their lower operation and rental costs, among other factors.
These shared spaces are typically central kitchens without a prominent shopfront as they only need to be accessible for collection and delivery. As such, Khong says that they do not need to be in prime spaces, or in commercial centres or malls, but rather in secondary locations with good accessibility.
Similarly, JLL Property Services (M) Sdn Bhd country head Y Y Lau finds that cloud kitchens typically operate at locations that are further out in the suburbs and have less traffic, but with lower rental rates.
"Ideally, cloud kitchens should be located nearer to their customer base but because they may be constrained [by the necessity] to pay lower rentals in order to price their food competitively [against] their equivalent at dine-ins, they are likely to choose locations in the suburbs or less prominent locations but within a captive populated neighbourhood."
Zerin Properties CEO and managing director Previndran Singhe says that the kitchens' lower operating costs can be a boon to F&B operators, especially during challenging times. "[Cloud kitchens] started to gain popularity during the pandemic when authorities limited dine-in services and forced [a large proportion] of consumers to shift to online food delivery platforms. During that period, more F&B operators moved to cloud kitchens as footfall in their premises was dropping, resulting in losses."
Spate of new multi-brand offerings
Cloud kitchens came about as part of the sharing economy, which is characterised by the sharing of resources, adaptation to non-traditional business models and leveraging technology, particularly digital platforms, says Previndran. "The same trend was seen in other sectors such as Airbnb, e-hailing services and co-working spaces."
In recent years and especially during the pandemic, more multi-brand cloud kitchen aggregators have emerged in the country. Notable ones include My Ghost Kitchen (formerly known as GF Ghost Kitchen, set up in February 2021), KitchenCo (December 2020), COOX (March 2021), Cookhouse (June 2020), GrabKitchen (January 2021) and KitchenConnect (November 2020).
JLL's Lau notes that Cookhouse has attracted more than 10 F&B entities since its inception and has multiple branches across the Klang Valley, including in a rented industrial lot in Petaling Jaya and in shopping centres. Some of the outlets offer dine-in seating as well as space for events.
My Ghost Kitchen also has a hybrid food hall featuring 20 local and international F&B brands with branches in shopping malls such as Sunway GEO, Melawati Mall, The Curve and Citta Mall. "[My Ghost Kitchen] allows customers to combine orders from multiple restaurants with one delivery fee. This approach conveniently provides variety to consumers," says Lau.
KitchenCo in Bangsar features 20 in-house brands. According to Lau, more KitchenCo outlets are being planned. Another delivery-only virtual kitchen is KitchenConnect, located in Mont'Kiara. There is also COOX, which has opened its first outlet in Glo Damansara and currently has over 40 F&B brands. GrabKitchen, first introduced in Jakarta in 2018, has expanded to 55 cloud kitchens throughout Southeast Asia. Locally, it is located at Desa Sri Hartamas, and has 11 brands at the time of writing.
Lau says it is too early to tell how well these cloud kitchens are performing. "So far, only F&B brands in GrabKitchen in the region, including Malaysia, have claimed that they have seen an average of 1.6 times more sales than their average outlets.
"Nonetheless, based on their expansion plans, we would think that cloud kitchens are doing well," she adds.
Savills Malaysia director of retail services Murli Menon concurs. "While it is still a bit early to review and analyse their performance, what can be seen is that there is a lot of traction and interest in this concept. More and more cloud kitchens are being set up and we can see them evolving [already]."
Also known as dark kitchens, ghost kitchens or virtual kitchens, cloud kitchens have grown over the years.
Lau notes that Pizza Hut partially used this concept when it launched its first online pizza delivery service in 1994 whereas Domino's Pizza was one of its early adopters, establishing its cloud kitchen in 2012.
"Everything, from the kitchen facilities and ordering system to delivery services are developed and handled by Domino's Pizza without relying on third-party enablers. It has either a small or no dining space, and it places stores in low-cost, route-optimised retail locations," she explains, adding that Domino's digital orders account for about 80% of its sales.
Malaysian food delivery company Dah Makan, now rebranded as Pop Meals, is another full-fledged cloud kitchen operator, having launched in November 2015, says Lau.
"There are many budding entrepreneurs without the funding for high capital costs but wish to test out their products. This has led to the creation of cloud kitchen enablers because setting up an end-to-end cloud kitchen model like Domino's or Pop Meals will require a hefty upfront investment. So it makes sense to partner with third-party enablers to test the demand first," she adds.
Popular Korean fried chicken restaurant chain KyoChon Malaysia launched three cloud kitchens in September 2019 in partnership with GrabFood because of the growth in demand for food delivery services.
According to Lau, KyoChon's kitchens occupy shoplots in Wisma Central, Damansara Uptown and Damansara Perdana in the Klang Valley. "Their cloud kitchen-based outlets don't accept any walk-in customers and the menus are different from their dine-in outlets. Menu configuration is amended to [optimise] profit as delivery riders can only carry limited portions," she adds.
Meanwhile, property consultants indicate that more hybrid concepts of the cloud kitchen model could emerge.
"There could be a growth of the hybrid concept whereby the cloud kitchens also offer dine-in services, especially if they are in good commercial locations that permit this growth angle," says Savills' Khong.
"The takeaway and delivery business is something that has continued [to do] well, especially in the last two years and many have moved into this space, riding carefully and successfully over the pandemic periods and beyond into the new normal," he adds.
In addition to hybrid cloud kitchens that offer dine-in, Murli notes that some have positioned themselves as co-cooking spaces, "bringing together channel and supplier partners, celebrity chefs and other F&B associates to create a platform to help F&B entrepreneurs start up and establish their F&B business through collaboration".
Pros and cons
The main advantages of cloud kitchens are the lower start-up and operating costs, and flexibility.
"[Cloud kitchens] drastically reduce the start-up costs for F&B entrepreneurs given that a lot of the facilities are shared and they get to operate their own kitchen at a much lower cost," explains Murli.
Previndran adds that cloud kitchens offer F&B operators the flexibility to launch more than one brand using the same kitchen infrastructure and resources, such as the cooking space, refrigeration facilities, marketing guidance and partnerships with food delivery apps.
"The unified services can help F&B operators reduce set-up and operating costs considerably, with less manpower required. This allows F&B operators to get creative and test new menu offerings, all without the added pressure of sky-high rents or having the need for front-of-house staff. This approach suits businesses that are starting out or  want to expand their offerings."
Further, cloud kitchens' flexible leases allow F&B operators to have lower commitments compared with the longer tenures of traditional bricks-and-mortar restaurants, he says.
According to Previndran, most cloud kitchens in Malaysia come with back-end infrastructure such as cloud inventory systems and delivery partners, as well as social media and photography assistance.
The cloud kitchen model, says Murli, offers F&B businesses a wider reach and distribution catchment without incurring additional capex and operational costs from setting up branches of dine-in restaurants.
Additionally, data from the delivery apps used allows the business entities to determine the popular products in each area and when the peak demand is, says Lau. "The use of apps can help operators get more information and a bigger picture of demand rather than on an individual basis."
Cloud kitchens do come with several crucial disadvantages, however.
"Since cloud kitchens tend to be in buildings that are just commercial kitchens, the F&B operators lose the ability to attract customers via walk-in or drive-by traffic. This means customers can only find them online," says Previndran.
He adds that cloud kitchen restaurants are unable to directly engage with customers as interactions are usually with the delivery platform. "At the end of the day, a food-based business is all about the community and getting loyal customers to come back again and again. This is what is lacking with this business model."
According to Murli, the dining experience is important and perhaps critical for certain categories of F&B, where plating, presentation and service add to the overall brand experience. "Cloud kitchens therefore would work well for food that can be streamlined and standardised as far as preparation processes are concerned, to be able to offer consistency regardless of which kitchen it is prepared in and delivered from."
Without offering a dine-in experience, cloud kitchen F&B operators may also feel compelled to offer a discount even though their food may be comparable or even better than their competitors', especially if they are new to the market, adds Lau.
Other disadvantages are the high rates charged by delivery services, the competitive online marketplace and quality concerns.
"Since the online delivery platform [market] can be crowded and competitive, some F&B operators choose to be on multiple [platforms], resulting in having to pay higher commission rates," says Previndran.
Murli highlights that the food delivery business in Malaysia is already feeling the strain of the high rates charged by a few prominent delivery providers. "This in turn erodes their margins. This is, in essence, similar to the occupancy costs that they would have paid in a prominent retail location.
"Given the high number of operators that can come on board, the brands would have to fight for share of voice on the platforms to ensure that they are picked up from the myriad of options available on the various delivery platforms and apps," he adds.
When it comes to quality control, Previndran says that F&B brands in cloud kitchens are exposed to threats that are out of the kitchen's control. "Such examples include bad weather and drivers being stuck in traffic. Packaging is a crucial element in maintaining the food temperature, which means brands would have to test out different types of containers to preserve the food quality. Soggy, lukewarm food will guarantee failure and one food-borne illness or outbreak will [damage] the company's reputation."
Here to stay
Despite the disadvantages, property consultants believe that cloud kitchens are here to stay.
"A certain percentage of consumers may find that ordering F&B online is convenient and hassle-free, especially when parking can be daunting, even when the economic sectors have reopened," says Lau.
She adds that millennials, who are most likely to buy online, will dictate buying power going forward. "According to the 5WPR 2020 Consumer Culture Report, millennials were not only the highest-spending generation in 2020 but also the most highly influenced by the media and most likely to buy online, whereas Gen X and baby boomers are more likely to splurge on dining out."
Cloud kitchens also serve as a business strategy, according to Lau. "Changing a business model from dine-in restaurant to cloud kitchen allows a failing restaurant to cut out some of its costs. This might save the business and is another way to continue operating. Hence, cloud kitchens can serve not only as a relatively fast entry but also an expansion strategy with a lower cost."
Murli foresees the format continuing to evolve and grow. "This is one of the ways to combine and optimise online-to-offline (O2O) commerce and have a seamless presence in both channels, or build a strong online/delivery channel presence, depending on brand offerings and long-term strategies.
He adds that the effects of the pandemic have led many F&B operators to move to a pure delivery format and in some cases, a hybrid business plan. "In the long term, F&B operators can have the flexibility of having a few flagship locations in key areas to give the brand visibility and prominence, and be able to offer the full dining experience and service, and at the same time widening their reach using cloud kitchens in areas where it would not be economically worthwhile to set up standalone restaurants."
Lau, too, sees a future for cloud kitchens. "It is not difficult to conceive that there is a market for cloud kitchens and that there will be growth given the natural growth in population, number of workers in cities as well as female participation in the workforce.
"Additionally, the Covid-19 pandemic has made people rely on food delivery portals to avoid going out. We think that this surge in demand for purchasing F&B online [since the implementation of the first Movement Control Order] may continue as a certain percentage of consumers have embraced this as part of their lifestyle. In fact, Statista estimates that online food delivery will grow by 10% per annum in the next five years," she adds.
According to Lau, cloud kitchens in other countries have reported increasing sales even after the pandemic was under control. "For instance, Taiwan-based cloud kitchen JustKitchen announced plans to expand its business internationally after its success locally."
Previndran is similarly optimistic of cloud kitchens' longevity in the market. "Cloud kitchens are a cost-efficient business model that [allows brands to leverage] operations and pricing. Food delivery services serve as infrastructure for the F&B operators to reach out to their customers. Some of the [cloud kitchen] F&B operators in the market have garnered a following too. Hence, cloud kitchens could stay long term in Malaysia."