This article first appeared in The Edge Malaysia Weekly, on November 21, 2022 - November 27, 2022.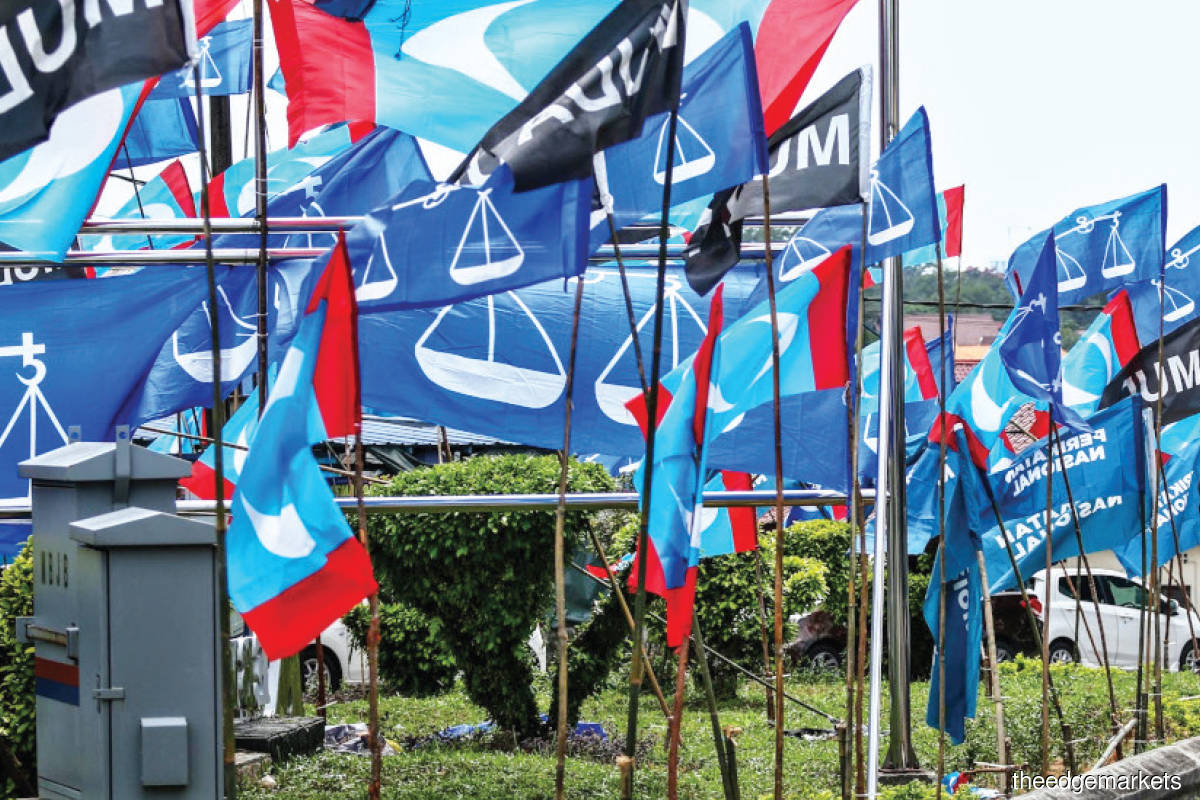 THE 15th general election (GE15) is so closely contested that the outcome remains unclear due to the many moving parts that were introduced for the first time. All over the country, the mood of the voters cannot be easily read, especially among the Malays.
The Barisan Nasional (BN) coalition performed well in March this year, capturing Johor in the 15th state election by winning 40 of the 56 seats contested. Umno contributed 33 seats, MCA four and MIC three.
But the question remains whether it can repeat the feat on Nov 19.
Many of the parliamentary seats in northern Johor may be construed as a microcosm of Malaysia — seats with a Malay majority and a significant non-Malay minority. This is why many in the country's political establishment have deemed the state as a whole as too important to ignore.
During a Program Ramah Mesra Barisan Nasional with the voters of Ayer Hitam on Nov 9, caretaker prime minister Datuk Seri Ismail Sabri Yaakob said that to win in a general election, BN must win in Johor.
Pakatan Harapan (PH) must have realised the same as its chairman Datuk Seri Anwar Ibrahim toured the state on Nov 8, starting off in Ledang, one of the seats in northern Johor, and ending in Ayer Hitam, in the central region.
His lieutenant Rafizi Ramli also spoke at PKR's mega ceramah in Ledang on Nov 11, alongside Wong Chen, as well as PH's candidates for Ledang and Pagoh, Syed Ibrahim Syed Noh and Iskandar Shah respectively, and other candidates and party leaders.
Perikatan Nasional (PN) has its chairman Tan Sri Muhyiddin Yassin defending the Pagoh seat. And on Nov 16, Muhyiddin and Tan Sri Hadi Awang, president of PAS, came to speak at a mega ceramah in Bukit Mor, Parit Jawa, Muar.
Due to the state's size, both geographically and population-wise, it houses the highest number of parliamentary seats among the peninsular states — 26. This is one more than Sabah's 25 seats in the Dewan Rakyat.
Thus, it is not too farfetched to say that Johor is an important state for all of the coalitions. Out of the 222 seats in the Dewan Rakyat, seats from Johor make up 11.7% of the total. The only state that has more seats in the Dewan Rakyat is Sarawak, with 31.
So, who will win the greatest number of seats in Johor in GE15?
Muar, the litmus test for Muda's politics
The northern region of Johor is important as two party presidents are defending their seats there — Syed Saddiq Syed Abdul Rahman and Muhyiddin.
Syed Saddiq is defending the Muar seat as the president of the Malaysian United Democratic Alliance (Muda), while Muhyiddin, the president of Parti Pribumi Bersatu Malaysia and chairman of PN, is defending the Pagoh seat.
For Syed Saddiq, GE15 will decide whether his brand of politics — one that does not pander to communal interests, especially to the Malays — can be accepted in a Malay-majority seat. If he succeeds in his "social experiment", then there is hope for multiracial politics that is colour-blind, so to speak, in the country.
Based on the Election Commission's data, Muar has 68,925 voters, of which 66.72% are Malays, while Chinese voters make up 31.47% of the total. There are a total of 21,691 Chinese voters in Muar.
In GE14, Syed Saddiq won the Muar seat under the PH banner as the youth chief of Bersatu — a Malay-based party. This might have enticed some of the Malay voters in Muar to back him then.
He defeated the then incumbent from BN Datuk Seri Razali Ibrahim with a majority of 6,953 votes. Another candidate, Abdul Aziz Talib from PAS, lost his deposit after garnering only 4,354 votes.
However, Syed Saddiq actually lost in the Sungai Balang area in Muar, notably in Parit Nawi, in GE14. Therefore, whether one has to be with a Malay-based party to win in Muar is questionable to begin with.
BN is determined to win Muar back, by fielding a younger candidate as an alternative to Syed Saddiq. The candidate, Helmy Abdul Latif, is 42 years old but looks much younger. He is a local Muarian and the youth chief of Umno and BN in Muar.
His energy is palpable — he has been going down to the ground more often than the other two candidates, Syed Saddiq included, but this is because the incumbent had to go campaigning in the other states and constituencies as a party president.
However, Helmy is a dark horse. He was even "directed" by the party's machinery not to make any statements after noon, given that this is his first time standing in a national election. Whether his inexperience will have any effect on the people of Muar's perception of him remains to be seen.
Meanwhile, PN's presence in Muar was not felt until Nov 16 when the mega ceramah was held with PAS' Hadi Awang making his first appearance in the state in Bukit Mor, Parit Jawa. An estimated 500 people turned up to hear his ceramah, which was filled with racial and religious rhetoric.
Will the strong show of support mean a turning of the tide — away from Syed Saddiq and Helmy, and towards PN's candidate, Ustaz Abdullah Husin?
Pagoh — does Sheraton Move matter for Malay voters?
Meanwhile, in Pagoh, another Malay-majority area, the incumbent Muhyiddin will be facing BN's Razali, the former MP of Muar, and newcomer Iskandar Shah from PH. The incumbency will give Muhyiddin an advantage, as the people in Pagoh have known him for decades.
However, this election will show whether voters in Pagoh, especially the Malays, agree with what Muhyiddin had done politically over the past four years. He was one of the main players of the Sheraton Move, which led to the collapse of the PH government in February 2020.
According to EC data, Pagoh has 69,939 voters, with 65.96% being Malays, 29.76% Chinese and 3.72% Indians. As much as 35.78% of the electorate are first-time voters.
Based on this writer's observations, the local voters, especially the Malays, do not care about the Sheraton Move. However, whether they are going to still cast their votes for Muhyiddin is another matter.
This is because those hardcore BN supporters are likely to remain loyal to the party, as seen in GE14 when BN's candidate received 16,631 votes. Meanwhile, Muhyiddin's votes in GE14 were actually lower than in the preceding general election, showing that he is not all powerful in Pagoh.
Pagoh only saw large-scale rallies on Nov 17, two days before the polling date. Even then, the crowds were made up of largely party members and machinery. Therefore, it is quite hard to judge the mood of the voters in Pagoh, especially when the constituency is quite large.
Nevertheless, one of the most important constituents of Pagoh is the Felda voters, as according to Razali, around 15% of the voters there are made up of those who live in the settlements. And all three candidates have been vying for the Felda votes.
It is hard to read the sentiment of the people of Pagoh.
On the one hand, Muhyiddin has been instrumental in the development of the area over the last four decades. On the other hand, those developments may have become the source of their issues these days, such as high property prices and floods.
Meanwhile, both Razali and Iskandar are newcomers in Pagoh, with the former still voting in Muar and a co-director for the constituency. It seems that his heart is still in Muar, which he lost bitterly to Syed Saddiq in GE14.
His social media postings are still about Muar, even though he is standing in Pagoh.
Iskandar, while being a local, only joined politics this year and doesn't have a huge machinery behind him to support his campaign. However, this could be an advantage as he is not saddled with any political baggage, even standing as a PH candidate.
Will Pagoh see a major upset come Nov 19?
Ledang, a test of whether PKR's multiracial politics works in a rural mixed seat
Ledang is PKR's bastion in northern Johor, as the mixed demography of the seat plays to the party's strength. And it has also become the base for the party and PH's campaign assault in northern Johor.
According to EC data, Ledang has 104,577 voters this GE, with 55.76% of them Malays, 39.03% Chinese and 4.57% Indians.
If there's a seat where the incumbent is quite safe in northern Johor, it is Ledang. However, even then, the many changes introduced in GE15 such as automatic voter registration and Undi18 make the contest unpredictable.
It cannot be denied that BN had made a comeback in Johor, triumphantly winning the state election earlier this year. However, the state election saw a low voter turnout, while on PH's side, there is no convincing national narrative for it to bank on.
Now, with the GE being forced by Datuk Seri Ahmad Zahid Hamidi's faction within BN — purportedly to return the mandate to the people to choose a stable government — during the monsoon season, will the people's anger hurt the coalition?
While PH benefits to some extent from the voters' anger against BN for forcing the election, PN benefits as well, and with a narrative of being clean and stable, the coalition of Bersatu, PAS and Parti Gerakan Rakyat Malaysia could become the most viable alternative, even in Johor.
What will be the colour of the wave in Johor? Will it be PN's blue or BN's blue? Or will it be PH's red? My personal take is that the wave will be a mix of blue and red, showing that the people are divided between PH and either PN or BN.