This article first appeared in Wealth, The Edge Malaysia Weekly, on February 22, 2021 - February 28, 2021.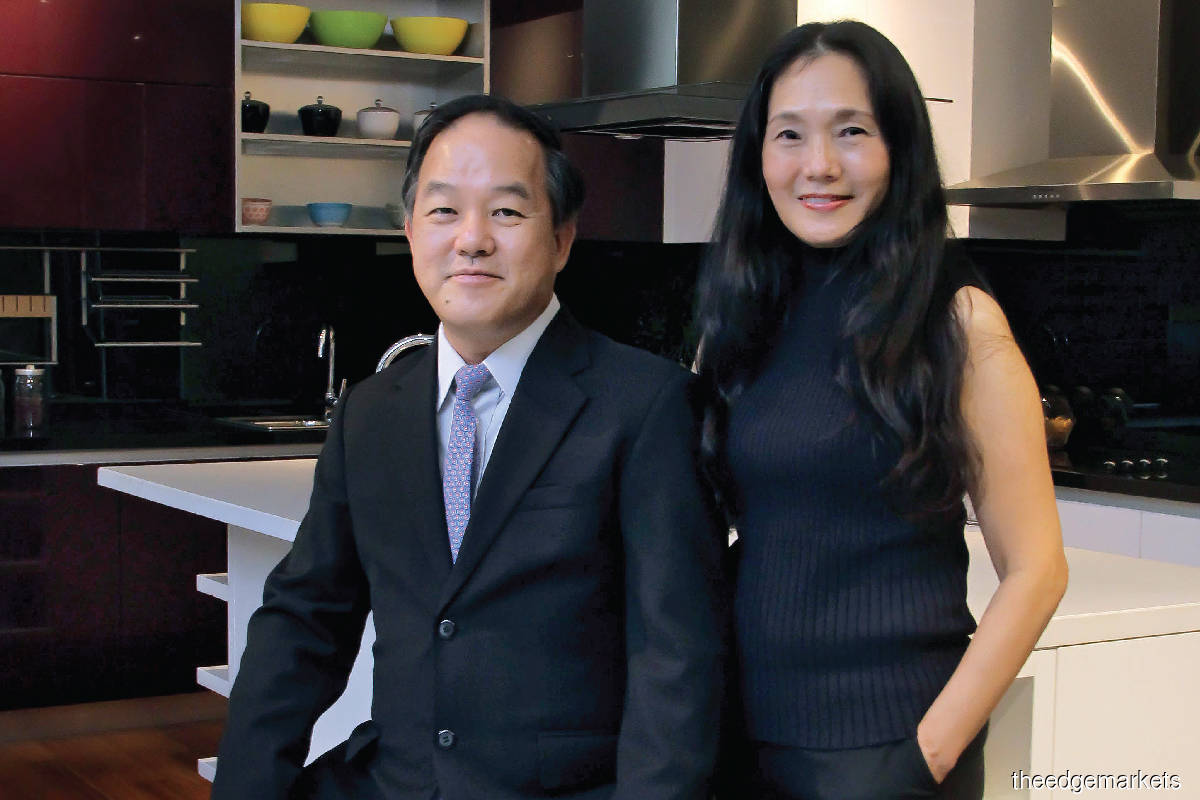 Datuk Tee Eng Ho, co-founder and executive chairman of construction company Kerjaya Prospek Group Bhd, knows all too well the need for prudent management of money, having come from a poor family.
Born in Kampung Tehel, Melaka, to rubber tappers, Tee learnt from an early age how to manage his money well. "My father gave me an allowance each day when I was in primary school. In secondary school, he gave me an allowance once a month. And when I entered college, it became once a year — a sum of RM4,000 for my annual expenses, including school fees, rent and food. I would have been left with nothing if I had spent all the money allocated to me," he says. 
"I had to learn how to manage my cash flow and be disciplined about it. This is my father's style. He did the same to my younger brother too. And I, in turn, did it to my children."
Tee also learnt the need to save and to have cash in hand. As a teenager, he took up various jobs to supplement his income. These included working at a local Chinese newspaper, China Press, as a factory worker in the darkroom and, later, as a photographer. But the job he liked most was on the construction site. 
"I like construction sites. I worked for a small construction company in the first two years after I graduated from Tunku Abdul Rahman College (TARC) with a diploma in building technology. I worked 360 days a year, working most weekends," he says. 
"For me, construction work is not just about going there and monitoring the workers. I like to observe, record and think about efficiency. When people take two hours to finish a job, I would think about how we could do it in one hour. And I like to see the results when the building is completed." 
Trained well by his father in money management, Tee put a lot of focus on numbers, cash flow and debt when he started Kerjaya Prospek Group. Today, he is regarded by analysts as one who is good with numbers and has a thorough understanding of the key drivers of the company's profit margins
Under his leadership, Kerjaya Prospek Group, which was listed on Bursa Malaysia via a reverse takeover (RTO) of Fututech Bhd in 2016, has gone from strength to strength. And this despite a weak property market.
The company is liked by many analysts, mainly because it is one of the few, if not the only one among, construction companies that command a double-digit profit margin with the backing of institutional investors such as the Employees Provident Fund and several reputable asset management firms. 
Some investors have expressed the wish that the Tee family, who directly and indirectly holds about 70% of the company's shares, loosen its grip on Kerjaya Prospek Group and trim its holdings to about 50%, partly to improve market liquidity.
"But at what price would I give up the 20% shareholding? If you asked me, I would not be keen at the current price of RM1.02 [as at Feb 8]. It is low. But, again, do not ask major shareholders how much the company they have invested in is worth. They always think it is higher than the market price!" Tee quips during an interview with Wealth. 
Having cash reserves is crucial
When it comes to his personal investments, most of Tee's money is tied to Kerjaya Prospek Group, which he co-founded with his wife, Datin Toh Siew Chuon, and his younger brother Tee Eng Seng in 1995. He has little time to invest in the stock market. It was only in 2011 that he opened a Central Depository System (CDS) account with Bursa Malaysia. And that was only because he wanted to acquire the shares of Fututech. 
"We [Tee and the key management and shareholders of Fututech] knew each other very well and they wanted to sell me some shares. But I said they would have to wait a week, as I did not have a CDS account. I was so focused on my company. Until today, I still don't own shares of other companies [in his personal capacity] and I am not affected by the ups and downs of the market," says Tee, 56.
He firmly believes that cash is king. That explains why Kerjaya Prospek Group is cash-rich and has reserves that have helped it achieve double-digit profit margins in the past five years despite operating in a capital-intensive industry. By buying raw materials in bulk and paying cash whenever it can, the company is able to reduce its raw material costs significantly. It can also demand that suppliers deliver their products and services on time to ensure good quality. 
The company's high cash reserves have also allowed it to invest aggressively in technology to enhance its competitiveness. According to Tee, the company has invested about RM180 million in the Industrialised Building System (IBS) from 2015 to 2018, a construction technique where building components are manufactured in a controlled environment. He says that, as at Feb 8, about 60% of its building components were done through IBS. 
"We have tried our best to invest in such technology with cash. Such a move is good for us in the long term, as it helps us to cut down on labour cost, which translates into better profit margins. Our capital expenditure will also be smaller moving forward. More importantly, it makes me more competitive to bid for jobs," says Tee. 
He adds that it is crucial for entrepreneurs to identify future trends, such as technological ones, and invest in them over the long term. "And with cash in hand during the tough times, I'm able to look out for good investment opportunities in the market. I have been looking at M&A opportunities and good land to buy in recent years." 
Tee says it is essential that investors, like entrepreneurs, do not over-leverage themselves to survive the wild swings in economic cycles. "If you look at our history, we rarely borrow money. We sometimes borrow just to have cash on standby."
The 1997/98 Asian financial crisis reinforced the need to be in a good cash position. The crisis came just two years after the co-founders started the construction company. Until today, Tee can still recall how bad the situation was when many construction companies floundered. 
"We saw many companies collapse. And the fear is still there. Banks were charging an interest rate of 18% at one point. How many businesses can make money at such a rate? And there were almost no jobs that year," says Tee. 
He and his wife managed to survive on the back of prudent financial management and their strong will and business acumen. In those two years, they transitioned from their core business of construction to renovation, an area that was highly profitable even during the crisis. The market was controlled by some cartels that sold furniture at an extremely high profit margin. 
"Because of this, developers and property owners faced a lot of problems. They wanted to renovate a space and had to go through several agents. An item that was worth RM5,000, for instance, was marked up to RM10,000. So, we helped them source products and renovated properties at a reasonable price," says Tee.
With him in the driving seat, Kerjaya Prospek Group has never run into major financial issues since it commenced operation. Its success would not have been possible without his wife and younger brother at his side. "We have been driving the company for 26 years. My wife was mainly in charge of accounting, purchasing and quantity surveys," he says. 
Today, Toh is also an executive director of Kerjaya Prospek Group and executive chairman of Kerjaya Prospek Property Bhd (previously known as GSB Group Bhd, a property developer, after a successful RTO exercise in 2018). Hailing from Sibu, Sarawak, she came from a middle-class family. Her mother was a businesswoman who sold women's clothing in the market. Toh and her six siblings, together with their father, would help out in the business, which generated enough income to support the family. 
"I'm the eldest of the seven of us, just like my husband. But, yes, my family's background is relatively better than his. My mom always tried to give us what we wanted," says Toh. 
She has had her own mind and ambition since young. Growing up, she wanted to be an accountant to better understand business. She met Tee in college. "I was in my first year; he was in his last," she says. 
Toh used to be an active investor in the local stock market and would record all her trades in a book, mostly a habit, as she was trained as an accountant. "I remember I had a record for myself when I was managing my own investments. I was very active and sure about what to buy and sell. Usually, I would key in what I wanted to trade at nine o'clock in the morning and execute it later. But, as I became busier with the company, oftentimes it was too late to execute those trades when I finally had the time. The market was closed and I had missed all the opportunities," she says. 
It was during the Asian financial crisis that Toh gave up investing and turned her focus to running Kerjaya Prospek Group. She does invest in overseas properties, though. Apart from diversification, she does it to gain knowledge about the property industry overseas. 
"We like to gain some knowledge and experience from other countries. We usually read through their sales and purchase agreements and ask a lot of questions," she says.
"We can understand things better from a bigger picture. And we can make fast decisions when we are dealing with problems here." 
In fact, Toh believes in going to the ground and has adhered to this since she was an auditor, before starting Kerjaya Prospek Group with Tee. "I liked to do field audits by visiting companies and factories. And the first thing I wanted to know was how they generated income and incurred expenses. I was keen to know their system and business model," she says. 
"Even when we started Kerjaya Prospek Group back then, I would visit construction sites two to three times a week. I would drive my Proton over there to check things and build rapport with our suppliers. At the site, the site manager would always tell me to be careful."
Meanwhile, Toh pays attention to details and loves interior design. This is one of the reasons she helms Kerjaya Prospek Property. The real estate developer will be launching a project in Shah Alam's Seksyen 15 this year and another project in Sentul next year. It is also scouting for land in Old Klang Road and other areas in the Klang Valley for future development. 
Pragmatic couple
The husband and wife have at least one thing in common: They are both financially savvy. They also shared the view that an RTO would be a better way to get Kerjaya Prospek Group and Kerjaya Prospek Property listed on the local bourse. While some investors may think it is easier to list via an initial public offering (IPO), they believe that an RTO is a better option from a cost perspective. 
"It comes with a lower cost compared with an IPO. I want to save money while getting the companies listed. And I can use the cash to do more things," says Tee. 
The RTO process is also more convenient and faster, he adds. Toh nods in agreement.
When it comes to drawing a line between family and company matters, they also agreed from the outset that no family members, other than their children, would be allowed to join Kerjaya Prospek Group. "We made it very clear that only the founders, which includes my younger brother, and our children are allowed to join the company," says Tee. 
"We try to keep family and business separate. It is fine when things are going well. But, during bad times, there may be a lot of problems. We prefer to avoid such risks in family relationships." 
Despite having to work closely with each other for more than 20 years, the couple has managed to avoid major conflicts that could have affected their relationship. "We don't talk about work at home. And this is hard to do. But I always stop when it happens. In the early days, yes. But now, no need lah. You need to be disciplined if you want your relationship to be sustainable," he says. 
"We also made it very clear that I would be the final decision maker when it came to Kerjaya Prospek Group. At home, she makes all the decisions.
"A lot of people ask me how the three of us can work together for 26 years. Frankly, we have disagreements and we treat them as something very normal in life. It is just that one or two of us will have to take a step back. When we have calmed down, we can solve the problem together."