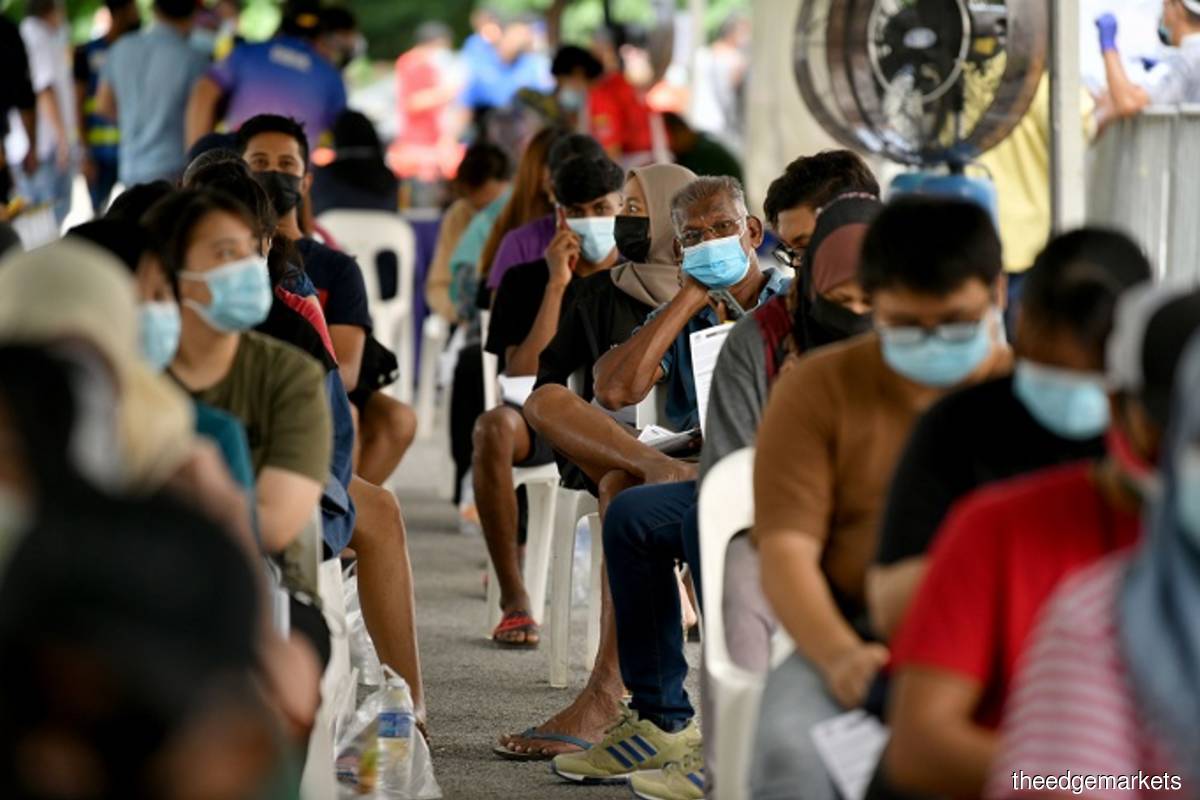 Follow our Covid-19 vaccination tracker to see where we are in the race to herd immunity.
KUALA LUMPUR (July 9): Even as the pace of Malaysia's vaccination programme picks up from July 3 to July 9, with weekly vaccination jabs administered hitting a record high of 1.83 million, new Covid-19 cases swelled to its second highest weekly figure on record. The increase in new infections came amid more vigorous close contact tracing and screening in areas placed under the Enhanced Movement Control Order (EMCO).
A total of 51,889 Covid-19 infections were detected from July 3 to 9, up 19.9% from 43,290 in the previous week. The reporting week ended on a new record high daily cases of 9,180, surpassing the previous peak of 9,020 that was reported on May 29.
Weekly fatalities also reached a new high of 653, up 129 or 24.6% from 524 in the previous week, raising the coronavirus' death toll in the country to 5,980. The jump came as daily deaths touched a new high of 135 on Thursday (July 8).
Amid the surge in new infections, the number of active cases increased to 80,665, up 20.5% from 66,958 a week earlier, as weekly recoveries were much lower than new infections at 36,655. Week-on-week, recoveries slipped 144 or 0.4%, from 36,799.
There are now 731,193 people in Malaysia who have recovered from the coronavirus so far, versus cumulative infections of 817,838, representing a recovery rate of 89.41%.
New record cases coming from Selangor
The jump in weekly infections came as Selangor, the worst-hit state, recorded its highest weekly cases at 22,850, up 32.6% from the previous week's 17,236. The populous state, a big part of which is now under the EMCO, has reported 277,393 Covid-19 cases since the pandemic was first detected in the country.
Kuala Lumpur, where several areas are also under the EMCO, also reported a surge in new cases for the week to 7,010, up 31.4% from 5,336 in the prior week.
R0 up to 1.09 from 1.07 the prior week
Following the increase in the number of infections found, Health director-general Tan Sri Dr Noor Hisham Abdullah said the basic reproduction number (R-naught or R0) for Covid-19 infections nationwide has now risen to 1.09, from 1.07 last Friday (July 2).
The R0 or Rt projects the average number of people that each new Covid-19 patient will infect, or what is termed as the effective reproduction number. An R0 of less than 1.0 means the infection is no longer spreading.
The highest R0 recorded this year was 1.21, on May 23.
10 million Covid-19 doses administered so far
For the week of July 3-8, Malaysia administered a total of 1.83 million doses to the Malaysian population – up 18.8% from 1.54 million the previous week – ;according to data from the Special Committee for Ensuring Access to Covid-19 Vaccine Supply (JKJAV).
The new weekly record number came as the nation gave out over 300,000 vaccine jabs for four four consecutive days from July 5 to July 8, with the highest being 376,909 doses administered on July 8.
As of July 8, at least 22.07% of the population had received their first vaccine dose, while 9.75% were fully inoculated.
Selangor has the highest number of people who have had their first vaccine dose, at 1.315 million, followed by Sarawak at 1.312 million and Kuala Lumpur at 1.303 million.
Selangor also leads in terms of having the most number of fully inoculated people, at 446,583, followed by Sarawak (443,987) and Johor (326,207).
In comparison with other ASEAN countries, Singapore has the highest vaccination rate at 38.60% from a population of 5.70 million, followed by Cambodia (20.90% from a population of 16.95 million), Malaysia (9.75% from a population of 32.78 million), and Indonesia (5.30% from a population of 276.36 million).