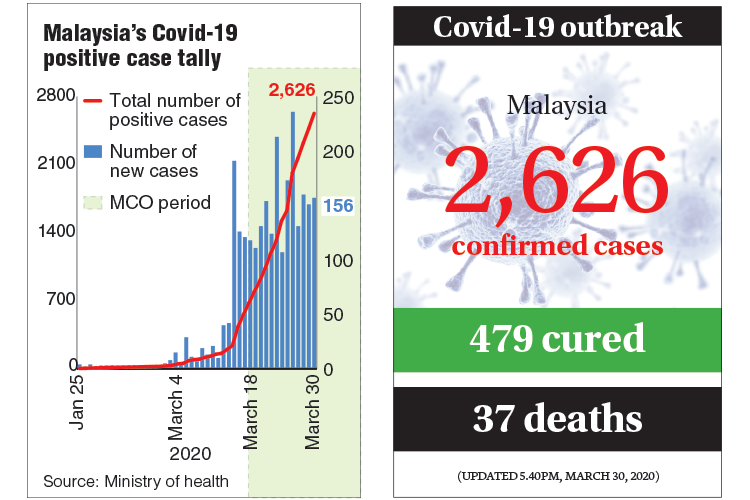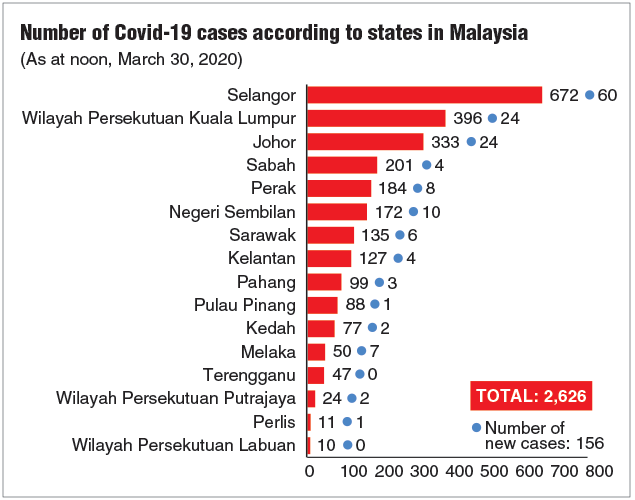 KUALA LUMPUR (March 30): There were 156 new confirmed infections today, bringing the total number of Covid-19 cases in Malaysia to 2,626.
Meanwhile, three more people died of the disease, raising the death toll to 37.
Health director-general Datuk Dr Noor Hisham Abdullah said in a statement that 91 patients were discharged today — the highest single-day increase in recovered patients thus far — bringing the total number of people cured to 479.
Meanwhile, 94 patients are being treated in intensive care, with 62 of them needing ventilators.
Noor Hisham revealed that the 35th death involved a 57-year-old woman who suffered from diabetes and had travelled to Indonesia. She died at 4pm yesterday.
Meanwhile, the 36th patient was a 47-year-old man who passed away at 8am today, while the 37th fatality was a 46-year-old woman who had high blood pressure and an autoimmune disease. She passed away at 9.02am today.
Govt increases testing, treatment capacity
In the statement, Noor Hisham said 70 public hospitals across the country are now able to conduct health screenings for Covid-19, compared with 57 in February.
Meanwhile, the number of hospitals able to treat Covid-19 patients has risen to 38 from 26 prior, thanks to a collaboration with the armed forces and University of Malaya Medical Centre.
Seven of these hospitals specialise in treating Covid-19 patients, he added.
In addition, the number of beds to treat patients has also risen to 3,994.
"MoH [the Ministry of Health] is also planning to add several beds by identifying and modifying its training institutions (ILKKM) into quarantine and treatment centres, with a total capacity of 1,937 beds," he said, adding that the capacity of these centres can be increased if needed.
Other facilities are also being identified, such as the Malaysian Agro Exposition Park Serdang (MAEPS), which can hold up to 600 beds.
#dudukrumahdiamdiam. We will deliver the news to you at theedgemarkets.com.