This article first appeared in The Edge Malaysia Weekly, on September 2, 2019 - September 08, 2019.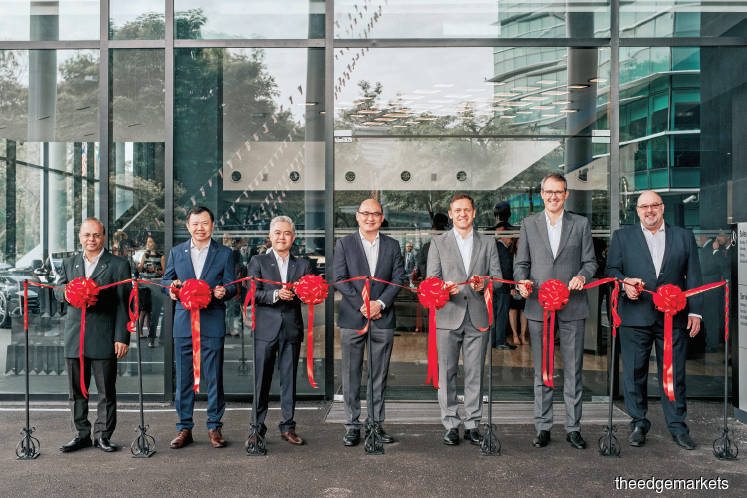 Foo (third from left) and Weidner (third from right) at the launch of the refurbished Mutiara Damansara Autohaus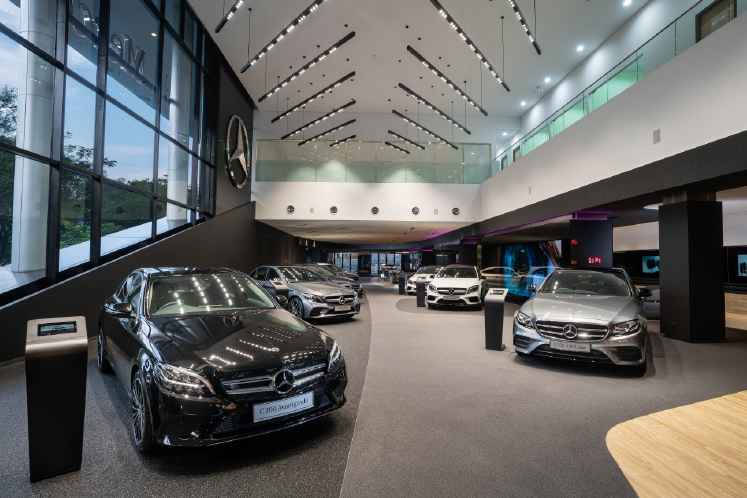 WITH Cycle & Carriage Bintang Bhd (CCB) selling its 49% stake in Mercedes-Benz Malaysia (MBM) to its partner Daimler AG for RM66 million, will it consider distributing other marques apart from Mercedes-Benz?
CCB has been associated with the three-pointed star brand since 1951 when it became the first automotive dealer to be awarded the franchise in Southeast Asia. It announced the disposal on Nov 30 and the deal is expected to be completed a year later.
Mercedes-Benz is CCB's only brand portfolio and sales of luxury cars have slowed on the back of weak consumer sentiment. Furthermore, MBM contributes an annual dividend of about RM11.2 million to CCB. How will it make up for the loss once the deal is done?
"Today,  our principal is Mercedes-Benz Malaysia so we focus on them. For the short to medium term, yes, we are still a Mercedes-Benz retailer here ... we are investing behind the business in many ways. There are still opportunities to grow," says CEO Wilfrid Foo Tsu-Jin.
"You've got to understand we've been in this business since 1951. That is almost seven decades. This is not a one-off fling. This is a full-on partnership that has spanned decades in Malaysia," he stresses.
"The call option has always been part of the joint-venture agreement, but it doesn't mean our focus on providing exceptional journeys to our customers stops. In fact, our trading operations will run as normal. The relationship, as you can see today, is healthy."
CCB's earnings have taken a hit in the past few years as margins compressed amid the tougher automotive industry landscape.
For its financial year ended Dec 31, 2016 (FY2016), net profit fell to RM38.4 million from RM52.1 million a year earlier, while revenue dipped to RM1.49 billion from RM1.58 billion. In FY2017, CCB sank into the red with an after-tax loss of RM12.5 million — its first ever annual net loss — as sales and margins came under pressure, coupled with losses from an unprecedented flood in Penang in the same year. Its top line was slightly lower at RM1.42 billion.
CCB last paid dividends in FY2016
Asked how the group plans to maintain its earnings without the annual dividend from Mercedes-Benz, Foo says CCB is looking into "every other aspect of the business".
"For the value stream of our business, it is not just about selling the car. Every other aspect of the business has possibilities to grow in terms of profitability, sustainably. That is how we intend to look at our business." One area is the after-sales business. CCB's 2018 annual report shows that it serviced 80,000 vehicles last year, 11% more than the 72,000 units in 2017. Apart from passenger vehicles, CCB also provides sales and after-sales service for FUSO trucks.
"There is still a lot of room and opportunity to organically grow in this business. The world is changing. It is no longer about someone walking in and buying a car, full stop. There is the sales and after-sales [segments]. There's a digital journey that we're talking about. That why, today, we're talking about exceptional end-to-end [ownership] experience," Foo explains.
On speculation that CCB could leave the retail operations of Mercedes-Benz cars in Malaysia, possibly to downscale its business, Foo says the company is sticking around for now.
"As you can see, we are investing a lot in Mercedes-Benz's brand presence in Malaysia across the network," he says at the recent launch of its refurbished Autohaus in Mutiara Damansara.
Next, CCB will upgrade its other three Autohaus in Alor Setar, Ipoh and Johor Baru. About RM60 million had been set aside to improve its dealership outlets.
"We (Mutiara Damansara Autohaus) are the first, and we've got [three] coming up. If this is not enough testament that we are here to remain in the automotive retailing landscape, then I don't know what is," Foo says.
The Mutiara Damansara Autohaus, newly upgraded at a cost of RM18 million, integrates digital media technologies — one of the four key elements including Format, People & Process and Architecture — to optimise customers experience and stage vehicle display.
"We have a lot of business improvement strategies in place. We have an operational master plan, business efficiency strategies, and strategies related to procurement and supply chain. Many things are being looked at so we can enhance the customer experience," Foo says.
While the outlook for the domestic car market remains tepid, he says customer experience is a top business priority for now. For the second quarter ended June 30, 2019 (2QFY2019), CCB booked a net loss of RM346,000 compared with a net profit of RM17.5 million in 2QFY2018. Revenue slipped 21.6% year on year to RM310.48 million from RM395.81 million.
"We can't give projections. All I can tell you is our plan, which is to be customer-centric, [creating] exceptional journeys, beautiful sites like this [showroom] and investments in people and processes," Foo says.
CCB's largest shareholder is Jardine Cycle & Carriage Ltd, which has a 59.1% stake. The counter closed last Thursday at RM1.35,  valuing the group at RM136 million.