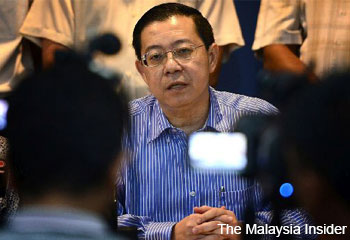 (September 9): DAP secretary-general Lim Guan Eng has apologised to the Sultan of Selangor for submitting only one name for the menteri besar position, while reiterating the party's loyalty to the state monarch.
Lim said he would discuss with de facto PKR leader Datuk Seri Anwar Ibrahim on the sultan's decree that each party within Pakatan Rakyat? submit more than two names to the palace.
"On behalf of DAP, I seek forgiveness from His Royal Highness the Selangor Sultan for causing him disappointment, over DAP's decision to present only Kajang assemblywoman Datuk Seri Dr Wan Azizah Wan Ismail's name as the new Selangor menteri besar candidate," he said in a statement today.
He explained that DAP had decided to only nominate Dr Wan Azizah after discussing with Anwar over how it was convention to submit only one name, citing Tan Sri Abdul Khalid Ibrahim's appointment last year.
Lim added that DAP had also taken into account the support of 30 exco members for Dr Wan Azizah, as well as PR's consensus that the Selangor menteri besar would be from PKR.
"DAP reiterates its undivided loyalty to the constitutional monarch and will discuss with Datuk Seri Anwar Ibrahim on the Selangor Sultan's decree that was disclosed in the statement by his private secretary."
Yesterday, the Sultan revealed he was extremely disappointed with PKR and DAP for defying the decree he made on August 27, 2014?.
"DAP and Keadilan's actions reflect their insolence towards the royal institution and is treason towards the Selangor Sultan," said the statement issued by the Sultan's private secretary, Datuk Munir Bani.
It said Sultan Sharafuddin Idris Shah had decreed each party within Pakatan Rakyat to submit more than two names, saying it was the palace's convention on the matter.
"This is to allow him to decide on the future Selangor menteri besar by looking not only at the majority support of the state legislative assembly, but also in terms of the skills, experience, integrity and capabilities of the state assemblyman."
On September 3, the Selangor palace reprimanded PKR for submitting only one name, prompting the party to announce it would take "necessary and appropriate steps" in the next 48 hours.
PAS had submitted three names, two from PKR and one from its own ranks, in a move that had strained ties between the allies.
PAS president, Datuk Seri Abdul Hadi Awang, told a special briefing for the party on Friday that Dr Wan Azizah was not qualified, as she did not have the ability to debate questions in Parliament or the state assembly.