This article first appeared in The Edge Malaysia Weekly, on September 2, 2019 - September 08, 2019.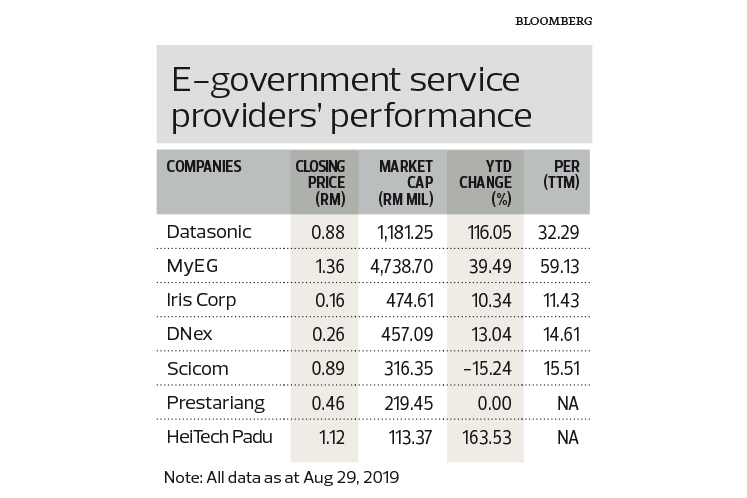 IDENTIFICATION product and solution provider Datasonic Group Bhd expects its net profit for the financial year ending March 31, 2020 (FY2020) to return to FY2018's level or higher, on the back of resumption of orders for MyKad.
Datasonic, whose net profit nearly halved in FY2019, expects MyKad orders of around 2.6 million yearly, or 650,000 each quarter, compared with last year's total of 200,000, its managing director Datuk Abu Hanifah Noordin tells The Edge.
"We are definitely looking at improvements in orders for MyKad as we expect demand to improve accordingly with public service campaigns such as Jom Tukar encouraging replacements to new-generation tech-improved MyKad," he says.
Abu Hanifah explains that the company had only supplied 200,000 MyKad in the last financial year due to the stock held by the government. Since Pakatan Harapan took over the government, it has been very cautious on spending, hence the drop in MyKad orders, he adds.
For FY2019, Datasonic's net profit fell 45.7% to RM36.53 million year on year due to the lower supply of smart cards. Revenue also fell 15.1% y-o-y to RM219.56 million.
To recap, the Ministry of Home Affairs awarded Datasonic a RM205.8 million contract to supply 12 million MyKad over 3½ years. The contract expires at the end of the year.
Abu Hanifah says the company has supplied about five million cards so far.
For perspective, if Datasonic were to supply 2.6 million cards a year, it could potentially extend the contract for two years for the remaining seven million cards. Abu Hanifah is confident that the ministry will extend the contract for at least another year.
In an Aug 5 report, RHB Investment Bank analyst Lee Meng Horng forecasts Datasonic's revenue to come in at RM257 million and RM264 million for FY2020 and FY2021 respectively, with net profits at RM58 million and RM61 million.
Meanwhile, BIMB Securities Sdn Bhd analyst Afifah Abdul Malek projects the company's top line to be RM271 million and RM284 million for FY2020 and FY2021 respectively. She sees net profits at RM66 million and RM68 million respectively.
Eyeing more jobs
Datasonic also supplies the ministry with passport chips, booklets and passport polycarbonate data pages as well as provides personalisation services. These passport-related contracts expire in November 2021 but Abu Hanifah is confident that Datasonic's services will be retained by the ministry.
"We forecast an increase in demand for international passports due to the boom in outbound tourism, especially among the younger generation who want to see the world and are able to do so due to the many budget travel options available," says Abu Hanifah.
After taking over maintenance services for the Public Key Directory and Public Key Infrastructure projects as well as maintenance services of hardware and software applications related to the passport chip system and the 116 auto gates around the country in 2017,
Abu Hanifah says, the "government is happy with [Datasonic's] capabilities and performance" and the company expects to receive letters of award for the two services soon.
Datasonic has also supplied 20 new auto gates equipped with facial recognition. "We are waiting for the government to instruct us on the upgrading of all the 116 auto gates with a facial recognition system to enhance user experience as around 10% of passport-holders do not have good fingerprints, mainly due to their age or profession," Abu Hanifah adds.
Looking ahead, other projects that the company is vying for include the Visa Luar Negara project, integrated foreign worker management system and electronic medical record project.
And, along with other e-government service providers, Datasonic has submitted a proposal for the RM3.5 billion Integrated Immigration System (IIS), formerly known as Sistem Kawalan Imigresen Nasional project.
More upside to Datasonic's shares?
Since early August, Datasonic's share price has risen 29%, closing at 87.5 sen last Thursday and valuing the company at RM1.18 billion. Year to date, the share price has soared 116%.
The share price surged on news that the company had expressed interest in taking part in the government's open tender for the IIS project. The downside risk to Datasonic's share price performance is failure to secure new projects, particularly the IIS project.
Phillip Capital Management Sdn Bhd chief investment officer Ang Kok Heng believes the stock is "still good" to buy at the current price. He tells The Edge that the company's profit has been improving quarter on quarter and it is bidding for several mega projects, each of which could enhance profit by 50% or more.
RHB's Lee has maintained a "buy" on the stock with a new price-earnings-ratio-based target price of 82 sen. He notes that 1QFY2020 earnings are likely to improve y-o-y and q-o-q with the resumption of orders of MyKad and commencement of supply of financial cards and chip modules to Indonesia.
"We raise our FY2020 target PER to 19 times (+0.5 SD) from 18 times as we believe interest will remain strong in view of the expected earnings recovery and potential job wins/news flow in the near future," Lee writes.
BIMB's Afifah has retained her "hold" call on the stock, saying that despite its outstanding order book of about RM743 million providing earnings visibility up until FY2021, she sees downside risk to earnings.
She is cautious on earnings delivery from the MyKad contract, given the inconsistent order flow from the government. Nevertheless, she concurs that the upside catalyst for Datasonic is new job wins.
According to Bloomberg, Datasonic is currently trading at a trailing 12-month PER of 33.29 times, compared with its three-year average of 20.60 times and five-year average of 21.68 times.
It is worth noting that Datasonic has recouped most of its losses since the 14th general election (GE14). Its share price has been down only 3.63% while its peers' — apart from Iris Corp Bhd and HeiTech Padu Bhd — have declined 33% or more.
The counter fell to 29.5 sen after it was named in two of 45 charges against former deputy prime minister and home minister Datuk Seri Ahmad Zahid Hamidi. Zahid is alleged to have received bribes worth RM6 million from the company's deputy managing director, Chew Ben Ben, in exchange for helping the company secure a five-year passport chip supply contract under direct negotiation with the Ministry of Home Affairs.
The company has said that neither it nor its directors had made any payments to Zahid.