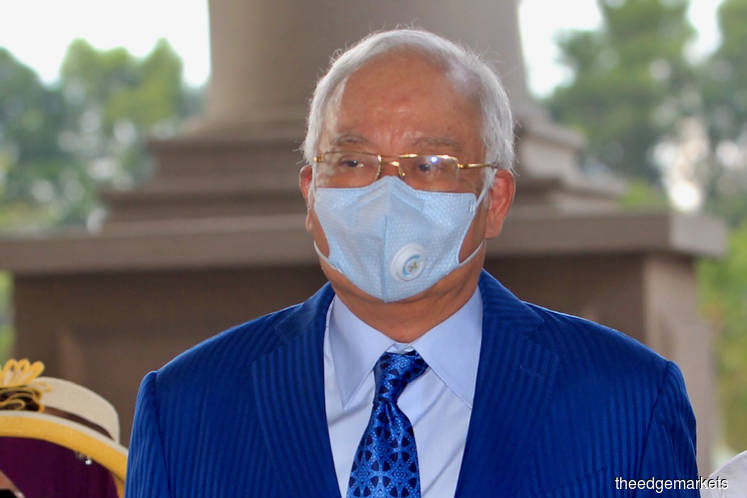 KUALA LUMPUR (June 3): The third day of submissions for the SRC International Sdn Bhd will see former Prime Minister Datuk Seri Najib Abdul Razak's defence wrap up and make way for the prosecution.
Najib's lawyers informed Justice Nazlan Mohd Ghazali yesterday that they will use the first part of the morning to complete their submissions before the prosecution led by Appointed prosecutor Datuk V. Sithambaram takes over.
Yesterday, Najib's team sought to discredit former second finance minister Datuk Seri Ahmad Husni Hanadzlah's time on the witness stand by claiming that Husni had a personal vendetta against Najib.
Defence lawyer Farhan Read claimed that Ahmad Husni, who faces allegations of sexual misconduct when he was second finance minister, had blamed Najib for the particular report on the misconduct filed against the witness.
Citing an excerpt from Najib's lead counsel Tan Sri Muhammad Shafee Abdullah's cross-examination on Ahmad Husni, Farhan said the witness agreed to the counsel's suggestion that he (Ahmad Husni) had told Najib: "I will expose you."
Farhan said Ahmad Husni's credibility as a witness and his ability to tell the truth are questionable.
While making the case for Najib's innocence, Farhan also urged the court not fo follow "the court of public opinion" in deciding Najib's fate.
"The court of public opinion immediately links Najib and SRC with Jho Low, Paris Hilton and lavish spending; however, that luxury is not available to us. We have been going through many haystacks to find the needle of proof in this case," said the lawyer.
Farhan surmised that although Najib did have a role in securing the loans from KWAP for SRC in 2011 and 2012, he did not have anything to do with the RM42 million ending up in his accounts in 2014 and 2015.
"The needle of proof in this case is that we cannot say he had the intention to do something in 2011 and 2012 that he could not have seen happening down the road in 2014 and 2015."
Farhan added that the law and facts should prevail in this case, although he does not blame the public for being outraged as these are serious allegations.
The submissions by the defence today will touch on Najib's assertions that the money he received was from Arab Royalty donations.
Najib is facing criminal breach of trust and money-laundering charges involving the transfers of the RM42 million SRC funds to his accounts.
He has also been charged with abusing his power by approving government guarantees on loans worth RM4 billion from KWAP to SRC.
The Edge is covering the trial live here.
Users of The Edge Markets app may tap here to access the live report.