This article first appeared in City & Country, The Edge Malaysia Weekly, on March 28, 2022 - April 03, 2022.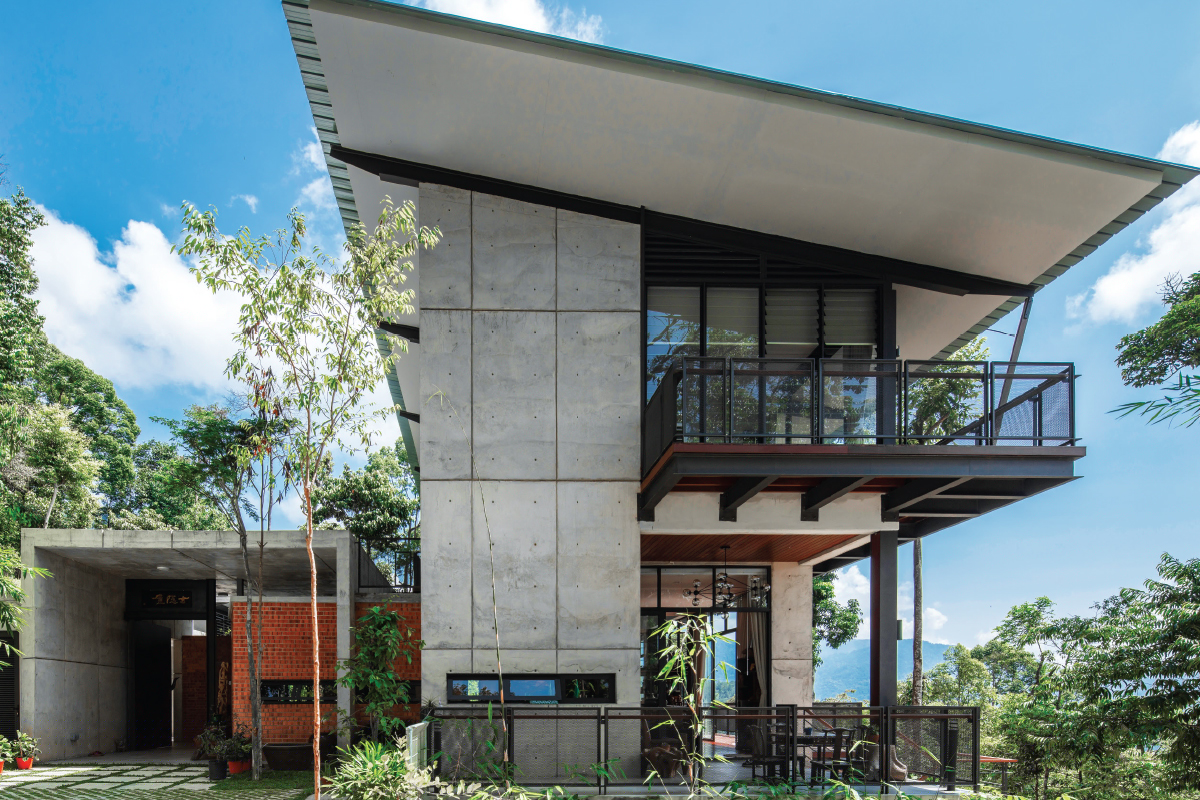 Choo Gim Wah finds it fascinating to create beautiful spaces that are complemented by fine architectural features. For the principal of Choo Gim Wah Architect, the concept of a project is sometimes sparked by small details.
He says when a building is integrated into the site and the surrounding nature harmoniously, delightful results are produced. "More than anything else, every site presents a unique set of conditions for architects to deal with. I believe that each site is beautiful in its own way but it is the way you utilise the space to create a piece of art on it that differentiates your project. Hence, every project is unique, no two projects are alike."
He also believes that the unique structural and aesthetic qualities of materials such as concrete, steel and timber should be retained as much as possible and they should not be changed or covered up. Every material has its own beauty.
Established in 2008, the architecture studio is led by Choo and has five employees. "We started off by designing several bungalows in the Klang Valley and on the hilly terrains of Janda Baik in Bentong. As the years passed, I completed several [residential] projects in Malaysia, as well as a recent concept design for a house in Los Angeles, the US," he says.
Growing up, Choo developed an interest in a variety of subjects and wanted to be in a profession that crossed disciplines and involved a combination of subjects. "I obtained a Bachelor of Arts degree with a double major in Economics and Studio Arts from The College of Wooster in Ohio, the US, and was one course short of getting a minor in Mathematics.
"I then decided to pursue architecture and applied for the Master of Architecture degree programme at Miami University in Oxford, Ohio. Interestingly, some of my non-architectural schoolmates attended this programme due to their sheer passion for architecture, which inspired me. We were thereafter joined by mainstream architectural students who had a degree in architecture."
After Choo's graduation, he returned to Malaysia and worked in a small architectural firm to obtain experience in handling various aspects of architectural projects.
Choo opines that an architect requires a strong foundation in all architectural aspects before focusing on a specific area, such as conceptual design or construction management. An architect requires a solid base to work confidently on all types of architectural projects, he adds. "A good architectural design not only fulfils clients' requirements and not exceed the construction budget, but also unveils the full aesthetic potential of the site, thus exceeding all expectations, leaving all sides pleased, and ultimately adding value to the land and property."
This pandemic has been difficult for architects, says Choo. "Design work and drawing preparations can be executed from home, but submissions to local authorities and construction have been hindered significantly. This is a disadvantage for young graduates who lack experience and require constant guidance and supervision, compared to an experienced architect who is able to execute work independently."
"Design coordination has also been difficult as communication is an issue. This is where patience is required from both clients and consultants as it takes a longer time to relay messages and design ideas virtually," he adds.
Choo highlights two of the firm's notable projects — Canvas Hill Residence and The Deck House, both in Pahang.
Canvas Hill Residence
Completed in 2019, Canvas Hill Residence in Janda Baik, Bentong, has a total built-up area of 11,000 sq ft. It comprises three main areas — a gallery to showcase the client's artwork, a private residence, and a pair of guest rooms — all of which are linked through the landscaping, terraces and a courtyard. They chose to build the house on a small flat area to minimise earthwork.
"I wanted to create a space that is inviting. On the ground floor, a traditional Chinese courtyard known as a 'siheyuan', is provided, with the guest rooms on one side and the living and dining areas on the other. The guest rooms are located away from the private residence across the courtyard so that visitors can stay in the house when the owners are away," says Choo.
"On the side of the courtyard where the infinity swimming pool is, one can enjoy views of Genting Highlands. The various components of the building are designed with careful consideration of the existing slope and terrain in order to minimise site interference."
Choo incorporated building materials such as steel, off-form concrete and timber to create interesting textures and compositions. Stones from the site were used to create a series of stone walls for both the house and the landscape, and rainwater is channelled to a harvesting system.
The Deck House
Located in the Janda Baik forest in the foothills of Genting Highlands, The Deck House was completed in 2012 and has 3,982 sq ft of indoor and outdoor areas. The 2½-storey house has three bedrooms and three bathrooms.
The house sits on a gentle slope. Choo says the intention was to design a simple, unassuming and modern-looking house. "The profile and section of this house hugs the terrain with minimal interference to the existing slope. Despite its steel and glass construction, the house has tall ceiling heights, well-lit interior spaces and an abundance of ventilation with windows on most walls and aluminium louvres at the highest part of the building for hot air to escape."
The foundation and stump of the house is made of conventional reinforced concrete, and glass is used extensively as the surrounding skin, allowing occupants to enjoy the surrounding forest. "The relatively moderate climate in Janda Baik enables one to enjoy outdoor activities and fresh air and, as such, extensive outdoor areas such as the deck, the living and dining areas as well as the master bedroom play an important role in the building design," Choo highlights.
Upon entering the house, there is an entrance to the master bedroom on the right. The master bedroom has a 6.8m wide sliding glass door that leads to a generous terrace.
One can walk down from the main entry hall to the living and dining areas and kitchen located on the ground floor via a steel/timber staircase, explains Choo. "This space is a majestic two-storey void enclosed in glass with a full view of the surrounding forest and from the master bedroom above, one is able to view the living area via the void. The living, dining and kitchen areas are designed as an open-plan space connected to the highlight of the house — a 10.5m by 6.8m timber deck supported by a steel structure. The remaining 2.5m of the deck is cantilevered out from its supporting beam to create the effect of an infinity deck."
"Timber is used as the floor finishes for both the living and deck areas, thus merging both spaces through the full-height glass panels. This ultimately creates a single and large open-plan infinity platform with a 360° view of the forest," Choo concludes.