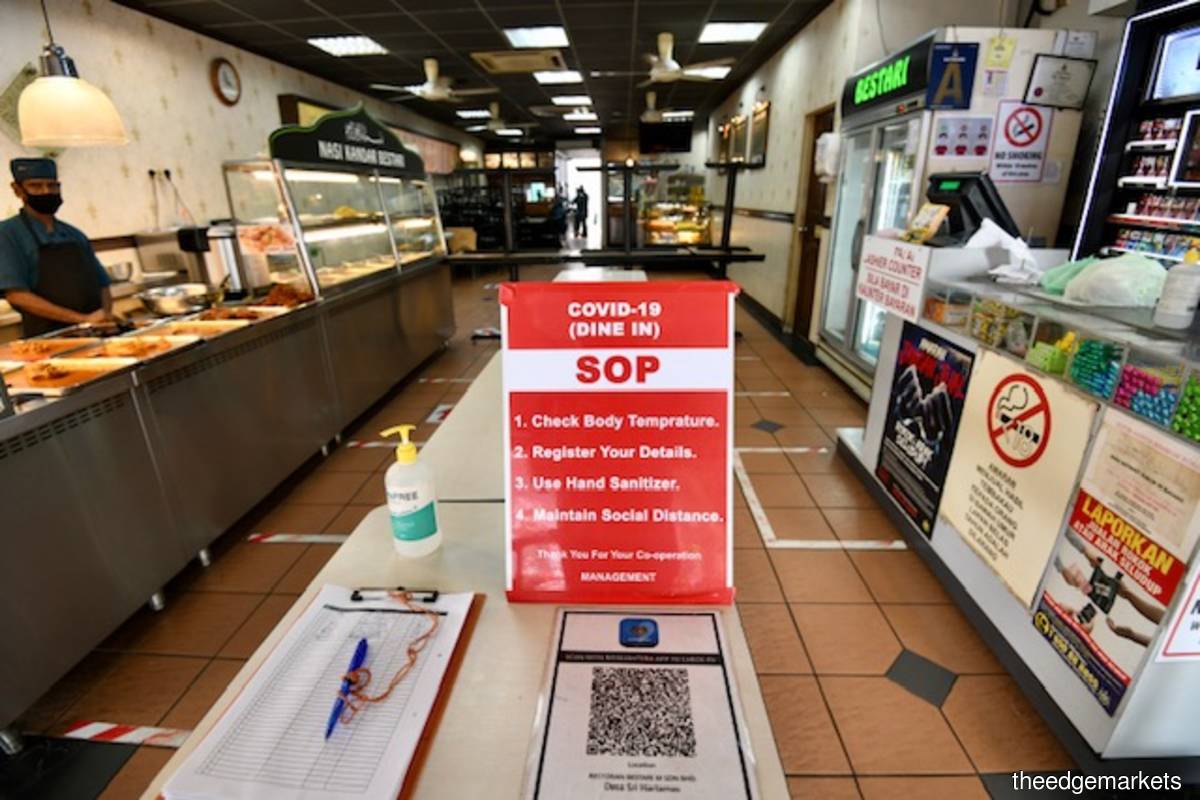 KUALA LUMPUR (Aug 19): The government today announced further resumption of economic and social activities including night markets, dine-in meals, no-contact sports, and camping for states in Phase 1 of the National Recovery Plan (NRP) from Friday (Aug 20) onwards.
This takes into account the reduction in new critical Covid-19 cases nationwide, as the nation passed the 50% mark for adult vaccination nationwide, ahead of its deadline of Aug 31, according to a statement from caretaker prime minister Tan Sri Muhyiddin Yassin.
For dine-in meals and markets, operators must ensure customers display their digital Covid-19 vaccination certificate to show that they are fully vaccinated.  Children below 17 are also allowed to enter, Muhyiddin said. 
Individuals are defined as fully vaccinated 14 days after receiving their second jab of two-dose vaccines such as Pfizer, AstraZeneca, and Sinovac, or 28 days after receiving one jab of single-dose vaccines such as Johnson & Johnson and CanSino.
Additionally, the council is also allowing dine-in in restaurants and cafes in clubhouses, where similar rules apply. 
The statement, however, did not elaborate on whether restaurant operators and hawkers must also be fully vaccinated. The National Security Council will issue further updates on more details of the SOPs, Muhyiddin said. 
For sports activities, picnic and camping, similarly children under 17 are also permitted to participate.
Sports activities are only allowed outdoors or in semi-open spaces, within the same district, and from 6am to 10pm.
"Among allowed activities include jogging, taichi, cycling, skateboarding, fishing, equestrian, archery, hiking, tennis and badminton (singles), golf, motorsports and the likes," the statement said.
Here, Muhyiddin warned that premise owners, government ministries and agencies are "fully responsible" for the implementation of the related SOPs.
"If there are infections in these premises, the Ministry of Health especially will take immediate action — including conducting a risk review and not discounting the possibility of immediate closures for any premises or areas affected, other than issuing compounds to those who flaunt the SOPs," the statement added.
These decisions were decided at the special meeting of the National Security Council today, which was chaired by Muhyiddin and attended by the director-generals of ministries, director generals of public services and of immigration, and other senior officials of the government.
According to the latest guidelines dated Aug 16, states and federal territories under Phase 1 include Kedah, Selangor, Negeri Sembilan, Melaka, Johor, Kuala Lumpur and Putrajaya.