This article first appeared in The Edge Financial Daily, on April 22, 2019.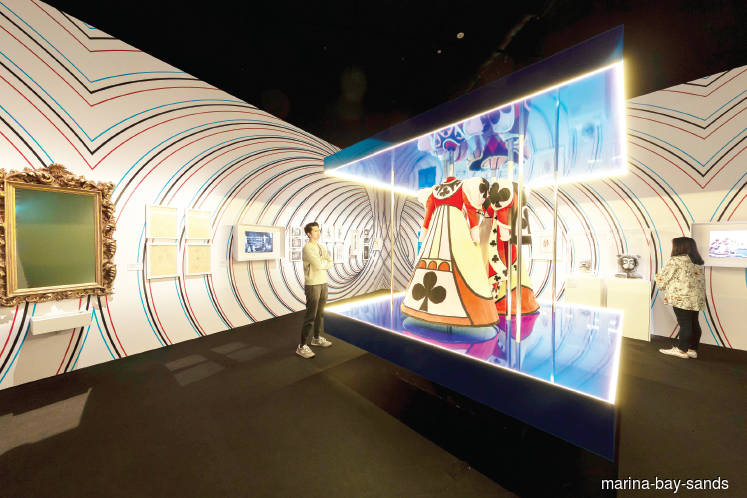 Looking Glass House at Wonderland. Photo by Marina Bay Sands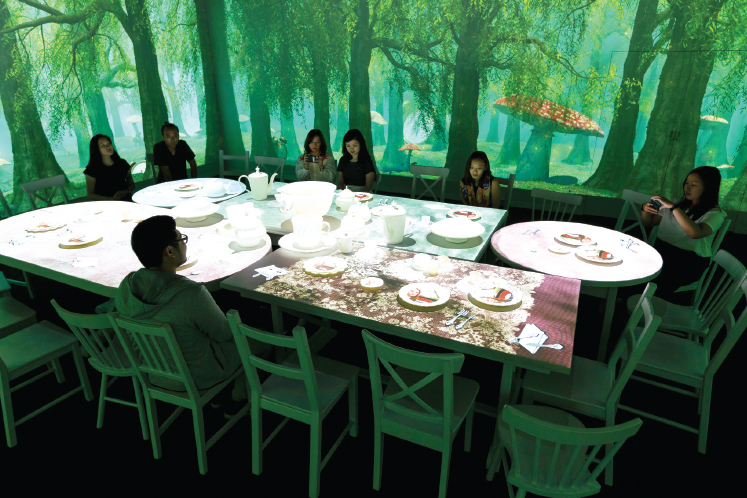 A Mad Tea Party.Photo by Marina Bay Sands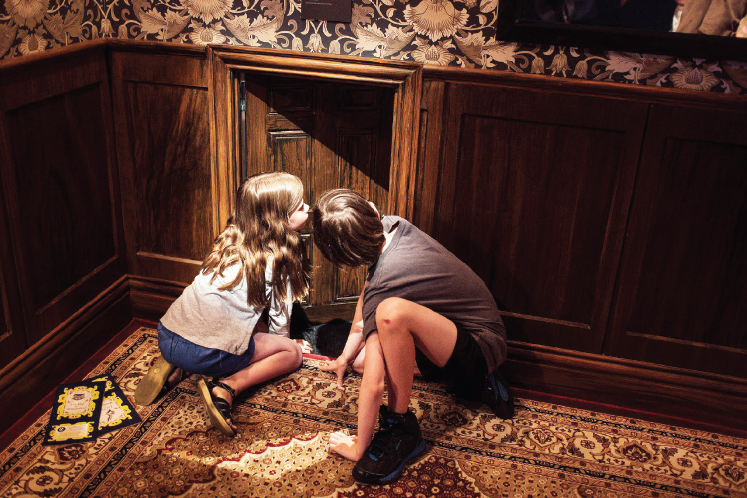 Visitors with Lost Map of Wonderland at Carroll's drawing room, ACMI. Photo by Phoebe Powell
Follow Alice into a land of peculiar characters and magical adventures at ArtScience Museum's new exhibition, Wonderland. Ongoing until Sept 22, the exhibition celebrates the titular heroine of Lewis Carroll's timeless tales and presents the first ever survey of Alice on screen and in popular culture.
The dramatic nature of Alice's adventures has led the well-loved protagonist to a life destined beyond the pages. Pop culture has kept Alice relevant and alive – as a real girl, a fictional character and an icon — through films, television shows, music videos, advertising campaigns, video games and fashion.
A remarkable selection of over 300 artefacts and objects shows how Carroll's story has compelled artists and filmmakers to experiment with new techniques to bring Alice and her adventures to life for over a century. These include first edition books, drawings, original costumes, films, magic lantern projectors, animation, puppetry, and original multimedia works by digital creative studios, Sandpit, Grumpy Sailor and Mosster Studio.
"We are thrilled to be the first stop on the global tour of this award-winning exhibition by ACMI. Wonderland invites visitors to take a trip through the looking glass into an immersive, enchanted world," says Honor Harger, executive director of ArtScience Museum. "This extraordinary exhibition spectacularly conjures up the surprising and magical world of Alice and her adventures. In Wonderland, the more curious visitors are, the more they will discover.
"So, to draw out the inherent curiosity in all of us, ArtScience Museum has developed an original educational workshop based on Alice's inquisitive character and questioning mind. Participants will be encouraged to use science, mathematics and logic to explore iconic scenarios in the Wonderland tales and use their creativity to craft their own ending to the stories. This hands-on workshop blends art, literature, science and role-play, underscoring ArtScience Museum's commitment to providing interdisciplinary educational pathways into our exhibitions for visitors of all ages."
Wonderland sees visitors completing a journey akin to Alice's as the exhibition is presented in 10 sections inspired by the chapters of the book and its sequel. These stories have been adapted for the screen over the last 100 years, allowing the history of moving images to be traced by following the chronicles of Alice in Wonderland on screen.
The exhibition also charts the cultural, technological and social shifts that have compelled filmmakers to create their own visual interpretation of Alice and her adventures. From exploring a Hallway of Doors to seeking Advice from a Caterpillar and stomping on The Queen's Croquet Ground, Wonderland spectacularly conjures up the surprising and magical world of Alice. Bespoke digital activities at the exhibition will draw upon the wonder and curiosity of Lewis Carroll's stories.
Which Wonderland character you are?
In the magical world of Alice, are you mad as a hatter or mischievous like the Cheshire cat? The Wonderland experience for the visitors begins from home. Prior to their visit, visitors are encouraged to take a short Wonderland character quiz via ArtScience Museum's Facebook Messenger Chatbot to determine which character they are. At the exhibition, visitors will pick up their individual copy of Lost Map of Wonderland, which will correspond to one of four archetypal characters at Wonderland.
Developed by Sandpit, the Lost Map of Wonderland serves as a physical interactive tool that offers visitors a unique exhibition experience – triggering different video, audio and interactive content at Wonderland. At The Queen's Croquet Ground, the map plays an integral part to the craft activity component, allowing visitors' work to be brought to life digitally, projected on a large wall for all to see.
A Hat-trick of Clever Tricks workshop and upcoming programmes
Inspired by the White Queen's belief in her ability to remember "six impossible things before breakfast", ArtScience Museum has developed a workshop, A Hat-trick of Clever Tricks, which aims at disproving three impossible phenomena in Wonderland.
Beyond using logic and mathematics, participants will be encouraged to recall the narrative of Alice's adventures and develop their own ending. A Hat-trick of Clever Tricks will commence in May and runs in parallel with Wonderland.
---
Tickets for Wonderland are SG19 for adults and S$14 for children, while a family package of two adults and two children is S$45. Visit marinabaysands.com/museum/ticketing to purchase.