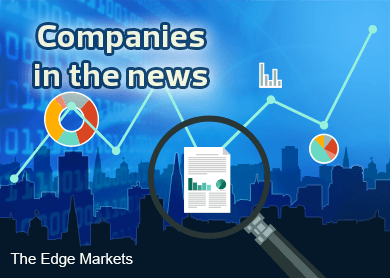 KUALA LUMPUR (April 17): Based on corporate announcements and news flow today, companies that may be in focus next Monday (April 20) could include: DRB-Hicom Bhd, Malakoff Corp Bhd, Perduren (M) Bhd, KUB Malaysia Bhd, Astro Malaysia Holdings Bhd, Mulpha Land Bhd, V.S. Industry Bhd and OSK Property Holdings Bhd.
DRB-Hicom Bhd said its wholly-owned subsidiaries, Proton Holdings Bhd (Proton) and Lotus Group International Ltd (LGIL), have formed a joint venture today with Goldstar Heavy Industrial Co Ltd of the People's Republic of China (PRC) to produce and sell LOTUS branded passenger cars in PRC.
"Proton and LGIL had on April 17, 2015, entered into an equity joint venture contract with Goldstar to form a joint-venture company to be named as Goldstar LOTUS Automobile Co Ltd (JV company)," said DRB-Hicom in a filing with Bursa Malaysia.
The JV is to produce and sell LOTUS branded passenger cars, engines, parts and components, and accessories; and to provide after sales services, including spare parts in connection with its products in the PRC, it added.
Lotus is a wholly-owned subsidiary of Lotus Advance Technologies Sdn Bhd, which in turn is a wholly-owned subsidiary of Proton.
DRB-Hicom (fundamental: 1.25; valuation: 2.6) said Proton group and Goldstar will each hold 50% of the registered capital of the JV company.
Based on the mutually-agreed initial business plan from 2015 to 2030, Proton group and Goldstar expect the total investment sum to be RMB10 billion (RM5.84 billion), it added.
Malakoff Corp Bhd, through its indirect wholly-owned subsidiary Tanjung Bin Energy Issuer Bhd (TBE Issuer), plans to raise RM3.29 billion from the sale of Islamic bonds (sukuk) to finance the construction of its 1,000-megawatt coal-fired power plant in Tanjung Bin, Johor.
In a statement today, RAM Rating Services Bhd said it has reaffirmed an AA3 rating with a stable outlook on the sukuk.
"The rating reflects our view that TBE Issuer's strong debt-servicing ability will remain intact, despite the current setback in the construction progress of the plant," it added.
"Tanjung Bin issuer's liquidity position remains satisfactory towards meeting its profit payment due in September 2016, even if there is a delay of up to six months," said RAM co-head of infrastructure and utilities ratings Chong Van Nee in the statement.
The rating agency said upon completion of the plant, the company is envisaged to have a strong finance service cover ratio on payment dates (with cash balances, post-distribution) of at least 1.49 times and an average of 1.60 times.
The plant's construction was 90.3% complete as at end-March 2015.
The shareholders of Perduren (M) Bhd which is in the midst of a mandatory takeover offer by Datuk Mazlin Md Junid, and Datuk Kamaluddin Abdullah — son of former prime minister Tun Abdullah Ahmad Badawi, have been advised to vote in favour of the group's RM81.5 million asset disposal at its upcoming extraordinary general meeting (EGM) on May 18.
In Perduren (fundamental: 0.1; valuation: 1.1)'s filing with Bursa Malaysia, Affin Hwang Investment Bank Bhd, which is the independent adviser for Perduren's proposed disposals, said the corporate exercises are 'fair and reasonable' and 'not detrimental' to shareholders.
"We noted that the proposed disposals would result in the cessation of future revenue contribution by the subject companies. However, the proceeds arising from the proposed disposals will enable the group to undertake new investments and enhance the income-generating capability of the group, when the opportunity arises," it said.
"Accordingly, we recommend that you vote in favour of the resolutions pertaining to the proposed disposals to be tabled at the forthcoming EGM," Affin Hwang said in the circular published by Perduren.
KUB Malaysia Bhd which is 23.62%-owned by the Ministry of Finance Inc, has named its group chief operating officer (COO) Datuk Zainal Abidin Salleh as group chief executive officer (CEO), a newly-created position, with immediate effect.
Datuk Wan Mohd Nor Wan Ahmad, 61, previously helmed KUB Malaysia as its group managing director, but left the position in November last year after his contract expired.
In a filing with Bursa Malaysia today, KUB (fundamental: 1.15; valuation: 0.9 ) said Zainal Abidin, 52, had served in his previous position from September 2014 until April 16, 2015, where he was tasked to oversee the group's oil palm plantation business.
Astro Malaysia Holdings Bhd has launched RAKU — Malaysia's first personalised radio and music streaming service which is available on personal computers (PCs), tablets and smartphones — with the aim of reaching 500,000 active users in six months.
Astro Malaysia's (fundamental: 1.1; valuation: 1.7) chief operating officer Henry Tan said RAKU is a totally new product, so he cannot give a projection of the service's contribution to the company's earnings yet.
"We are not setting a new [earnings] target for that. We are taking feedback. Once we hit a certain level of threshold, we can let you know in greater accuracy [as to] the kind of expectation we have," he told reporters during the service's launch here today.
The service is available in two versions — free or at a premium of RM14.90 per month — and is downloadable via www.raku.my for PCs, Google Play Store for androids and App Store (US$5.99-per month) for iOS devices.
Both free and premium users can listen to the existing 1.2 million songs by local and international artists in the RAKU database — which will be upgraded to more than 10 million songs in three to six months.
But only premium users who pay that monthly RM14.90 fee, which is inclusive of the 6% goods and services tax (GST), can download and save the songs they want, or listen to live performances in Malaysia on demand.
Mulpha Land Bhd has appointed Datuk Fakhri Yassin Mahiaddin as executive chairman and director of the company from tomorrow (April 18), replacing Lee Eng Leong who has resigned.
Fakhri, 39, is currently the group managing director of Ketapang Capital Sdn Bhd — an investment holding company of the Ketapang Group. Prior to establishing Ketapang, he commenced his career as an investment analyst with Hwang-DBS Securities Bhd.
Fakhri is also a director at Eden Inc.   
According to filings with Bursa Malaysia today, Lee Seng Huang who is currently the executive chairman of Mulpha International Bhd, will join the Mulpha Land board tomorrow (April 18).
Eng Leong, 47, has also been appointed as alternate director to non-independent non-executive director Seng Huang on the same day.
V.S. Industry Bhd plans to use proceeds from its proposed placement of 10% of its shares to raise up to RM81.36 million for working capital.
In a filing with Bursa Malaysia, V.S. Industry (fundamental: 1.3; valuation: 2.4) said this includes requirements for meeting operating expenses necessary for the group's day-to-day operations to support its existing business operations such as personnel cost, payment of trade creditors and other payables, marketing and administrative expenses, as well as other operational activities.
For its six months period ended Jan 31, 2015, V.S. Industry's cash and cash equivalents stood at RM201.75 million, while its short-term loans and bank borrowings was RM223.57 million.
"Notwithstanding that, the company has decided to undertake the proposed placement to facilitate its working capital requirements, in view that bulk of the cash and cash equivalents may be used to repay or roll over its short-term loans and bank borrowings when due," it said.
OSK Property Holdings Bhd group managing director and chief executive officer Tan Sri Ong Leong Huat conceded the group had held back some launches last year amid a slower property market, as the company waited for better timing to unveil its products.
But Ong said the group would maintain RM1 billion worth of launches at least for the next one or two years, to sustain earnings.
"The group will try not to hold land for too long, as it will burden the cash flow. I know the industry often views us as having comparatively lower sales.
"But what is the point of boosting our sales for low profit? We focus very much on delivering essential value to the group," he told reporters, after OSK Property's (fundamental: 2.3; valuation: 3) annual general meeting here today.
OSK Property has a 640ha (1,600 acre) land bank scattered across the Klang Valley, and Sungai Petani, Kedah. Ong said the land bank could generate a gross development value of some RM7 billion.
(Note: The Edge Research's fundamental score reflects a company's profitability and balance sheet strength, calculated based on historical numbers. The valuation score determines if a stock is attractively valued or not, also based on historical numbers. A score of 3 suggests strong fundamentals and attractive valuations.)