This article first appeared in The Edge Financial Daily, on November 5, 2019.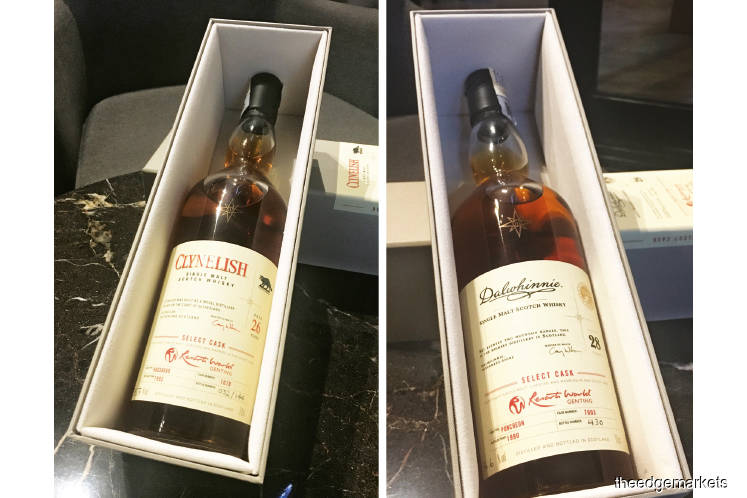 Both the 26-year-old Clynelish (left) and 28-year-old Dalwhinnie can be purchased at RWG.
A whisky select cask dinner was organised at Ltitude, Genting Club recently that featured casks of single malt whiskies from three famed Scottish whisky producers, namely Mortlach, Clynelish and Dalwhinnie. The selected casks were exclusively from Diageo's rare and exceptional Casks of Distinction programme 2019.  
At this dinner organised by Resorts World Genting (RWG), Diageo private client manager James Walker introduced Mortlach with a little bit on its history. "Dr Alexander Cowie upon his return from Hong Kong expanded his father's (George Cowie) distillery. Dr Cowie used a very different distillation process to most Scotch whisky distillers.
"Instead of the normal two pot distillation process, he actually used six different stills, all different shapes and sizes, which he then blended together to create the still of Mortlach whisky. This is one of whisky's best kept secret. This whisky is also known as the Beast of Dufftown."
The 12-year-old Mortlach, Speyside, (43.4% ABV [alcohol by volume]) is aged in American oak and European oak casks. "The American oak adds toffee, vanilla, caramel and toasted coconut, while the European oak adds spice and red fruit and masala spices to the whisky," said Walker.
On the palate, I found it sweet and spicy. I could taste the demerara sugar, dark chocolate, cherry jam with whiffs of light tobacco.
With regard to these flavours that the whisky carries, RWG chef Teo Kheng Soon complimented the Mortlach 12 with scallops and ginger flower, pickled cucumber and spiced crumble as the first dinner's first course.
The 16-year-old Mortlach, Speyside, (43.4% ABV) is only aged in European oak cask. I found this whisky to be rich and deep on the nose with sweeter elements of toffee, some dried apricot, and honey. It was slightly shy initially, but with a sense of massed weight.
On the palate, it was slightly leathery with malty elements accompanied by a gamey meatiness amid supple tannins, as it carries with it a more savoury effect. This made it a perfect match for the foie gras which was served with caramelised apples, fried celery leaves, and toasted brioche.
At this rare occasion, Diageo private client manager Raymond Poon surprised selected media, trade partners and special guests with a taste of Mortlach's 20-year-old Cowie's Blue Seal (43.4% ABV).
"This is aged solely in European oak, which is darker and sweeter on the nose, with hints of cherry, chocolate and tobacco," said Walker when he was asked to introduce Mortlach 20 to the guests.
"The mature depth on the nose comes immediately into focus before it goes towards the dark there is a refreshing lift of aromatic and overripe fruits and a touch of spiciness.
"It then expands as the fruits dry and oils start to coat the tongue, and then the meaty element rushes in full-on with cured leather and light bitter notes of espresso crema cacao nibs," said Walker.
With only 144 bottles in the world, the Clynelish 26 years (55.7% ABV) was distilled at Clynelish Distillery, which is located on the east coast of Sutherland, Scotland. Aged in American oak, it is crisp and medium-bodied, spicy with a tinge of sea salt, and the waxiness of a perfectly polished Golden Delivious apple, making it one of the few single malts to be enjoyed as an aperitif. It was paired with smoked pumpkin, yuzu salad skewer and red wine jus with a choice of sirloin or lamb rack.
The 26-year-old Dalwhinnie (56.6% ABV) was produced in the highland village of Dalwhinnie, Scotland. This exclusive Dalwhinnie 28-year-old single malt was procured by special purchase, with only a limited number of bottles in the world.
It has a palate of malt-sweetness, both heady and smokey. These single malts become wildflower honey sweet when chilled, and take on a toasted grain velvetiness when savoured neat. Personally, on the nose, it was Christmas in a bottle. It was paired with coconut espuma, passion fruit puree, mango agar and sherbet. Kudos to chef Teo.
Both the 26-year-old Clynelish and 28-year-old Dalwhinnie can be purchased at RWG.