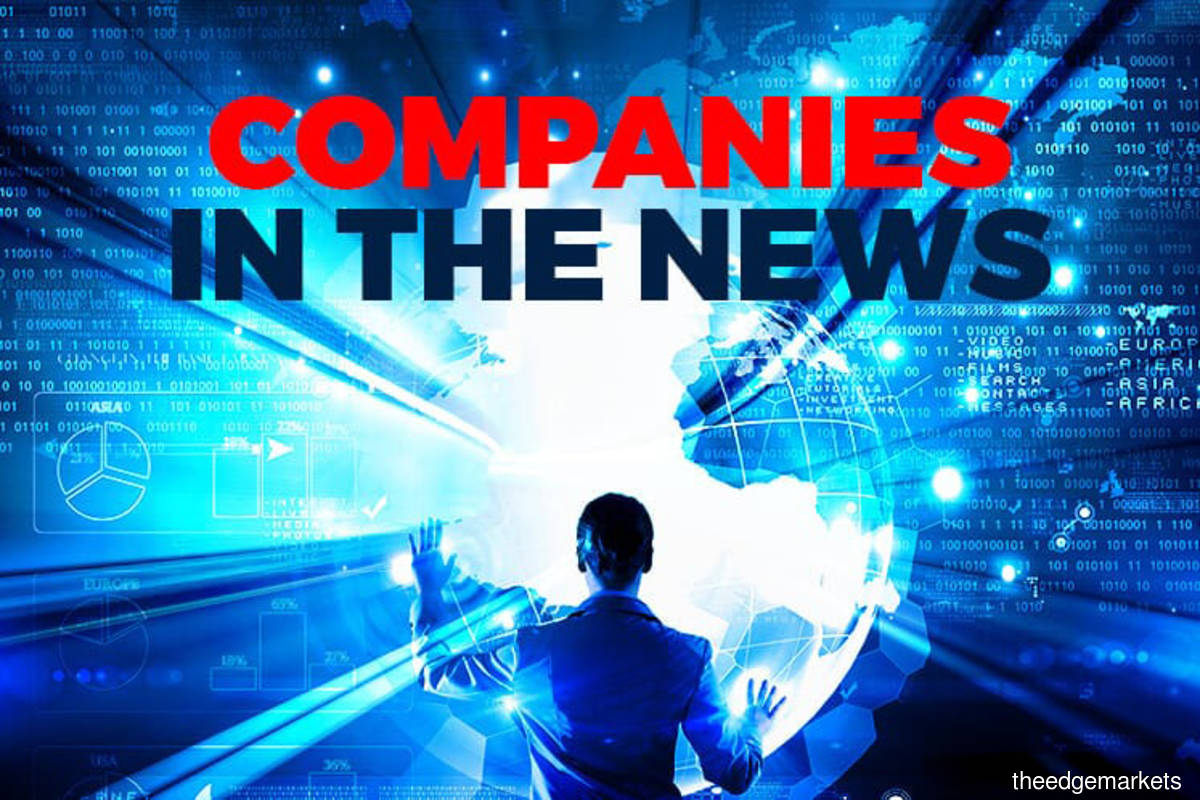 KUALA LUMPUR (Jan 26): Based on corporate announcements and news flow today, stocks that may be in focus tomorrow (Wednesday Jan 27) include Duopharma Biotech Bhd, Pharmaniaga Bhd, Atrium REIT, PNE PCB Bhd, Gabungan AQRS Bhd, Poh Huat Resources Holdings Bhd, Hwa Tai Industries Bhd, Chin Teck Plantations Bhd, Dagang NeXchange Bhd (DNeX), Advancecon Holdings Bhd and Tasco Bhd.
Duopharma Biotech Bhd has signed a deal with the Malaysian government to supply 6.4 million doses of the Russian-developed "Sputnik V" Covid-19 vaccine. The group said it will procure and supply to the Ministry of Health (MoH) the vaccine developed by the Gamaleya National Research Institute of Epidemiology and Microbiology. Duopharma said its subsidiary, Duopharma (M) Sdn Bhd (DMSB), has signed a term sheet agreement with MoH and the Russian Direct Investment Fund (RDIF) to secure the 6.4 million doses of Sputnik V. RDIF is the appointed marketing agent for Gamaleya for all international markets, with established partnerships in India, China, and South Korea to manufacture the vaccine. Duopharma said supply of the Sputnik V vaccine could be from any of RDIF's partners, subject to approval by MoH's National Pharmaceutical Regulatory Agency (NPRA).
Meanwhile, Pharmaniaga Bhd signed an agreement with Putrajaya to supply 12 million doses of a China-developed Covid-19 vaccine. Its wholly-owned subsidiary Pharmaniaga LifeScience Sdn Bhd (PLS) entered into a term sheet agreement with the government of Malaysia, represented by MoH, for the purchase and distribution of the Covid-19 vaccine. The vaccine will be developed by Sinovac Life Sciences Co Ltd (Sinovac LS), a subsidiary of Sinovac Biotech Ltd. Pharmaniaga said the duly-executed agreement is to enable PLS to supply 12 million doses of finished Covid-19 CoronaVac, SARS-CoV-2 Vaccine (Vero Cell), Inactivated (developed by Sinovac LS), and filled and finished by PLS to be delivered to hospitals, clinics and any other facilities nationwide, as instructed by the MoH.
Atrium REIT said its fourth-quarter net property income (NPI) rose 20.64% to RM9.30 million, from RM7.71 million in the preceding quarter, thanks to rental income contribution from its Atrium Bayan Lepas (ABLI) property in Penang. The industrial property REIT said gross revenue for the fourth quarter ended Dec 31, 2020 (4QFY20) increased 16.13% to RM8.85 million, from RM7.62 million in 3QFY20. On a year-on-year basis, the NPI increased 20.98% from RM7.47 million in 4QFY19, while revenue rose 16.28% from RM7.61 million. Atrium REIT declared a distribution per unit of three sen, payable on Feb 26, bringing the cumulative distribution for FY20 to nine sen, from 6.63 sen in FY19.
PNE PCB Bhd is proposing a private placement to raise RM21.13 million in order to reduce its borrowings and upgrade its existing printed circuit board production. The printed circuit board manufacturer said it would be issuing up to 71.16 million new shares (20% of its total share capital) to third-party investors at an indicative price of 29.7 sen apiece. The company will allocate RM10.8 million of the proceeds to pay off borrowings, which will amount to estimated annual interest savings of RM382,000. Meanwhile, RM5 million will be used to fund the upgrading of its printed circuit board production line.
Gabungan AQRS Bhd has bagged two contracts for the provision of piling and infrastructure work, worth a combined RM83.58 million. The group said its unit Gabungan Strategik Sdn Bhd was awarded an RM45.7 million job in a commercial building project by Teringin Sentral Sdn Bhd, to be executed over 30 months. The group also said Gabungan Strategik has also accepted an RM37.88 million contract from Solitaire Suites Sdn Bhd, involving an office building project which will commence on May 1 and is expected to be completed by Oct 31, 2023.
Poh Huat Resources Holdings Bhd's main operating subsidiary in Malaysia has discovered 543 positive Covid-19 cases among its employees. The furniture company's subsidiary Poh Huat Furniture Industries (M) Sdn Bhd (PHFI) went through a voluntary Covid-19 screening of all of its employees (foreign and local) at all its factories located in the Bukit Pasir Industrial Area in Muar, Johor. The screening exercise covered 1,400 employees at all of PHFI's plant premises and corporate offices in Bukit Pasir, Muar, and 543 employees tested positive for Covid-19.
Hwa Tai Industries Bhd has been slapped with an unusual market activity (UMA) query by the stock exchange, after its share price surged as much as 33.3% or 15.5 sen to a three-year high of 62 sen today. The biscuit maker, which is valued at RM44.15 million currently, has been on a steep climb since last Monday (Jan 18), from 36 sen. In its query to Hwa Tai, Bursa Malaysia demanded an explanation of the reasons that could have possibly driven up its share price. The biscuit manufacturer responded to the regulator, saying it was not aware of any corporate development, rumour or any other possible explanation for the higher trading activity.
Chin Teck Plantations Bhd said its net profit doubled to RM15.77 million for the first quarter ended Nov 30, 2020 (1QFY21), from RM7.81 million a year earlier. In a bourse filing, the group said the higher bottom-line earnings were on the back of higher revenue, thanks to higher prices for fresh fruit bunches (FFB), crude palm oil (CPO) and palm kernel (PK). It added that the FFB production and purchases also increased, resulting in higher CPO and PK production. Chin Teck said revenue was up 36.61% at RM45.41 million, from RM33.24 million in 1QFY20.
Dagang NeXchange Bhd (DNeX) has clarified that other than a consortium agreement signed by its unit yesterday, it has not received a letter of award, nor has it entered into an agreement with the Indonesian government for a cable laying, maintenance and repair job there. DNeX was responding to an article published in The Edge Malaysia dated Jan 25, entitled "DNeX close to bagging cable laying, maintenance and repair job in Indonesia".
Advancecon Holdings Bhd has bagged a RM60.6 million subcontract for the proposed construction and completion of subgrade works of Package 3, Section 4 for the East Coast Rail Link (ECRL) project. Advancecon said its wholly-owned subsidiary Advancecon Infra Sdn Bhd has accepted the letter of acceptance from China Communications Construction (ECRL) Sdn Bhd for the appointment of AISB as the subcontractor. The contract period spans March 1, 2021 to April 15, 2023.
Tasco Bhd has proposed a share split of every share to four shares, the total logistics solution provider said in a bourse filing yesterday. Tasco currently has an issued share capital of RM100.8 million, comprising 200 million shares. The theoretical share price after the split would be 95.75 sen per share, based on, for illustrative purposes, the last transacted market price of RM3.83 per share on Jan 19. Tasco said the proposed share split is to reward its existing shareholders, improve liquidity of the company's shares and broaden its shareholder base.