This article first appeared in City & Country, The Edge Malaysia Weekly, on March 21, 2022 - March 27, 2022.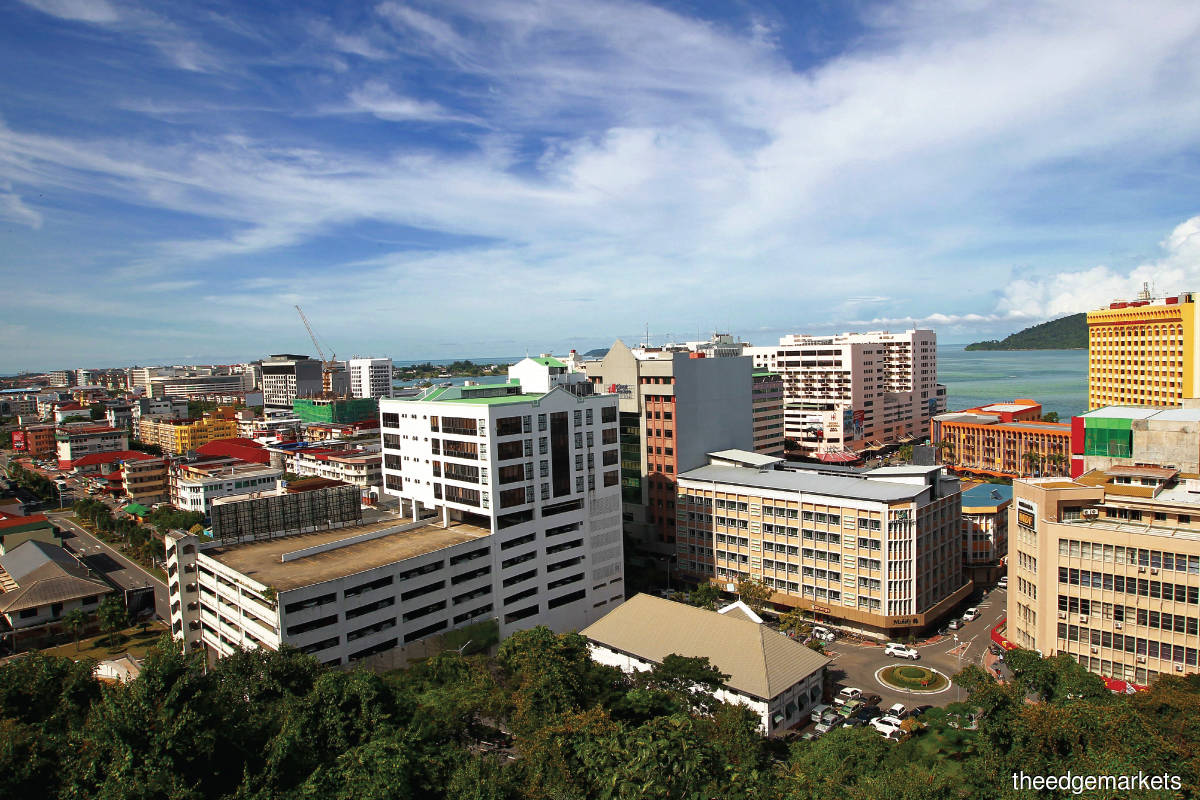 As 2021 came to a close, the property market in Sabah was somewhat in good form despite the ongoing challenges brought on by the Covid-19 pandemic. In fact, in the first nine months of the year, the market gave a gritty performance.
"Sabah's residential property market had shown positive movements in transaction activities in 2021, coming to 3,497 transactions worth RM1.38 billion, with a growth of 8.44% in volume and 25.59% in value, as at 3Q2021. Though this improvement is still short of 2019's performance — as at 3Q2019, there had been 4,047 transactions — it underlines Sabah's resilience and recovery prospects despite the continued challenging period," says Rahim & Co regional manager (Sabah) Max Sylver Sintia when presenting the The Edge/Rahim & Co Kota Kinabalu Housing Property Monitor 4Q2021.
He adds that there were glimpses of recovery over the past year "with steady growth of prices recorded in the secondary market" but at a slower pace compared with before the pandemic.
"In the primary market, some developers recorded better-than-expected take-up rates as they had turned to the digital medium to deploy targeted advertising and virtual sales campaigns. 
"Homebuyers have steadily acclimatised themselves to social media outreach programmes and online communication with property and developer sales agents as well as virtual show unit experiences," says Max.
Furthermore, buyers were selective and careful when making their purchases.
On the flip side, "investors were noted to be wary of the current state of the economy and its effect on their property investment portfolio/strategy as well as the property market in general".
Due to borders still being tightly controlled, Max thinks this will hinder international buyers from considering purchasing Malaysian property, and that the market is a "weak investment prospect". 
Meanwhile, other property sectors have differing performances, according to Max. For instance, industrial property did not fare well as transaction volume and value declined 16.48% and 16.01% respectively in the first nine months of the year. 
In the same period, it was the opposite for the commercial sector, which saw an increase of 41.91% in volume and 4.28% in value. However, the challenges in this sector are "tenancy performance and maintaining visitor footfall". 
"New workplace practices with the work-from-home option as well as new shopping trends and e-commerce drove operators and building owners to [adopt] innovative new ways to attract tenants and visitors," says Max.
Max highlights the sale of Kompleks Tabung Haji Kota Kinabalu — which accommodates a 108-room hotel previously known as TH Hotel, now Raia Hotel — for RM110.18 million to Urusharta Jamaah Sdn Bhd.
There was a product launch as well — Eco Peak Residence. This 26-storey condominium project in Donggongon, Penampang, by Legacy Group Development, offers 318 units with built-ups of 934 to 992 sq ft. With selling prices of RM399,000 to RM489,000, the condo offers facilities such as 24-hour security, children's mini water theme park, children's playground, jogging track, barbeque pit, outdoor exercise facilities, clubhouse with sauna, gym and multipurpose rooms, swimming pool, children's pool and deck pool. 
The Jesselton Twin Tower project saw a delay in construction activities due to the Movement Control Orders. It was scheduled for completion in the last quarter of 2021 but has now been rescheduled for completion this year. 
"The 56-storey residential building, about 200m tall, will be the highest landmark in Borneo. The units range from 649 to 2,041 sq ft, while the penthouses are up to 7,000 sq ft," says Max.
Landed property: Staying strong
Prices of landed properties in the monitor have shown growth in the quarter under review.
Prices of two-storey terraced houses recorded an average growth of 1.98% year on year (y-o-y) in 4Q2021 from 1.74% in 4Q2020, an increase of 0.24 percentage points, according to Max.
"The highest y-o-y price growth was recorded at Ujana Kingfisher with an increase of 3.39% to RM610,000. This was followed by Taman Jindo, 3.03% to RM680,000; Millenium Height, 2.44% to RM630,000; Golden Hill Garden, 2.38% to RM860,000; Taman Sri Borneo, 1.52% to RM670,000; and Taman Indah Permai, 1.09% to RM465,000. No y-o-y price growth was recorded in Luyang Perdana.
"Quarter on quarter, there was marginal price growth for houses in Ujana Kingfisher, up 0.83%; followed by Millenium Height, 0.8%; Taman Sri Borneo, 0.75%; Taman Jindo, 0.74%; and Golden Hill Garden 0.58%. There was no q-o-q price growth in Taman Indah Permai and Luyang Perdana," says Max.
As for 1-storey terraced houses, the average price growth was 3.89%, or 0.57 percentage points, from 3.32% a year ago. 
"The highest y-o-y price growth was at Taman Tuan Huat, with an increase of 4.44% to RM470,000; followed by Taman Nelly Phase 9 at 4.12% to RM505,000; and Taman Sri Kepayan, 3.09% to RM500,000.
"Q-o-q results show Taman Tuan Huat registering 1.08% growth, followed by Taman Sri Kepayan at 1.01% and Taman Nelly Phase 9 with 1%," he says.
There were no changes in rental rates for both landed property types in the monitor. Yields, on the other hand, declined, with the average gross yield for 1-storey terraced houses at 3.94%, down 0.15 percentage point, compared with 4Q2020.
"The highest yield was registered at Taman Sri Kepayan with 4.2%; followed by Taman Tuan Huat, 3.83%; and Taman Nelly Phase 9 with 3.8%," says Max.
The average gross yield for 2-storey terraced houses fell 0.07 percentage points to 3.62% from a year ago.
"The highest yield was registered at Taman Indah Permai with 3.87%. This was followed by Millenium Height, 3.81%; Taman Jindo, 3.71%; Golden Hill Garden, 3.63%; Luyang Perdana, 3.47%; Ujana Kingfisher, 3.44%; and Taman Sri Borneo, 3.4%," he says.
High-rise: Spotty performance
The prices of condominiums monitored continued their very soft performance, with an average growth of only 0.16% y-o-y, which was an improvement of 0.36 percentage points from the year before. 
"Only three registered an increase in price, Alam Damai was up 1.8% to RM580 psf; Likas Square was up 1.3% to RM395 psf; and Jesselton Condominium was up 0.9% to RM585 psf. 1 Borneo Condominium declined by 2.6% to RM370 psf, while the rest of the sample registered no changes in price. 
"Q-o-q, three samples registered an increase in price, Likas Square at 1.3%, followed by Jesselton Condominium at 0.9% and Alam Damai, 0.9%," says Max.
Rental rates for condos declined on average by 3.57% y-o-y. Three properties show a decline in rates while the others were unchanged. 
According to Max, y-o-y, Jesselton Condo's rent fell by 9.38% to RM1.93 psf/month, 1 Borneo Condominium dropped 5.88% to RM1.62 psf/month and The Peak Condominium declined 13.33% to RM2 psf/month.
"Condos registered an average gross yield of 4.09%, down by 0.16 percentage points compared with 4Q2020.
"The highest yield was recorded at 1 Borneo Condominium at 5.24%; followed by Likas Square, 4.5%; Radiant Tower, 4.33%; Marina Court, 4%; Jesselton Condominium, 3.97%; The Peak Condominium, 3.69%; Bayshore Condominium, 3.61%; and Alam Damai, 3.39%," says Max.