This article first appeared in City & Country, The Edge Malaysia Weekly, on November 16, 2020 - November 22, 2020.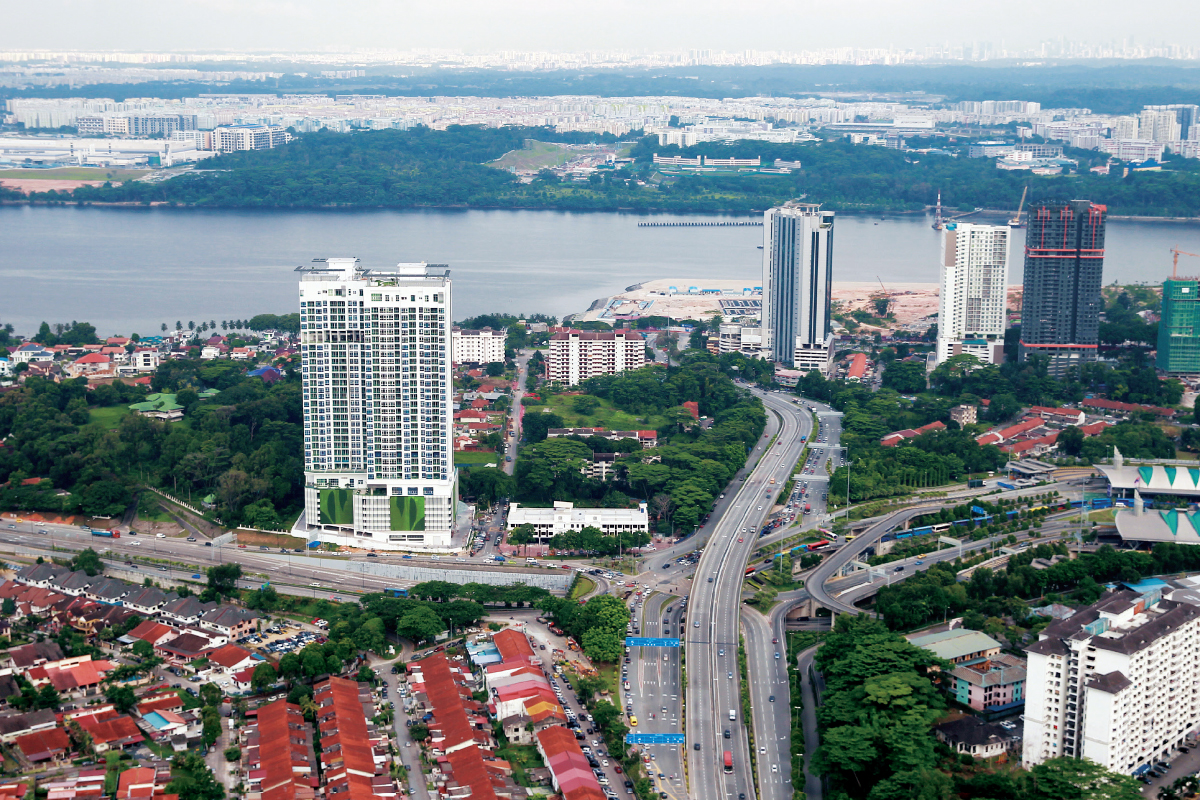 The Johor Baru property market for 3Q2020 and the following quarters is expected to remain sluggish in the light of the Covid-19 pandemic and other factors.
"[In] 1H2020, the Johor Baru property market was hit by the Covid-19 pandemic, with a total transaction volume of 5,766 units and transaction value of about RM3.4 billion. Both transaction volume and value dropped by about one-third from the same period last year," says KGV International Property Consultant (Johor) executive director Samuel Tan when presenting the KGV International Property Consultants Johor Baru Property Monitor 3Q2020.
"Though we do not have the latest official statistics [for] 3Q2020 at this juncture, we note from the market activity that buyers remained cautious and most developers were still actively marketing existing unsold stock instead of launching new projects. Transaction volume and prices are expected to trend downwards in 3Q2020," he adds.
Tan observes that developers there are still planning to acquire land. "There are developers scouting around for good development land and building up their land bank. This is an endorsement of the developers' confidence in the Johor Baru property market in the long term."
Some recent notable transactions include Iskandar Waterfront Holdings' (IWH) partnership with China's Metallurgical Corp of China Ltd (MCC) to develop 60ha (148 acres) of commercial land in Skudai, Johor. The land will be developed over the next decade and is expected to yield a gross development value (GDV) of RM8 billion. In the first phase, IWH and MCC Singapore will jointly develop a 15ha mixed-used project, which will have an estimated GDV of RM2.88 billion. Construction is scheduled to begin in early 2021.
In addition, Scientex Bhd is acquiring 202 acres of land in Pulai, Johor for RM185 million — or about RM21 psf — bringing its total land bank to more than 5,700 acres.
"The weak sentiment is likely to persist until at least next year. We expect more launches for landed houses and high-rise apartments in the region of RM500,000 or less in the following quarters," says Tan.
Market determinants in 3Q2020
Several factors contributed to the sluggish market during the period in review, chief among them being the ongoing pandemic.
"No one expected the severity of Covid-19. We should brace ourselves for the long haul. All businesses must find innovative ways to transform in order to survive the pandemic. Digitalising property transactions will be the new trend moving forward," says Tan.
"Increasingly, more activities that used to be conducted on a face-to-face basis are gradually being conducted virtually, for example, site inspections facilitated by virtual reality technology, adoption of digital and property technology in facility management, and consultation and seminars conducted via platforms like Zoom and Team Application. More activities could move online. For example, property auctions conducted via the internet and marketing of generic or mass properties solely through the internet are all possibilities that can be realised.
"In blaming Covid-19 for the weak property market or economy, we are in fact barking up the wrong tree. Covid-19 is merely a catalyst that has triggered the opening of a Pandora's box. The pandemic compounds the income gap problem that has long existed, as the poor become poorer. It exposes the inefficiency and opaqueness of government policies worldwide. Covid-19 manifests the incapability of the authorities and outdated policies. All these are glaring deficiencies," says Tan.
"It is time for the authorities to quickly undertake reform to improve some of the structural and fundamental issues like the persistent low income levels of our employees, competitiveness — or the lack of it — of our workers and students, over-reliance on our twin-oil commodities, outdated policies that suppress meritocracy, slow adoption of new technologies in our economies ... and the list goes on," he adds.
Meanwhile, Johor's gross domestic product (GDP) is expected to shrink by between 3.5 % and 5.5% this year, according to Tan.
"This is in line with Malaysia's GDP forecast this year, which is estimated [to be] within the range of -3.5% to -5.5%. The man in the street has started to feel the adverse impact as companies have started laying off workers and cutting pay.
"The economic debacle is probably compounded as our neighbour down south, Singapore, is also badly hit and is expected to register a GDP contraction of 5% to 7%. Official data from the Malaysian High Commission in Singapore shows that more than 15,000 Malaysians lost their jobs across the Causeway between January and July as the Covid-19 pandemic hit the labour market.
"The Johor and Singapore economies are closely intertwined. From anecdotal evidence, there are about half a million Malaysians working in Singapore, and about 250,000 of them used to travel across the border on a daily basis. A prolonged period of border closure would definitely affect the livelihood of these Malaysian workers and consequently affect their ability to service existing home loans and buy new properties," Tan notes.
Meanwhile, the much-talked-about proposed air-conditioned walkway at the Causeway is poised to ease traffic congestion eventually.
"Johor is looking to build an air-conditioned walkway that will stretch about 350m along its side of the Malaysia-Singapore Causeway. This will definitely help ease traffic congestion when the border is reopened eventually. Proactive measures like this should be lauded even though the border is not entirely open due to the Covid-19 pandemic. Some of the long-term infrastructure projects that will improve the connectivity within the state should still continue so that Johor Baru will stand to reap the benefits when the economy starts to recover," says Tan.
Other challenges
Other disruptors include the local political situation. "Domestic politics remain fluid. The political uncertainty is bad for the economy and property market. Long-term projects will remain uncertain as long as the political leadership is still not settled in the midst of Covid-19," warns Tan.
Meanwhile, Bank Negara Malaysia has maintained the overnight policy rate (OPR) at a historical low of 1.75%. "The rate was maintained as economic activity continues to recover from the trough in April this year and the improvement is expected to continue into 2021. The low rate helps take some pressure off the load of property owners and buyers. As the loan moratorium ended in 3Q2020, the lower OPR helps free up some discretionary income for the household.
"Malaysia's property prices are not excessively high if compared with Asian or even Asean countries. The property prices in many countries have caught up in the past decade. In fact, property prices in many Malaysian cities are relatively affordable compared with some of the major cities in Asean, and we are not even comparing with Singapore.
"The root cause of our property conundrum is more structural, linked to our overall policy formulation and transformation as well as macro socioeconomic factors like income growth and social mobility. Unless we get our direction right and start working on the nuts and bolts, other countries will soon surpass us in the race," Tan warns.
Apart from that, the US-­China trade war appears to have intensified and has culminated in sanctions on individual companies. "The tension between the two countries still shows no signs of abating. Even with Joe Biden becoming the next president, global trade and economy will be less open compared with previous decades. The cost of doing business will increase," Tan notes.
New launches, price and rental trends in 3Q2020
According to the monitor, there was one new launch during the review period — a serviced apartment, known as Verandah Residences comprising two blocks with a total of 649 units. It offers 1+1 bedroom, 3-bedroom and dual-key units, with built-up areas of 632, 850 and 1,023 sq ft respectively.
"We notice that the built-up areas for new serviced apartments are getting smaller in most of the recent launches.  Prices start from RM480,000 (RM759 psf), RM577,000 (RM679 psf) and RM658,000 (RM643 psf) respectively. We understand about a third of the units launched have been sold," says Tan.
He adds that most developers had postponed their project launches during the quarter and this is expected to last till year-end as the overall sentiment remains soft.
Meanwhile, property prices remain largely stable, with the exception of 2-storey cluster houses in Taman Bukit Indah and Taman Austin Heights, which dropped marginally from RM920,000 to RM900,000 and RM780,000 to RM750,000 respectively in 3Q2020.
"As the transaction volume remains low, the market may not have reflected the full impact," says Tan.
"For the rental market, we noted that more than half of the properties showed a drop of 3% to 12%. This is not surprising as many property owners have lowered their asking prices.
"Many are even prepared to renegotiate the rent for existing tenancies. As a result of the drop in rent, we witnessed a decrease in the property yield for the respective property types and locations as well."