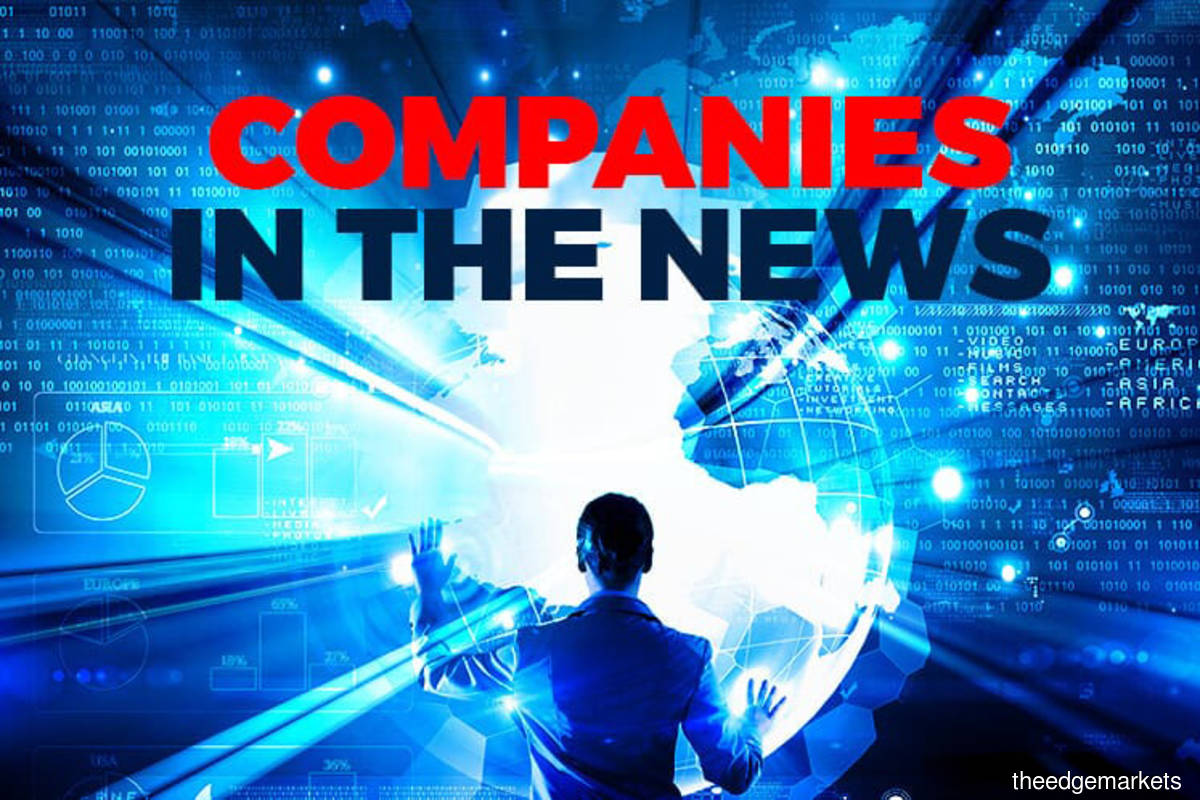 KUALA LUMPUR (April 5): Based on corporate announcements and news flow today, companies in focus on Tuesday (April 6) may include: Ekovest Bhd, Berjaya Corp Bhd (BCorp), AMMB Holdings Bhd, FGV Holdings Bhd, Top Glove Corp Bhd, Greatech Technology Bhd, Scientex Bhd, Star Media Group Bhd, TDM Bhd, Central Global Bhd, Dialog Group Bhd and Gabungan AQRS Bhd.
Ekovest Bhd is purchasing a total of 38.96ha (96.27 acres) of freehold land in Pulai, Johor from Iskandar Waterfront Holdings Sdn Bhd (IWH) for RM944.62 million. The related-party transaction acquistion comes after last month's aborted RM1.11 billion deal between the two groups. Both Ekovest and IWH are controlled by tycoon Tan Sri Lim Kang Hoo, who has stakes of 32.4% and 63% respectively.
Berjaya Corp Bhd (BCorp) executive chairman Tan Sri Vincent Tan Chee Yioun announced today that he will be resigning from his position effective immediately. Tan will remain on the board of directors as the non-executive chairman. The group said this was in line with Tan's vision to transform it into an institutionalised corporation, managed by professionals.
AMMB Holdings Bhd (AmBank) has confirmed that the issue price for its 300 million private placement shares is fixed at RM2.75 apiece. The group said the issue price constitutes a 7.44% discount to its five-day volume-weighted average of its shares up to April 2 of RM2.9711. The group also confirmed that the private placement has been oversubscribed, having generated interest from a "strong group of diverse investors".
Datuk Haris Fadzilah Hassan will be stepping down as FGV Holdings Bhd's group CEO effective May 15. The 53-year-old will be resigning from his position "to pursue other interests". The planter said it will be looking for a suitable candidate to be its CEO and an announcement will be made once such a candidate has been identified.
Top Glove Corp Bhd has been instructed by the US Customs and Border Protection (CBP) to carry out additional rectification and verification works in relation to its efforts addressing forced labour issues. The group announced that one of the additional rectifications is to return workers' identity documents retained by recruitment agents. According to Top Glove, this impacts less than 1% of its workers. Another rectification is remediation for workers who did not manage to come to Malaysia to work due to Covid-19-related lockdowns. However, Top Glove did not reveal the detail of action it needs to take to remediate this.
Greatech Technology Bhd said it has secured its first purchase order in the United States from a new electric vehicle customer for equipment to produce lithium-ion battery cells. The identity of the customer and the value of the purchase order were not disclosed.
Scientex Bhd is acquiring three pieces of freehold agriculture land in Penang for RM246.67 million. Its wholly-owned subsidiaries Scientex Quatari Sdn Bhd and Scientex (Skudai) Sdn Bhd had entered into two sale and purchase agreements in relation to the acquisition.
Star Media Group Bhd, which appointed a new non-executive chairman and CEO last month, has decided to close its subscription video-on-demand service business Dimsum Entertainment by end-September — a move that is seen to stop the group from bleeding losses. It announced that the move follows a strategic review carried out by its key management team that has identified a number of new opportunities which the group will explore to further strengthen its position in the industry. Chief marketing officer Lam Swee Kim said while it was a difficult decision to end this chapter, "we are excited to explore promising new ventures in the near future".
TDM Bhd's TDM Plantation Sdn Bhd has received International Sustainability and Carbon Certification (ISCC) valid from March 17 until March 16, 2022. It is the first plantation company in Terengganu to receive such certification. The ISCC, approved by the European Commission, is accorded to the plantation division of TDM Bhd, following an independent technical review of its supply chain, operations and greenhouse gas calculations at the company's South Zone operation units.
Central Global Bhd plans to place out up to 20% of its issued shares to raise money to fund its construction project, manufacturing operations expansion, and working capital needs.The placement shares will be issued to qualified third-party investors to be identified at a later date. Based on its RM1.435 indicative price, the private placement is expected to raise gross proceeds of up to RM25.83 million. Of this amount, the bulk or RM13.69 million will go towards funding its existing construction project — a 34-storey apartment building named the Montage.
Dialog Group Bhd believes that the Pengerang Deepwater Terminals (PDT) has the potential to attract more refining and petrochemical complex, as well as downstream petrochemical manufacturing plants to Johor. Executive chairman Tan Sri Dr Ngau Boon Keat said the group and its partners have invested more than RM13.5 billion so far in the development of Phase 1, 2 and 3 of the 485.62ha PDT.
Gabungan AQRS Bhd has seen the emergence of a new substantial shareholder in the form of Datuk Kamisah Johan. It was announced that Kamisah had acquired 49.34 million shares or a 9.09% stake, after participating in its private placement on April 1. The group said Kamisah, 44, is the founder and group executive chairman of Rembawang Holdings Sdn Bhd. She is a self-made entrepreneur and has more than a decade of experience in the property development sector. Rembawang's flagship residential development project is the Teringin @ Sri Ukay development.