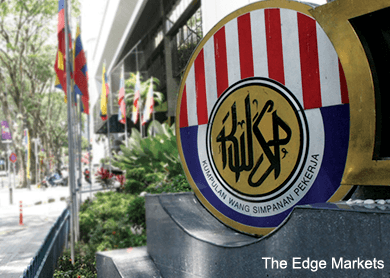 KUALA LUMPUR (Apr 20): The Employees Provident Fund (EPF) today introduced several measures to address savings inadequacy among members.
 
During a media briefing here today, EPF chief executive officer Datuk Shahril Ridza Ridzuan introduced a new initiative to align the full withdrawal age with the minimum retirement age
while keeping the existing pre-retirement withdrawals unchanged.
 
"The EPF will also align minimum contributions with the minimum wage legislation as well as extend dividend payments from the age of 75 to 100.
"The provident fund also introduced Shariah-compliant retirement savings in addition to the existing retirement savings scheme. Members are given the option to switch to Shariah-compliant retirement savings when the new scheme is introduced," Shahril said.
The EPF is seeking public feedback on its proposals. Shahril said members needed to consider two options concerning the alignment of the retirement age and withdrawal age.
The first option is to extend the full withdrawal age from 55 to 60 years on a staggered basis over 15 years.
The second option aims to maintain the withdrawal age of 55 for existing savings and introduce a new withdrawal age of 60 for contributions from those working past the age of 55, said Shahril.
"The staggered option has been practiced elsewhere, which faced a similar situation," he said.
EPF is also seeking feedback on a proposal to introduce additional contribution from members, whose wages are below the monthly minimum wage.
"This proposal is intended to address the issue of a large portion of the population, whose contributions are lower than they should be under the minimum wage legislation," Shahril said.