This article first appeared in Enterprise, The Edge Malaysia Weekly, on June 8, 2020 - June 14, 2020.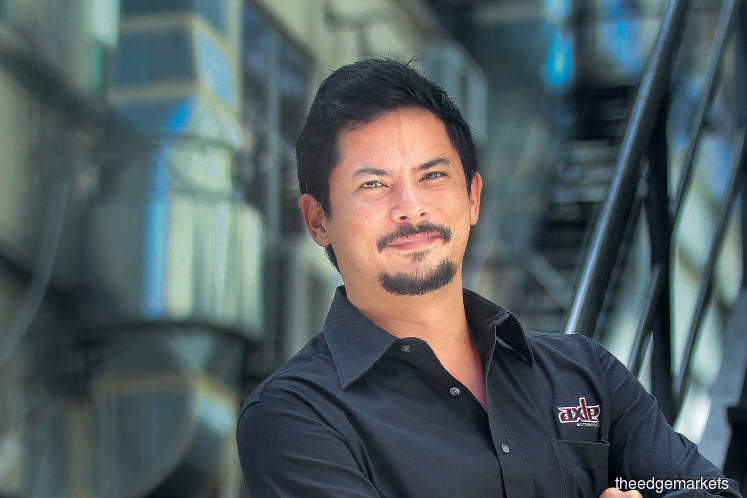 The name Alex Yoong is synonymous with motorsport in the region. He was the first Malaysian to race in Formula One, with Minardi at the 2001 Italian Grand Prix. Now, he is on a mission to make motorsport relevant, interactive and affordable.
Speaking to Enterprise, Yoong says the number of people in motor racing has stagnated since the 1990s because the sport is too expensive and, hence, not accessible to the average Joe. "These people would rather race on the streets, which is not ideal. So, I am trying to make it as accessible as possible for people to enjoy the sport."
Ten years ago, Yoong set up Axle Motorsport Sdn Bhd, which built race cars and ran race teams. But the company was put on the back burner when he went to the UK to head driver development for the Lotus F1 Team.
In anticipation of eSports, Yoong revived the company 2½ years ago with several business partners, rebranding it as a holistic motorsport company with a heavy focus on eSports. "Obviously, eSports is here to stay. I have been looking to get into eRacing because it is the motor side of eSports and the industry has critical mass now," he says.
With 25 years of experience, Yoong knows the motorsport industry like the back of his hand, which prompted him to organise the eRacing Grand Prix SEA. The first tournament was held last August. It was sponsored PlayStation and streamed on the eGG Network — a Southeast Asian ­eSports and gaming streaming site.
"eRacing is quite niche at the moment. It is probably the most popular non-violent game next to FIFA. So, there is potential for growth," says Yoong.
Today, Axle Motorsport is a platform that manages and grooms eRacing and track racing talents, providing education on eRacing and consultancy services to those interested in organising racing events and competitions. The eRacing competitions use simulators, allowing players to compete physically. The company also organises online tournaments, pitting virtual drivers against real ones.
"There are a lot of people who have their own steering wheels. If you want to use a console, you can. But you need to be quick enough. So, if players come into the game and they are quick enough, they will be selected and invited to compete," says Yoong.
"In some races, we pit regular drivers against eSports drivers. With the Covid-19 pandemic, the regular drivers cannot drive now. So, I am trying to get them into simulators so they can race against eSports drivers."
Before the pandemic, the company mainly organised offline events and only held online tournaments once a month. But with the current restrictions on movement, it has become too challenging to manage these offline events. So, the company has pivoted to weekly online tournaments.
"I prefer to look at this as an opportunity because I would rather do a competition in front of an audience of 4,000 people. Online tournaments are much more scalable," says Yoong, adding that the company has put on hold its expansion to the Philippines, which was scheduled for April.
Yoong's other passion is setting up a motorsport academy. He wants to coach people so they can progress from virtual racing to actually driving on the race track.
Many people are interested in racing. They just think they cannot afford it, according to market research.
"Whenever you are at a bar and a race is going on, everyone turns to watch. But after a couple of minutes, they turn away. What we want to do is make it more accessible," says Yoong.
"We charge a reasonable fee so people can get involved in motorsport and, more importantly, simulator racing, which is eRacing. We are trying to take care of the whole ecosystem and the education aspect is very important."
Axle Motorsport started its coaching services a month ago and now has more than 40 students. According to its website, a three-hour class costs an average of RM300 per person. The coaches are outsourced, but most of the coaching is done Yoong and his son through the simulators.
"If there is a desire, of course, we can take them to a race track. The skills are completely transferable. Right now, we have two communities — the racing and eRacing communities — and I am trying to bring them together to create a population that can race offline and online," says Yoong.
Creating a sustainable racing community
While the racing ecosystem is somewhat sustainable currently, there is a need for new racers, says Yoong. A lot of the drivers with Axle Motorsport actually started on arcade games such as Daytona and Sega Rally, which are good entry points. But a lot of them found it hard to move to the next level and drive competitively, so they were turned off.
The gap is education, says Yoong. Generally, drivers in the region are at the same level as the lower-level competitive drivers in Europe. "I got involved because while simulator drivers in the region have so much passion and knowledge from scouring the internet, there is no one here to help them out. We have been very open and free with our knowledge and advice because we want Southeast Asia to become the world leader in simulator racing," he adds.
Yoong says there is not enough information out there, even on the internet, to help these people become good at simulators. "So, we are trying to help them out with coaching. Then, the drivers will improve and more people will be attracted to join the sport."
According to him, coaching includes how to react to certain situations, how to understand a track and even discovering some of your bad driving habits (either virtually or physically) that you may not be aware of. These are some of the tricks of the trade.
"[Drivers] may not get to drive a real F3 or F2 car, but I am trying to make the knowledge of driving these cars more accessible so it can be practised in a simulator. So, a driver can go from being two seconds off the world best to an eighth of a second, which is a big difference," says Yoong.
Since the eRacing Grand Prix SEA last year, there has been
interest from a wide cross-section of people in motorsport. "We have females, drifters and real drivers, among others. We have had people as young as 10 to as old as 65. We are trying to get people used to the idea that it is just like picking up a guitar or learning a new language. And they can do so at the same cost," he says.
"We have also created different leagues for different drivers because we cannot have beginners competing against experts. But they can work their way up."
At the moment, there are two league levels — for beginners and for those who are familiar with simulator racing and have competed at high-level tournaments.
Expansion plans
The eSports industry is evolving rapidly, especially in Asia. Yoong feels like he is in a race against time to be the first in the market with the expansion of products and services under Axle Motorsport.
His biggest challenge is funding. Up to this point, the company has been operating on Yoong's own money. But now, he is on the lookout for angel investors to grow his core team and develop a mobile app. The company already has something in the pipeline with its partners, RaceRoom, but it is looking to come up with its own educational app.
"5G is around the corner and we have a long-term vision for our mobile app, for which we will need venture capital funding. But for now, we are working on an educational app, which requires RM1 million to RM2 million to complete. We are also considering equity crowdfunding with Leet Capital," says Yoong.
The mobile game with RaceRoom is set to be released in the third quarter of this year while Axle Motorsport's app is scheduled for release the end of the year.
Yoong says the company is planning a regional expansion, but the timeline has to be tweaked because of the Covid-19 pandemic. He is currently in talks with motor racing partners in Indonesia, Thailand, Vietnam and the Philippines.
If there are no further delays, the company will expand its Malaysian operation in July and its Singaporean operation in September. "We are trying to be a regional platform. So, we want to have ground presence in these countries," says Yoong.
"For Malaysia, we are looking to do roadshows outside of Kuala Lumpur, where we will bring our simulators to other states. I hope to find ways to make simulators cheaper and get motorsport games on mobile phones. I would also like to see racers in the region competing at a high level."