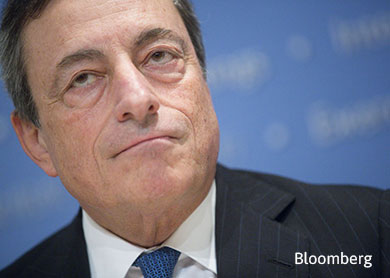 FOR European Central Bank President Mario Draghi, the price of a weaker euro to boost the economy and stave off deflation is a record exodus from the continent's financial assets.
Domestic and foreign investors spurred 187.7 billion euros ($239 billion) of fixed-income outflows from the euro area in the six months through August, the most in ECB data going back to the currency's debut in 1999. That's helped push the euro down 2.6 percent versus a basket of nine developed-market peers tracked by Bloomberg Correlation-Weighted Indexes this year, the biggest decline since 2010, when the euro-region debt crisis was taking hold.
"Foreign demand and domestic investor demand have been equally negative, and looking ahead they'll be significant factors in driving a weaker euro," Phyllis Papadavid, a senior global-currency strategist at BNP Paribas SA in London, said by phone on Oct. 21. "The euro is going to be one of the key underperformers in the Group of 10 universe."
While Draghi has acknowledged the need for a weaker euro to avoid deflation and make exports more competitive, strategists warn that outflows risk undermining the euro-region economy if they becomes too aggressive. The ECB extended its stimulus measures this month by starting to buying asset-backed bonds, and announced yesterday that it bought 1.7 billion euros of covered bonds in the first week of the new plan.
'Be Careful'
"One should be careful what one wishes for," Neil Jones, the head of hedge-fund sales at Mizuho Bank Ltd. in London, said yesterday by phone. "At this point, there's the benefit of a weaker currency, but if the outflows continue, it will become an issue if you start to get things like a minor run on the currency."
Draghi faces hurdles in turning the economy around. Inflation, at 0.3 percent last month, remains a fraction of the central bank's target of just under 2 percent. German business confidence measured by the Ifo institute's climate index dropped for a sixth month as the specter of a recession haunts Europe's largest economy.
Draghi engineered the flight from euro-region debt with policies such as interest-rate cuts that helped drive yields on sovereign bonds from Germany to Spain to all-time lows. He encouraged investors to decamp to foreign assets with his plan to expand the ECB's balance sheet by 1 trillion euros and by charging banks to deposit funds.
'Quite Strong'
Outflows by domestic investors "have become quite strong, and at the same time you have foreign investors reducing their bond holdings," Jens Nordvig, a managing director of currency research at Nomura Holdings Inc., said by phone from New York on Oct. 23. "Both those effects create euro selling."
The euro sank to a more than two-year low of $1.2501 on Oct. 3, before trading at $1.2746 as of 12:35 p.m. in New York. While the 18-nation currency has gained 0.9 percent versus its major peers in October, that follows five months of losses, the longest losing streak since January 2012.
BNP Paribas is more bearish on the euro than most, predicting a 7.4 percent decline to $1.18 by the end of 2015, according to a research report dated Oct. 16, extending the 7.3 percent slide this year. The median estimate in forecasts compiled by Bloomberg is for a drop to $1.20.
Falling Yields
In August, the most recent month for which figures are available, the combination of domestic money managers buying overseas and foreign investors pulling out of euro debt totaled 49.1 billion euros, the most since April, according to ECB data compiled by Bloomberg. The record 187.7 billion-euro figure is the rolling six-month total, derived from the central bank's balance-of-payments data.
The capital flight encouraged by the ECB's policies helped push the yield on Germany's (GDBR10) benchmark 10-year bond to a record-low 0.715 percent on Oct. 16, and Spain's rate to an all-time low of 2.019 percent a day earlier. The average yield to maturity on euro-area government debt dropped to 1 percent on Oct. 1, the lowest ever, according to a Bank of America Merrill Lynch index.
"The situation we have in Europe currently is not just the slowdown in growth but, more important, is the continued disinflation pressure," Alvin T. Tan, a strategist at Societe Generale SA in London, who predicts the currency will fall toward $1.15 in the next two to three years, said yesterday by phone. "Definitely a weaker euro will help."