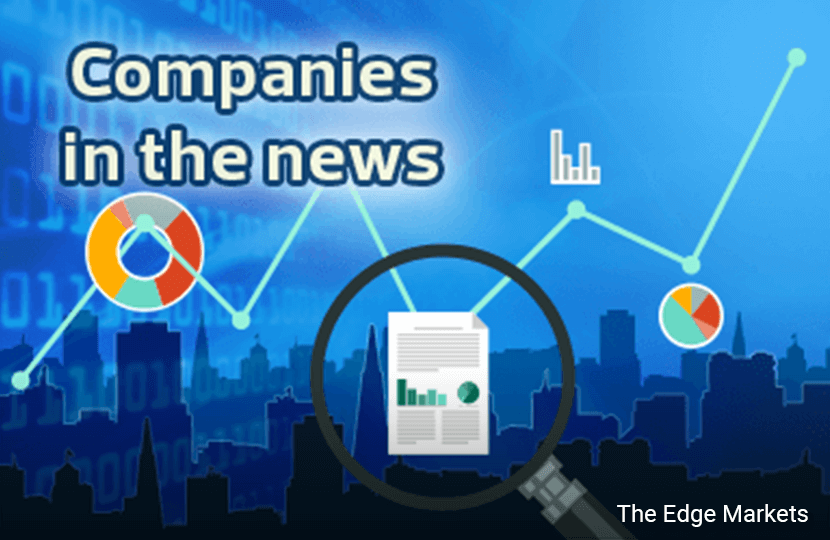 KUALA LUMPUR (Nov 20): Based on corporate announcements and news flow today, the companies that may be in focus next Monday (Nov 23) could include the following: Evergreen Fibreboard, KPJ, Borneo Aqua, Allianz, China Automobile, AmBank, Bintai Kinden, Prestariang, Ikhmas Jaya and Ewein.
Evergreen Fibreboard Bhd announced today it intends to undertake a private placement of up to 51.3 million new shares or 10% of its issued and paid-up share capital to raise up to RM100.03 million, to finance its expansion, repay borrowings and for working capital.
While the issuance price is yet to be fixed, based on the indicative issue price of RM1.95 per placement share, it could raise up to RM100.03 million, its filing on Bursa Malaysia today showed.
Evergreen also proposed to undertake a bonus issue that will involve the issuance of up to 282.14 million bonus shares on the basis of one bonus share for every two Evergreen shares held to reward its shareholders and enhance the stock's marketability and trading liquidity.
This will be implemented after the completion of the proposed private placement in a single issuance.
In a separate report, the group's net profit almost tripled to RM27.59 million for the third quarter ended Sept 30, 2015 (3QFY15) from RM10.08 million a year ago, as it gained from a strengthened US dollar, lower cost of glue, higher operational efficiency as well as synergistic cost savings.
The group recorded a foreign exchange gain of RM8.02 million in the latest quarter, compared to RM1.55 million in the previous corresponding quarter.
Revenue for the quarter rose 9.2% to RM256.04 million from RM234.49 million in 3QFY14.
Net profit for the nine-month period (9MFY15) came in at RM71.53 million, as compared to a net loss of RM14.2 million a year ago, while revenue increased 8.5% to RM748.13 million from RM689.82 million in 9MFY14.
KPJ Healthcare Bhd is buying commercial parcels in a multi-storey building to be erected in Johor Bahru, Johor, for RM90 million, to set up healthcare facilities that will comprise, among others, an outpatient centre and senior living service apartments.
The parcels it is acquiring will have approximately 125,000 square feet in gross floor area; the building will be constructed on a piece of 2.56ha land, which will be a part of a mixed development provisionally known as the 'Coronation Square'.
The proposed acquisition of the property shall be financed from a combination of internally generated funds and external borrowings of the KPJ Group, KPJ's filing to Bursa Malaysia today showed.
Its wholly-owned unit Kumpulan Perubatan (Johor) Sdn Bhd (KPJSB) inked a sale and purchase agreement with Coronade Properties Sdn Bhd (formerly known as Arab Asia Properties Sdn Bhd) for the proposed acquisition yesterday.
Construction work on the building is expected to commence within six months from the date of approval of the final building plan (FBP) by the appropriate authorities.
Coronade Properties is to complete and deliver vacant possession to KPJSB within four years from the date of approval of the FBP.
"The proposed acquisition of KPJSB Property represents an opportunity for KPJ to create healthcare facilities comprising outpatient centre, featuring, amongst others, complementary medicine and wellness services and also senior living service apartments within the Coronation Square commercial development area, to service local and foreign patients and complement its existing specialist hospitals within the City of Johor Bahru," said KPJ.
Aquaculture company Borneo Aqua Harvest Bhd is proposing to buy the entire equity interest of Wullersdorf Resources Sdn Bhd from its managing director (MD) and chief executive Datuk Lo Fui Ming and two others for RM131 million, to diversify into the exploration for minerals and mining business.
Wullersdorf has not commenced operations since its incorporation on July 10, but of note is that it had entered into a 33-year sublease agreement on Oct 1 with Southsea Gold Sdn Bhd - a company which it shares common shareholders with - on a 317.7ha tract, which is part of the 1,000ha parcel that Southsea had been granted a 35-year lease for mining in Bukit Mantri, Tawau, Sabah.
Under the sublease agreement, Wullersdorf would pay Southsea an annual rent of RM60,000.
The acquisition of Wullersdorf will be done through the issuance of 104.52 million new Borneo Aqua shares at an issue price of 94 sen per share and the issuance of 34.84 million irredeemable convertible preference shares (ICPS) at an issue price of 94 sen per ICPS.
To facilitate the proposed acquisition, the group is also proposing to increase its authorised share capital from RM50 million to RM200 million.
Allianz Malaysia Bhd's net profit rose by a marginal 0.11% to RM78.51 million for the third quarter ended Sept 30, 2015 (3QFY15) from RM78.42 million a year ago, thanks to better performance of its life insurance operation.
Earnings per share (EPS) slipped to 46.87 sen from 48.68 sen.
In a Bursa filing, Allianz said its life insurance operation experienced increases in gross earned premiums and investment income due to higher renewal premiums from agency channel while performance was also helped by the scaling back of unprofitable direct marketing business.
Revenue grew 7.29% to RM1.14 billion in 3QFY15 from RM1.06 billion in 3QFY14.
However, for the cumulative nine-month period (9MFY15), the group's net profit slipped 1% to RM222.61 million or 132.1 sen a share from RM224.85 million or 136.1 sen a share in 9MFY14, due mainly to lower underwriting profit from its general insurance operation.
This was despite a 6.3% increase in revenue to RM3.35 billion from RM3.15 billion a year ago, due to higher gross earned premiums and investment income by RM157.9 million and RM40 million respectively.
China Automobile Parts Holdings Ltd announced that its external auditors Messrs BDO have tendered their resignation; as such the group has nominated Messrs PKF as its successor.
It announced on Bursa that BDO notified the group of its wish to resign as CAP's auditors for the financial year ending Dec 31, 2015 (FY15) vide a letter dated today.
The filing did not state the reason behind BDO's resignation, but noted that BDO will remain the group's auditors until its successor has been appointed, which will be subject to shareholder approval.
AMMB Holdings Bhd (AmBank Group) announced today that Datuk Sulaiman Mohd Tahir will be its new group chief executive officer (CEO) as well as CEO for its commercial banking arm AmBank (M) Bhd, effective Nov 23 (Monday).
Sulaiman, 52, has 28 years of spearheading growth in the banking sector's retail operations. He resigned as CIMB Bhd's CEO two months ago and will officially end his tenure with CIMB tomorrow (Nov 21), according to AmBank Group's announcement on Bursa Malaysia today.
In a separate filing, AmBank Group also announced that Datuk Mohamed Azmi Mahmood is no longer its acting group MD but will still hold his post as deputy group CEO.
Specialised mechanical and electrical engineering services group Bintai Kinden Corp Bhd has landed a US$15.15 million (about RM64.89 million; US$1 = RM4.283) contract for mechanical, electrical and plumbing works for the Rosewood Hotel in Phnom Penh, Cambodia.
It announced on Bursa that it received a letter of acceptance issued by Vattanac Properties Ltd for the project on Nov 19, which has been duly executed by its 69.82% subsidiary Bintai Kindenko Pte Ltd.
The project is estimated to be completed by Aug 31, 2016 and is expected to contribute positively to the future earnings for the financial year ending March 31, 2016.
Information and communications technology firm Prestariang Bhd has been chosen as the main implementer of the Immigration Department's 'Sistem Kawalan Imigresen Nasional' (SKIN).
Prestariang CEO Dr Abu Hassan Ismail inked the letter of agreement for the job with Immigration Department Director General Datuk Mustafa Ibrahim today in front of Home Affairs Ministry secretary-general Datuk Seri Alwi Ibrahim.
However, when pressed for more details, Abu Hasan Ismail declined to provide further information, pending further finalisation of the agreement with the Immigration, and an announcement to Bursa Malaysia.
Meanwhile, in an announcement on Bursa this evening, Prestariang said SKIN is a comprehensive and integrated technology platform to modernise the core applications and infrastructure of the national immigration system, with the objective of enhancing the national borders' security.
"The board of directors of Prestariang is of the opinion that the SKIN project is a new significant milestone for the company and we look forward to the implementation of this project," it added.
Ikhmas Jaya Group Bhd was just awarded a RM161.12 million contract by Malaysian Resources Corp Bhd (MRCB) for a number of construction works for a proposed mixed development at Persiaran Barat, Section 52, Petaling Jaya, Selangor.
Ikhmas Jaya said its wholly-owned unit Ikhmas Jaya Sdn Bhd accepted a letter of award from MRCB's wholly-owned unit MRCB Builders Sdn Bhd, today.
The job entails the substructure works for Towers 2, 3, 5 and 6 of the mixed project's Phase 1A, Phase 1C and Phase 1F on Lot 12 of Persiaran Barat. It is for a period of 20 months and is expected to commence today and be completed by July 19, 2017.
In a separate filing, the group said its net profit for the third quarter ended Sept 30 (3QFY15) rose 6.35% to RM7.44 million from RM7 million in last year's corresponding quarter, mainly due to a higher contribution from an infrastructure project, as well as the finalisation of the railway electrification and double tracking project.
Quarterly revenue, however, shrank by 11.58% to RM63.52 million from RM71.84 million last year.
For its cumulative nine-month period, Ikhmas Jaya's profit rose 45% to RM22.88 million from last year's RM15.78 million, while revenue gained 2.89% to RM204.23 million from RM198.54 million; both top and bottom line improvements were primarily due to higher contributions from its infrastructure projects.
Sheet metal manufacturer Ewein Bhd reported that its profit for the third quarter ended Sept 30, 2015 (3QFY15) jumped more than 20-fold to RM8.42 million from RM389,000 in last year's corresponding quarter.
Revenue for 3QFY15 more than doubled to RM29.21 million from RM13.42 million.
In its Bursa note, the group said its early adopting of MFRS 15, which deals with revenue from contracts with customers, saw it recognising revenue from its property development based on the stage of completion method.
In July, it said Ewein Zenith Sdn Bhd began the development of a 50-acre wellness resort city in Penang known as Wellness City of Dreams, which is worth RM800 million and is expected to contribute RM200 million in pre-tax profit to the group starting 2016.
Ewein Bhd's land unit Ewein Land Sdn Bhd owns 60% of Ewein Zenith.
Profit for its cumulative nine-month period rose more than 10-fold to RM9.62 million from RM9.62 million from RM759,000 last year, while its cumulative revenue saw a 46.32% increase to RM49.47 million from RM33.81 million.
(Note: The Edge Research's fundamental score reflects a company's profitability and balance sheet strength, calculated based on historical numbers. The valuation score determines if a stock is attractively valued or not, also based on historical numbers. A score of 3 suggests strong fundamentals and attractive valuations.)