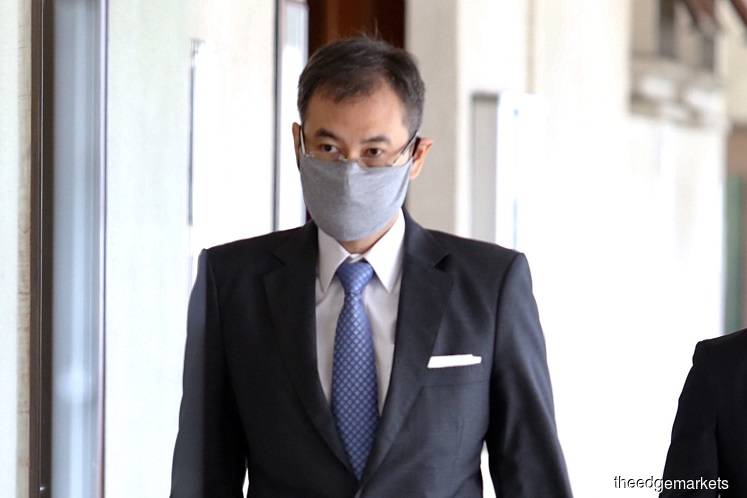 KUALA LUMPUR (July 1): Former 1Malaysia Development Bhd (1MDB) chief executive officer (CEO) Datuk Shahrol Azral Ibrahim Halmi told the High Court here today that he had not struck a deal with the Malaysian Anti-Corruption Commission (MACC) and the government to testify against ex-prime minister Datuk Seri Najib Razak in exchange for him (Shahrol) escaping criminal charges linked to the 1MDB-Tanore trial.
Responding to questions from Najib's lawyer Tan Sri Muhammad Shafee Abdullah, Shahrol said he should not be charged and that he never made a deal with the prosecution and the MACC to testify against Najib.
Shahrol disagreed with Muhammad Shafee's suggestion that he had cut a deal with the MACC and the government to avoid being charged.
Muhammad Shafee today brought up the case of former BSI Singapore banker Yeo Jiawei, who was sentenced to 4½ years' jail in July 2017 for money laundering and cheating involving 1MDB-linked funds.
It was reported that, Yeo, who was already in jail then, was earlier sentenced to 2½ years' jail in December 2016 after being convicted of four charges of obstruction of justice. It was reported that the new sentence would run concurrently with the rest of the jail term.
According to news reports, Yeo and his superior Kevin Swampillai, ex-BSI wealth management services head, planned to obtain secret profits from fees paid to fiduciary funds involved in the transactions.
It was reported that the schemes were concealed from BSI Singapore, and led to Yeo earning more than US$3.5 million (about RM15 million) in illicit profits. It was reported that he then laundered part of the proceeds into Singapore.
It was reported that Swampillai admitted receiving about S$6.95 million in secret profits from the 1MDB-related transaction. It was reported that Swampillai, who testified against Yeo, was not charged.
Today, Muhammad Shafee used the same reasoning and put it to Shahrol that the latter, among others who were complicit in the 1MDB money misappropriation, should have been charged instead of just his client Najib.
Muhammad Shafee also implied that Shahrol, like Swampillai, had made a deal with the government so he could escape charges.
Muhammad Shafee: My client complained about the same thing — why other people are not charged and he is the only one being charged. I put it to you that you, among others [alike], should have been one of the earliest persons to be charged for this.
Shahrol: [I] disagree.
Muhammad Shafee: Did you make a deal with the MACC and the prosecution that you would sing like a bird here and you would not get charged?
Shahrol: No.
Muhammad Shafee: I put it to you that you made a deal with the prosecution, like Swampillai.
Shahrol: I disagree.
In the hearing before High Court Judge Collin Lawrence Sequerah, Muhammad Shafee persisted in his line of questioning by asking Shahrol if anyone had sued him for negligence in failing to carry out his duty as the CEO of 1MDB.
Muhammad Shafee: Has anyone sued you for negligence?
Shahrol: No.
Muhammad Shafee: That too is because a deal has been struck that you would not be charged until you incriminate my client.
Shahrol: I disagree.
Besides Shahrol, Muhammad Shafee also mentioned individuals including Najib's former special officer Datuk Amhari Efendi Nazaruddin and ex-1MDB chief financial officer Azmi Tahir as people who should have been charged for their roles in the 1MDB-linked scandal.
The Edge is covering the trial live here.
Users of The Edge Markets app may tap here to access the live report.