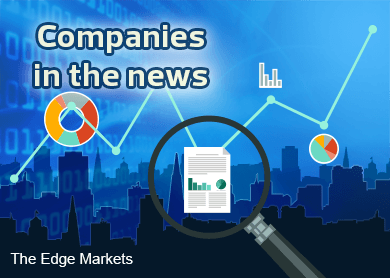 KUALA LUMPUR (June 15): Based on corporate announcements and news flow today, companies in focus tomorrow (Tuesday, June 16) are FGV, Lysaght, SP Setia, SapuraKencana, Puncak Niaga, DRB-HICOM, Benalec, Brahim's, Berjaya Food, Naim Indah and MHB.
Malaysian opposition lawmaker Tony Pua urged Felda Global Ventures Holdings Bhd to call off its deal to buy a non-controlling stake in Indonesia's PT Eagle High Plantations for US$680 million (RM2.4 billion)
Shares of Felda Global, the world's third-largest palm plantation operator, fell to a record low today after analysts said its plan to buy 37% of Eagle High from Rajawali Group was too expensive.
Felda said on Friday it planned to buy 30% in cash and would issue new shares to buy the other 7%. It also plans to buy 95% of a sugar project from Rajawali for around US$67 million.
The Eagle High deal would combine Felda's downstream capabilities with Eagle High's land bank and reduce operating costs, the two companies had said.
But lawmakers and analysts warned that the deal was risky to investors and the company.
"This is to prevent even further losses to the investors which includes Felda, the settlers, the Employees Provident Fund, the Pension Fund, Lembaga Tabung Haji (Malaysia's Pilgrim Fund) and various state governments," Pua said in a statement on Monday.
Lysaght Galvanised Steel Bhd's board, which is currently embroiled in a shareholders' tussle, has reversed its decision to reject the nomination notices submitted by two shareholders for the election of directors in the upcoming annual general meeting next Monday (June 22).
In an announcement to Bursa Malaysia, Lysaght (fundamental: 1.95; valuation: 2.4) said an emergency special board meeting was convened today, at the request of two directors, whereby the notices were deliberated again.
The board had decided to accept the said noticed after deliberating and considering two further legal opinions obtained by Lysaght independent non-executive director Cheam Low Soo and Lysaght non-executive director Chew Meu Jong, from two separate legal firms on behalf of the company and the board.
Last Thursday (June 11), Lysagh had announced that its board of directors had rejected the nomination notices submitted by two shareholders, saying the nomination notices were invalid.
SP Setia Bhd's net profit for the second quarter ended April 30, 2015 (2QFY15) soared 206% to RM227.2 million or 8.94 sen a share, from RM74.27 million or 3.02 sen a share a year ago, on increased revenue and profit recognition from the handover of the group's first residential tower in Fulton Lane, Melbourne.
Revenue for the quarter came in at RM1.63 billion, up 71.16% from RM952.35 million a year ago. The group has also recommended an interim single-tier dividend of 4 sen per share in respect of FY15 — consistent with prior year's payout — and that a dividend reinvestment plan will apply to this interim dividend, said SP Setia in a press release.
Its cumulative six months's net profit was at RM328.51 million or 12.93 sen a share, up 92.05% from RM171.05 million or 6.96 sen a share in 6MFY14; revenue was 52.69% higher at RM2.556 billion, from RM1.674 billion in 6MFY14. 
SP Setia (fundamental: 1.4; valuation: 1.4) said higher revenue and profit was recognised from the development of its strong sales pipeline built to date and timely staged handovers of Fulton Lane.
The company said its property development division achieved 47% higher revenue and 57% higher profit before tax (PBT) for the current period to-date and the group is expected to handover the second residential tower in Fulton Lane in the second half of the financial year.
SapuraKencana Petroleum Bhd's net profit plunged 49% to RM260.69 million or 4.37 sen a share for its first financial quarter ended April 30, 2015 (1QFY16) from RM509.42 million or 8.5 sen a share a year ago, mainly driven by lower operating profit from its energy division.
Revenue for 1QFY16 fell 7.6% to RM2.26 billion from RM2.44 billion in 1QFY2015.
Nevertheless, the group declared an interim dividend of 1.35 sen per share for the financial year ending Jan 31, 2016 (FY16), payable on Aug 28, 2015.
In a filing with Bursa Malaysia, SapuraKencana (fundamental: 1.3; valuation: 1.4) said the energy segment's operating profit was 70% lower than RM198.0 million in 1QFY15, excluding the gain arising from acquisition of the subsidiaries.
Lower revenue in 1QFY16 was primarily due to a combination of lower barrels of oil lifted as a result of the natural decline of oil reserves in the production sharing contract blocks and lower average price per barrels, it added.
In a separate filing, the group said its wholly-owned subsidiary SapuraKencana TMC Sdn Bhd yesterday made a lodgement to the Securities Commission Malaysia (SC) for the launch of a multi-currency sukuk programme of up to RM7 billion, which will be used to refinance the company's existing financings, as well as to fund the group's oil and gas related business requirements. The programme has a tenure of 30 years.
Puncak Niaga Holdings Bhd announced today that it has decided to extend the disposal of its water assets to Pengurusan Air Selangor Sdn Bhd (Air Selangor) — the sixth extension to date — by another month to July 13, 2015.
In a filing today, Puncak Niaga (fundamental: 1.9; valuation: 2.1) said it has, together with Pengurusan Air Selangor Sdn Bhd (Air Selangor), mutually agreed on the further extension for the fulfilment of the conditions precedent stated in the conditional sale and purchase agreement (SPA) dated Nov 11, 2014, that was signed between Puncak and Air Selangor.
Last Thursday (June 11), Puncak Niaga's executive chairman and managing director Tan Sri Rozali Ismail had threatened to rescind the SPA with Air Selangor, if the impasse between the state government and the federal government over the restructuring of Selangor's water industry remains unresolved after Ramadhan.
Rozali had also said then that Air Selangor was still not able to fulfill the conditions precedent in the SPA, and that there might be a further extension (sixth extension) of the stop date before the proposed disposals can be completed to facilitate the consolidation/restructuring of the Selangor water industry.
National carmaker Proton Holdings Bhd, a wholly-owned unit of DRB-HICOM Bhd, is looking to produce small and compact cars in the next 16 months, as part of its "long range product plan" to widen its automotive portfolio.
According to its chairman Tun Dr Mahathir Mohamad, Proton is leveraging on the expertise of Japan's Suzuki Motor Corp to design and produce small and compact cars in the area of A and B segments, as the latter has "proven technologies".
He said the company would like to explore the vehicle market whereby the engine capacity is less than 1,000 cubic capacity (cc).
"It is still preliminary and we are looking to finalise the details by 2016," Dr Mahathir told reporters today, after witnessing the signing of a memorandum of understanding (MoU), as well as a licensing agreement between Proton, its parent DRB-HICOM (fundamental: 0.3; valuation: 2.4) and Suzuki, to form a long-term strategic collaboration.
Proton chief executive officer Datuk Abdul Harith Abdullah said the first phase of the collaboration is scheduled to begin production in the next 16 months, which will be done at its plant in Tanjung Malim, Perak.
Benalec Holdings Bhd is now looking for new buyers for the 1,000 acres of land that it is reclaiming off the coast of Tanjung Piai.
This follows the group's announcement that it is no longer bound to the tripartite term sheet signed between Spektrum Kukuh Sdn Bhd (a 70% wholly-owned subsidiary ofTanjung Piai Maritime Industries Sdn Bhd, which is a wholly-owned subsidiary of Benalec Sdn Bhd, which in turn is a wholly-owned subsidiary of Benalec), the State Secretary, Johor (Inc) and 1MY Strategic Oil Terminal Sdn Bhd (1MYSOT), a filing by Benalec with Bursa Malaysia said today.
Last Thursday (June 11), Benalec (fundamental: 0.95; valuation: 1.2) said the term sheet had lapsed.   
Benalec said the immediate option which the group will pursue is the resumption of engagement with a number of potential buyers who had previously expressed strong interest in acquiring portions of the subject 1,000 acres of land.
It was previously announced in 2013 that under the term sheet, 1MYSOT planned to build a crude oil and petroleum storage facility on the reclaimed land that it would acquire from Benalec.
Brahim's Holdings Bhd has entered into a Memorandum of Understanding (MoU) with Nippon Express (Malaysia) Sdn Bhd (NEM) to establish an integrity and reliability of world class Halal Logistics services.
According to its filing with Bursa Malaysia today, Brahim's expects it to benefit from the MoU by tapping into NEM global supply chain for cost efficiencies, reliability and integrity of its supply chain.
NEM is part of the Nippon Express Group, an international freight forwarding and global logistics service provider, and have taken steps to develop dedicated transportation services that complies with the requirements of the Halal Logistics.
Brahim's (fundamental:0.35; valuation: 0.9) did not disclose the value of the MoU.  
Berjaya Food Bhd (BFood), which operates the Kenny Rogers Roasters chain of restaurants in Malaysia, saw its net profit rise 21.5% to RM6.41 million or 1.72 sen a share for its fourth financial quarter ended April 30, 2015 (4QFY15) from RM5.28 million or 1.98 sen a share a year ago, mainly due to the full effect of consolidation of the newly-acquired wholly-owned subsidiary, Berjaya Starbucks Coffee Co Sdn Bhd (BStarbucks).
Revenue for 4QFY15 more than tripled to RM128.92 million from RM36.55 million in 4QFY14.
BFood declared a third interim dividend of 2 sen per share for full year FY15, payable on July 28, 2015. This brings the total amount for the full year to 5.75 sen per share compared with 4.25 sen in FY14.
Full year net profit rose two-and-a-half times to RM184.66 million from RM22.67 million in FY14, while revenue jumped 150.95% to RM377.36 million from RM150.37 million.
The company said the consolidation of the improved results of BStarbucks and the contribution of the Brunei Starbucks operations offset high interest expenses of about RM8.86 million (which includes amortisation of transaction cost of about RM822,000), which is substantially related to the financing for acquisition of the remaining 50% equity interests in BStarbucks.
Naim Indah City Development Sdn Bhd (NICD), a wholly-owned subsidiary of Naim Indah Corporation Bhd, inked a memorandum of understanding (MOU) with Myanmar-based United Pacific Development Co Ltd to develop a 32-storey office tower at Pyay Road, Yangon, Myanmar.
In a filing with Bursa Malaysia, Naim Indah (fundamental: 0.2; valuation: 0.3) said a joint venture company (JVCo) will be established and approved under the Myanmar Foreign Investment Law 2012 to undertake the project, which is to be built on land belonging to Hla Myint Shwe and Aye Myat Mon. 
The property developer and timber logging firm said the proposed initial paid-up capital of the JVCo is yet to be determined, but that both NICD and United Pacific will hold an equivalent 51% and 49% interest in the JVCo, respectively.
The filing did not state the project's required amount of capital, save that the committed investment amount of the JVC is contributed by the parties in proportion to their respective percentage of shareholding.
United Pacific is expected to contribute its proportion of the committed investment amount in kind, through a lease of the said land; while NICD is to contribute its proportion of the committed investment amount, in accordance with a payment scheduled agreed between the parties.
Malaysia Marine and Heavy Engineering Sdn Bhd (MMHE), a wholly owned subsidiary of Malaysia Marine and Heavy Engineering Holdings Bhd (MHB), has secured four contracts worth RM324 million, which will last the group until June 2017.
In a statement, MHB (fundamental: 1.4; valuation: 1.1) said the first contract is to fabricate substructures and bridge for the Baronia central processing platform (CPP) project, which is for the Integrated Baram Delta Gas Gathering II and Baronia enhanced oil recovery project located offshore East Malaysia.
The total estimated weights of these structural components under MHB's scope is 10,736 tonnes and are due for load-out and sail-away to the ultimate client, Petronas Carigali Sdn Bhd in March 2017.
The second contract, to last for two years starting this month with the option for a one-year extension, involves MHB as contractor for Petronas Carigali to improve its facilities for offshore operations.
The third contract is a repair life extension project and dry-docking for two liquefied natural gas carrier (LNG) vessels for MISC Bhd, namely 'Puteri Intan' and 'Puteri Delima'. The job is scheduled to be completed by early September this year.
Lastly, MHB has been tasked to convert a vessel into a floating, storage, and offloading facility for EA Technique (M) Bhd. The vessel is expected to arrive at the yard in July 2015 and is targeted for sail-away by end June 2016.
(Note: The Edge Research's fundamental score reflects a company's profitability and balance sheet strength, calculated based on historical numbers. The valuation score determines if a stock is attractively valued or not, also based on historical numbers. A score of 3 suggests strong fundamentals and attractive valuations.)