This article first appeared in Enterprise, The Edge Malaysia Weekly, on September 9, 2019 - September 15, 2019.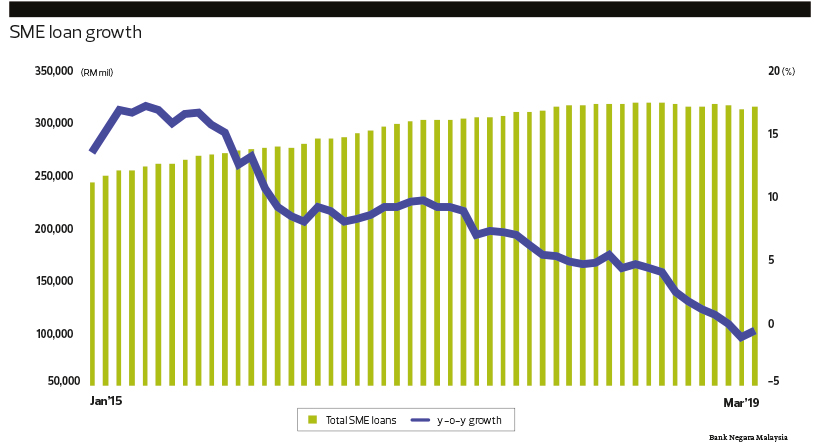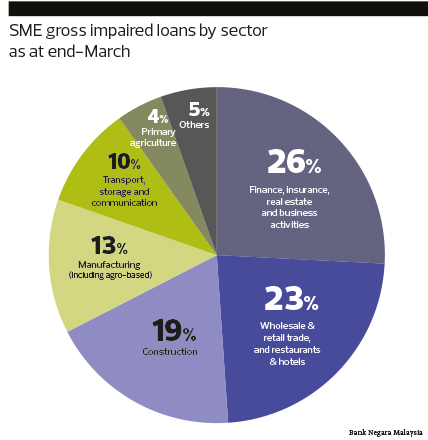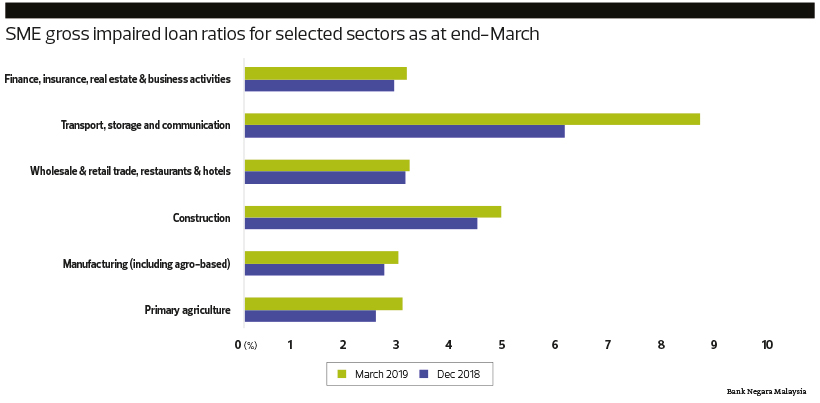 Bank Negara Malaysia's recent relaxation of its lending guidelines for small and medium enterprise (SME) was a welcome move to be sure. First reported by The Edge in July, the central bank had relaxed its guidelines (subject to certain conditions) to allow the rescheduling and restructuring of loans within a two-year time frame (starting in July) to prevent impairment, at least for the time being.
While this gives SMEs some much-needed breathing space, it raises the question: What is the current state of small business and enterprise financing?
Broadly speaking, according to RAM Rating Services Bhd co-head of financial institution ratings Wong Yin Ching, outstanding SME financing stood at RM315.9 billion as at end-March, down from RM317.7 billion at end-December last year.
The latest figures account for roughly 17% of the total loans in the banking system extended by commercial banks and development financial institutions. Taking a slightly longer view, SME loan growth has been charting a downward trend for the last four years, Wong tells Enterprise.
The deceleration has been more pronounced since 4Q2018, with SME loans contracting 0.6% year-on-year (y-o-y) in March. Loan expansion was noted in the wholesale and retail trade, restaurant and hotel and, to a lesser extent, construction and manufacturing sectors. However, it was not enough to offset the steep declines experienced in the finance, insurance, real estate, small business and agriculture sectors, says Wong.
SMEs appear more hesitant to tap into additional financing due to concerns about the domestic economy. "Y-o-y growth in loan applications and loan approvals on a three-month moving average have turned negative since 4Q2018," she says.
When taken in concert with additional data from the research firm's latest RAM Business Confidence Index 3Q-4Q 2019, Wong notes that SME profitability is stagnating. The survey polled more subdued sentiment over the next six months. In addition to softening demand for bank credit, the survey found that those who intended to borrow were less optimistic that they would be able to access financing. This correlates with the firms' weaker outlook on their profitability in the next six months.
Softening demand and increased pessimism notwithstanding, there was a noticeable rise in the small business segment's gross impaired loan (GIL) ratio, says Wong. "It had increased from 3.2% at end-December 2018 to 3.6% as at end-March. While the higher GIL ratio was partly due to a shrinking lending base, total impaired financing in value terms climbed 13.1% in 1Q2019."
Given the numbers, it is not surprising that the central bank is encouraging struggling SMEs to restructure their financing without having to incur the risk of their loan being declared impaired on the Central Credit Reference Information System (CCRIS). Wong expects the move to encourage banks to be more proactive in facilitating loan restructuring activities and SMEs to be more receptive to the exercise.
Economic and productivity
issues hamper SMEs
Closer to the ground, Datuk Seri Raymond Liew, founder of professional services firm McMillan Woods, believes that affected SMEs are predominantly in the retail and construction sectors. "Retail trade has declined, primarily at the higher end of the market, and my guess is that the big spenders are wary of government policy going forward. Following the change to the Sales and Services Tax (SST) regime, there is now the additional possibility of a higher SST rate being imposed at the upcoming Budget 2020 announcement," he says.
In addition to retail, a large number of small businesses operate in or feed into the local construction sector. A politically-linked sector traditionally, it came under significant scrutiny in the wake of Pakatan Harapan's historic general election win on May 9 last year.
As a result, a number of major construction projects, including the East Coast Rail Link and Bandar Malaysia, ground to a halt. "These delays caused a cascading negative effect throughout the economy because many small businesses made financial commitments and spent money on the expectation that they would be involved in these construction megaprojects," says Liew.
Increased banking regulations over the years is another possible cause for the lack of reasonably priced bank financing available to small businesses, he adds. This has caused banks to become particularly cautious. "As a result, instead of lending to 10 SMEs, each of which entails a financing cost, it makes more sense to lend to one multinational corporation."
Taking feedback from his clients into account, Liew says banks tend to ask for an unrealistic amount of collateral in exchange for a loan. "If one asks for a RM1 million loan, one needs to place RM1 million as collateral, which just does not make sense. On top of that, there are all types of exorbitant administrative and processing charges."
Small businesses have come back into the spotlight recently, with banks looking at the segment for its historically healthy yields. "The margins [from SME loans] are one of the highest for banks. The risks are higher, so the returns are better. That is why banks are targeting this segment … the yields are higher than that of consumer or corporate loans," a banking analyst told The Edge in an earlier interview.
However, this is to be taken against the recent comments made by Bank Negara governor Datuk Nor Shamsiah Mohd Yunus. Speaking at the Malaysian Economy Symposium in late July, she called for more initiatives to enhance the productivity of the small business community by encouraging firms to move into higher value-added activities. SME productivity stood at about 37.1% of GDP, despite high financing support of 53.1% of total business loans. By comparison, the SMEs' contribution to GDP was low compared with those of other countries such as Indonesia (60.6%), China (60%), Japan (54.5%), the UK (51%) and Thailand (42.3%), she said.
Get more out of less
Liew calls on businesses to take an active interest in the state of their finances in lean times. "If you are taking out a business loan, for instance, it literally pays to understand the key details, such as the interest rate, because the cost of interest is tax deductible. For example, if a company borrowed RM1 million in Jan 2009 for working capital in its manufacturing business and incurred interest expenses amounting to RM100,000 that year, the expenses would be tax deductible."
On the other hand, not all types of marketing costs are deductible, he says. "While client entertainment expenses qualify for a 50% tax deduction, taking staff out for a meal to reward them for hard work would qualify for a full tax deduction."
As the economy continues to soften, it is important for small businesses to be cautious about the kinds of costs they cut out. Often, these cutbacks can be counterintuitive but yield negative results over time.
Rather than reducing headcount and cutting down on advertising budgets, Liew advocates doubling down on training and improved management of frontline staff as well as investing more in advertising budgets. "As other businesses in the economy rein in spending in these areas, the more creative SMEs use soft economies to retrain staff and capture market share from competitors by aggressive marketing. Use this time to double down on your existing client relationships and empower your people to seek out new business opportunities. After all, quality and experienced staff will be hard to come by when the market improves."
But of course, cost-cutting is an inevitable discussion for all businesses. And if costs are getting out of hand, it makes more sense to reduce things like rental space, rather than cut down on things that actively add value to the business (such as staff and marketing budgets).
To help with client payment, businesses should consider having a cash discount structure in place to encourage customers to make prompt payment in hard times. "Offering realistic discounts to reduce one's stockholding makes sense because unsold stock entails both high finance and storage costs. Businesses should not delay the payment of any debt owed to them because they would effectively be financing their customers by allowing them to pay late or worse, allowing the debt to turn bad," says Liew.
Revitalise the business
Business owner Nicholas Gan and his wife Stephanne Foong resorted to out-of-the-box thinking to revitalise his forklift spare parts business. Having foreseen a few years ago that the market was going south, he knew he needed to diversify his client base, which up to that point almost exclusively consisted of forklift dealerships and other companies in a similar trade. "I would say that prior to our revitalisation, more than 95% of our customers were enterprise-based trading companies," he says.
Having been in operation since 2002, the company had grown accustomed to the usual way of doing things, says Foong. "For about 15 years, we never really had a dedicated sales team because we knew we could rely on our core repeat clients, along with various other sales that came in over the years. So, the first thing we did was build a dedicated sales team from the ground up."
But Gan and Foong did not want to just hire people from their industry. They knew from experience that the industry was not particularly receptive to change. So, they went in the opposite direction.
"We hired young, fresh-faced people, sometimes right out of university or from completely unrelated industries. The team was hungry to prove themselves. Most importantly, they did not come with the baggage of having been in our industry for years," says Gan.
"We never gave them any existing clients to service. Rather, we took the time to teach them how to make a sale and then unleashed them on the market. We wanted them to be hunters and to find new clients and markets."
It was an inspired move as the young team brought in sales from all kinds of industries. Because they were not bogged down by old assumptions and industry experience, they did not just chase more trading companies.
Instead, they brought in sales from bookstore chains, ice cream manufacturers, fashion and fabric companies and even ports. As a result, the company's client base is now more diversified than ever. Gan says the end-user clientele now accounts for 15% of the company's total client base. "It is still a small number, of course, but with this new segment of end-users, we really believe that we have only scratched the surface."
But the counterintuitive approach to the business has yielded a lot more than just new clients — the company is now busy developing an entirely new business stream, says Gan. "End-users do not have the technical expertise of our trading company's user base. So, they do not always know how best to have their machines serviced or where to take them.
"Also, given the economic situation, many companies have resorted to buying second-hand forklifts or keeping their existing forklift fleet up and running, whereas previously they would have changed these. As a result, we have fielded numerous requests from clients who want us to help them with forklift maintenance and repair work, which is something we never really focused on before.
"But we are a spare parts company. By going straight to the end-user without any middlemen, we were able to keep our spare parts much cheaper than the rest of the market. So, over the last year or so, we have developed a team of highly trained mechanics to service forklifts right at the customer's place of business."
He adds that technical expertise is one thing. Now that it is dealing with end-users, it has become a point of pride for the company that its team of mechanics are trained to be customer-centric and friendly. "This is very uncommon in our industry," says Gan.
The new end-user customer base are much better paymasters, according to him. Trading companies have vast networks of suppliers. So, if he stops supplying because of non-payment, these companies will just go to another spare parts supplier and strike up a contract.
"But our end-users, not being forklift specialists, rely on us for our expertise and advice. So, they tend to be very reliable paymasters," says Gan.