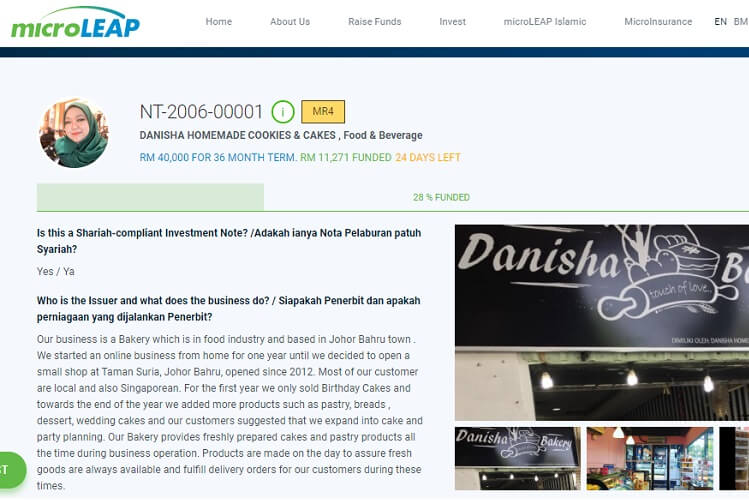 As the only peer-to-peer (P2P) financing operator in Malaysia that focuses on the microfinance sector, microLEAP PLT certainly has its hands full at this time with many microenterprises struggling to survive the Covid-19 pandemic.
According to founder and CEO Tunku Danny Nasaifuddin Mudzaffar, the platform has seen an increase in interest from microenterprises that want financing. But at the same time, it has also become difficult to find issuers (borrowers) with a good credit rating.
"It's always a balancing act for us. We need to take care of the needs of the issuers and the P2P investors. The last thing we want to do is host the note of a company that is going to be out of business soon," Tunku Danny tells Enterprise.
The P2P operator provides shariah-compliant and conventional financing from RM1,000 to RM50,000 to microenterprises. It aims to fill the financing gap for micro-enterprises in Malaysia, which may not be able to apply for loans from banks due to their lack of credit history. Retail investors will then invest in the P2P financing notes via the microLEAP platform.
Despite the increase in demand for financing at this time, microLEAP has had to be more careful in selecting its issuers.
"For example, we had someone who owns a shop in klia2 ask for financing. Obviously, no one is taking flights now. So unfortunately, we cannot help this business owner as the shop might be out of business in the next month or so if things don't change," he says.
Meanwhile, the microenterprises that have an online presence are more likely to survive the crisis. "For example, we recently hosted an Islamic note from a micro-entrepreneur who sells halal confectionery products through an e-commerce marketplace," adds Tunku Danny.
As at June 16, microLEAP has fully funded eight notes, three of which are Islamic notes.
Financial literacy for microenterprises
Providing financing for microenterprises, however, is not always an easy task. Some of these micro-entrepreneurs do not have proper profit and loss statements, while some do not have a credit history.
"Financial literacy is a big issue for these microenterprises. They know how much money is coming in and out every month but they are not recording it properly," says Tunku Danny.
Yet this information is needed if they want to obtain financing. Therefore, microLEAP assists them by requiring them to fill up a simple Microsoft Excel spreadsheet online. The microenterprises just have to input their figures on a monthly basis, and the spreadsheet will automatically generate the annual revenue figures.
"We also provide free video training on debt management and basic accounting on our platform. At the end of the day, if we can help the micro-entrepreneurs know where their funds are coming from and how to budget, it can help their businesses," says Tunku Danny. The spreadsheet and videos are in both English and Malay, he adds.
As for the lack of a credit history, microLEAP overcomes this through two methods. One is a group financing module, based on the Grameen model of group lending. This system was pioneered by Grameen Bank and its founder Dr Muhammad Yunus, who is considered as the founder of modern microfinance.
In this module, five issuers in the same community will come together as a group. If one issuer defaults on payment, it will impact the credit rating for all the issuers within the group. This encourages accountability.
"The peer support helps ensure that the microenterprises pay on time. At the moment, we have a few issuers who are talking to each other to form a group," says Tunku Danny. For this to work, the issuers must know each other and come from the same community.
The second method is by submitting the issuers to microLEAP's credit algorithm. The platform utilises information from Experian, which provides credit rating data. It also requires the micro-entrepreneurs to go through a psychometric testing by a partner company.
"This is a form of alternative credit scoring, where the key person or business owner has to do a psychometric test. The results will show the willingness of this person to pay back the financing amount. This result will go into our credit algorithm, which will then come up with a credit score. Subsequently, this will impact the profit rate or interest rate of the note," says Tunku Danny.
The P2P operator also offers personal accident insurance for the issuers at no extra cost. The key person of the business is insured against accidental death and permanent total or partial disablement.
This protects both the business owner, who does not have to worry about paying the outstanding debt in those situations, as well as the investors.
"If that happens, our insurance partner will pay us the claims and we will give it to the investors," he says.
Looking for impact investors
Some investors may find it riskier to invest in notes from micro-enterprises compared to that of more established small and medium enterprises.
The mission of microLEAP, however, is to assist these micro-entrepreneurs, particularly those that come from the B40 and lower M40 group. There are also processes put in place, as mentioned above, to screen through potential issuers.
"We are all about impact investments. A lot of our investors like the fact that we are helping micro-entrepreneurs from the B40 group grow their business. The investors like that they are helping the makcik in Kuala Pilah in her business. A small amount of financing goes a big way in helping these businesses grow," says Tunku Danny.
Last month, microLEAP signed a memorandum of understanding with the Malaysian Technology Development Corporation, which will allocate RM2 million for the P2P operator to fund up to RM500,000 or a maximum of 30% in selected shariah-compliant investment notes by tech companies. Going forward, the P2P operator will launch microLEAP Plus for this purpose.
In addition, microLEAP is also working with Amanah Ikhtiar Malaysia (AIM), the largest microfinance institution in the country, to offer their services to borrowers who want to obtain more financing.
"We offer higher amounts of financing than AIM, which offers a maximum of RM20,000. We are looking at setting up a partnership with its technology arm," says Tunku Danny.