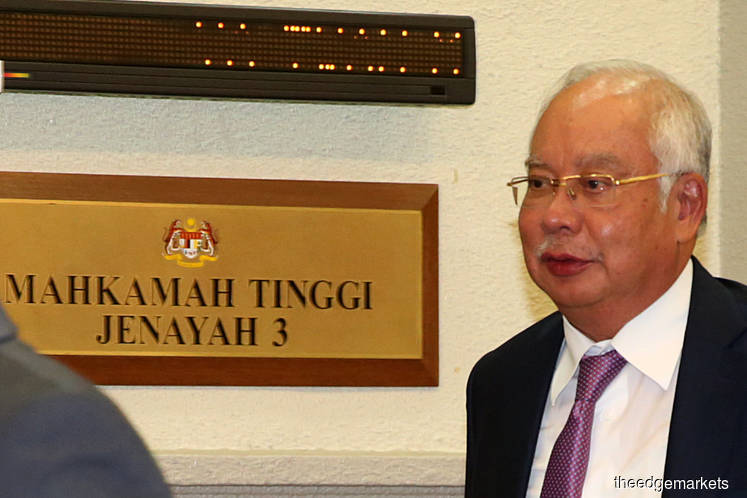 KUALA LUMPUR (Aug 9): Five witnesses in the ongoing trial of Datuk Seri Najib Razak on the alleged misappropriation of RM42 million from SRC international Sdn Bhd have passed away, the investigating officer of the case told the High Court today.
The 57th prosecution witness, Rosli Hussain, who is the Malaysian Anti-Corruption Commission senior assistant commissioner, revealed the names during his examination-in-chief in the trial.  
They were: private secretary to the former Prime Minister Datuk Seri Azlin Alias, Economic Planning Unit director general Datuk Noriah Ahmad, Umno Penang liaison committee chairman Datuk Seri Zainal Abidin Osman, Kumpulan Wang Persaraan (Diperbadankan) (KWAP) investment chief Ahmad Norhisham, and someone by name of Izat Izaidi.
Previously, former Yayasan Rakyat 1Malaysia (YR1M) chief executive officer Ung Su Ling testified that Azlin was the person who ordered her to facilitate the transfer of funds from Ihsan Perdana Sdn Bhd (IPSB) into Najib's accounts, and denied that she received instructions from Jho Low.
It was revealed later via BlackBerry messages extracted from devices belonging to former AmBank relationship manager Joanna Yu that Jho Low had met Ung previously, and the fugitive businessman was involved with the transfer of funds from IPSB into Najib's accounts.
EPU's Noriah, meanwhile, was tasked to prepare a memo on 1MDB's application for a RM3 billion Government grant to set up SRC International in August 2010.
Noriah also wrote a memo signed by Tan Sri Nor Mohamed Yakcop, who was Minister in the Prime Minister's Department in charge of the Economic Planning Unit then, approving an RM20 million allocation via a letter dated Oct 12, 2010.
The late Zainal Abidin was the chairman in Umno Penang liaison committee, which received RM1 million from Najib's Ambank account 906 on Feb 26, 2015.
Meanwhile, KWAP's Norhisham was in contact with SRC's former CEO and managing director Nik Faisal Ariff Kamil in 2010.
He instructed former assistant vice president at KWAP's Fixed Income Department Amirul Imran Ahmat to produce a working paper for KWAP's Investment panel in 2011, to only agree to a loan of RM1 billion to SRC out of RM3.95 billion requested due to incomplete documents.
It is understood that Izzat Izaidi worked as a driver for Najib's former political secretary Datuk Muhammad Khairun Aseh.
Rosli, 54, was appointed to lead the investigations on Najib and SRC International since July 6, 2015, when the first raid on AmBank occured.
He has been described as the final prosecution witness in the trial, which has included 56 individuals to date.
This was despite an earlier mention by prosecution lawyer Datuk V Sithambaram in court, during a short exchange with defence lawyer Harvinderjit Singh, that the prosecution is prepared to produce more witnesses on top of the existing ones.
AmBank was the bank of choice by both Najib and SRC to open their respective bank accounts which are now central to the ongoing trial.
Najib is currently facing seven counts of money laundering and abuse of power for allegedly receiving RM42 million from SRC International into his personal accounts in 2014-2015 after facilitating RM4 billion worth of Government-guaranteed KWAP loans to the Ministry of Finance Inc company.
Read also:
High Court reminds ex-PM that his FB posts border on contempt as prosecution withdraws apology demand