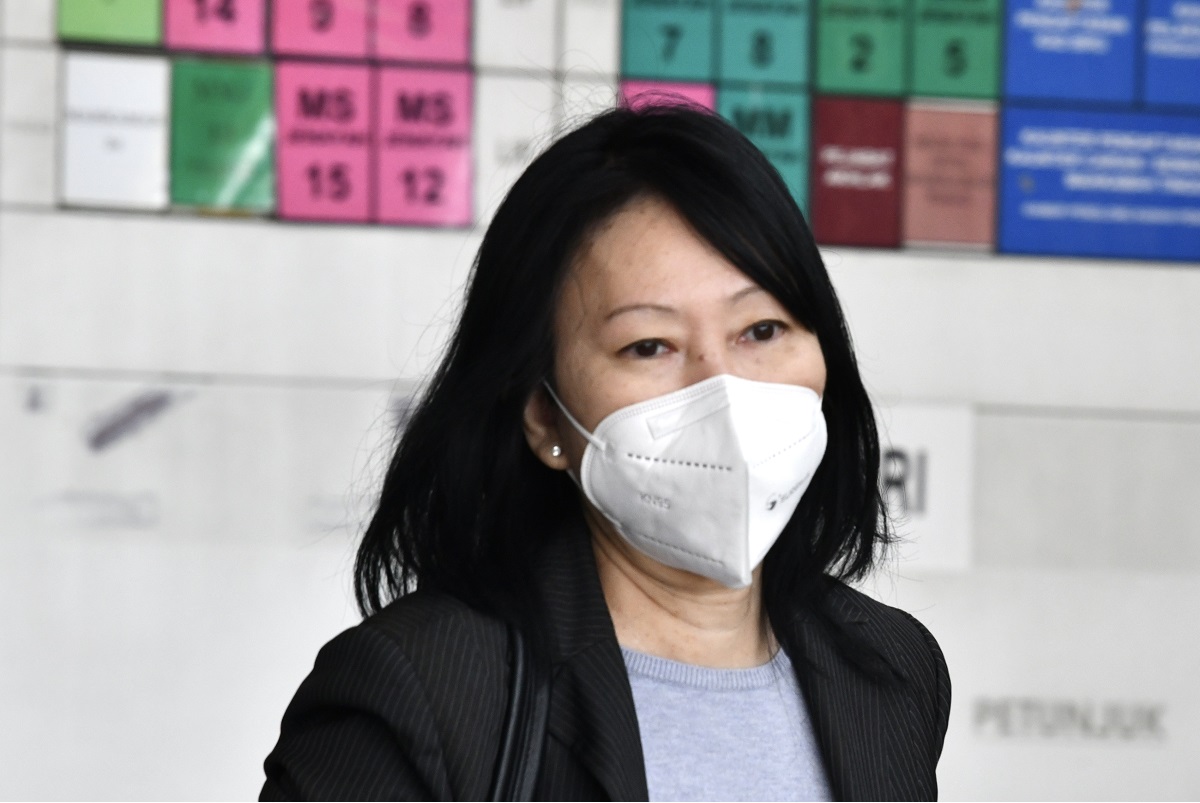 KUALA LUMPUR (May 12): The company secretary of TRX City Sdn Bhd, Goh Gaik Kim, stated "categorically" that she is not fugitive financier Low Taek Jho (Jho Low)'s aunt at the 1Malaysia Development Bhd (1MDB)-Tanore trial on Thursday (May 12). 
Taking the witness stand, the former 1MDB company secretary denied the allegations which emerged in 2019 that she is his aunt. 
She also said that while she had seen Jho Low one time, she was never personally introduced and had never met the fugitive before. 
Najib's lawyer Wan Aizuddin Wan Mohammed, during cross-examination, raised the allegations which were brought up at the SRC International Sdn Bhd trial in 2019. 
Wan Aizuddin: This is a bit of a red herring, I want to address the allegations that you are Jho Low's aunt. 
Gaik Kim: I categorically state that I'm not his aunty. Not only am I not his aunty, I'm not in any way related to him. 
TRX City, which was a subsidiary of 1MDB, is now a wholly-owned unit of the Ministry of Finance. The company is developing two massive real estate projects — Tun Razak Exchange development and Bandar Malaysia — in Kuala Lumpur.
Earlier in the proceedings, Gaik Kim was asked if she had ever met Jho Low before. She recalled a meeting in which she had seen him from afar. 
"I've seen him from afar. The first month I joined, we had lunch at the Concord Hotel [with] Tan Sri Ong [Gim Huat] and Radhi Mohamed. I think [Jho Low] came in and Radhi said 'Oh that's Jho Low'," she said.
Ong is a former non-executive director of 1MDB while Radhi is 1MDB's former chief financial officer. 
"Tan Sri Ong and [Radhi] went to say hello. At that time I did not know who he was," she said.
Gaik Kim said she knew that was Jho Low because she was told by them that it was him and she had heard of him. "I couldn't see him," she said. 
When the men had come back to the table, she said she had asked them who he was, because she had figured that he was someone connected to the company; however, both men had kept quiet. 
"Even at that occasion where I saw him (Jho Low) at lunch, when they came back, I ask who is that? [They said Low] but who is he? Obviously he must be connected to the company somehow... but they both kept quiet," she said. 
Gaik Kim's name was mentioned by defence counsel Harvinderjit Singh in 2019 at the trial of former prime minister Datuk Seri Najib Razak related to criminal breach of trust, abuse of power and money laundering involving RM42 million in SRC, a former subsidiary of 1MDB.
In the cross-examination, Harviderjit asked the 39th witness, former SRC chairman Tan Sri Ismee Ismail, whether he was aware that one of SRC's company secretaries Gaik Kim is the sister of Jho Low's mother Goh Gaik Ewe.
Ismee told the court that he was not aware of the relationship between Gaik Kim and Gaik Ewe.
Harvinderjit then later clarified that he was venturing a guess as to Jho Low and Gaik Kim's relationship. 
Najib was sentenced to 12 years in jail and slapped with an RM210 million fine at the SRC trial which is currently on appeal at the Federal Court. 
Separately, a spokesperson for Jho Low through his lead US attorneys had in 2019 issued a statement saying the claim that Gaik Kim is Low's relative is not true.
The spokesperson said Low is aware of such allegations made by the counsel during the SRC legal proceedings.
"There is no family relationship between Low or any of his family members with the above mentioned Goh Gaik Kim. It is disappointing that counsel has endeavoured to falsely implicate Mr Low's family," said the spokesperson.
In the 1MDB-Tanore trial, Najib has been charged with four counts of abuse of power in enriching himself with RM2.3 billion of 1MDB funds and 21 counts of money laundering of the same amount. He could face a fine and up to 20 years' imprisonment if convicted.
The Edge is covering the trial live here.
Users of The Edge Markets app may tap here to access the live report.
Read also:
Defence goes into overdrive to prove Najib was not in control of former 1MDB's unit SRC 
Jho Low says TRX City's company secretary not his aunt 
1MDB's first company secretary says he was appointed by TIA board, not Jho Low