This article first appeared in Digital Edge, The Edge Malaysia Weekly, on October 19, 2020 - October 25, 2020.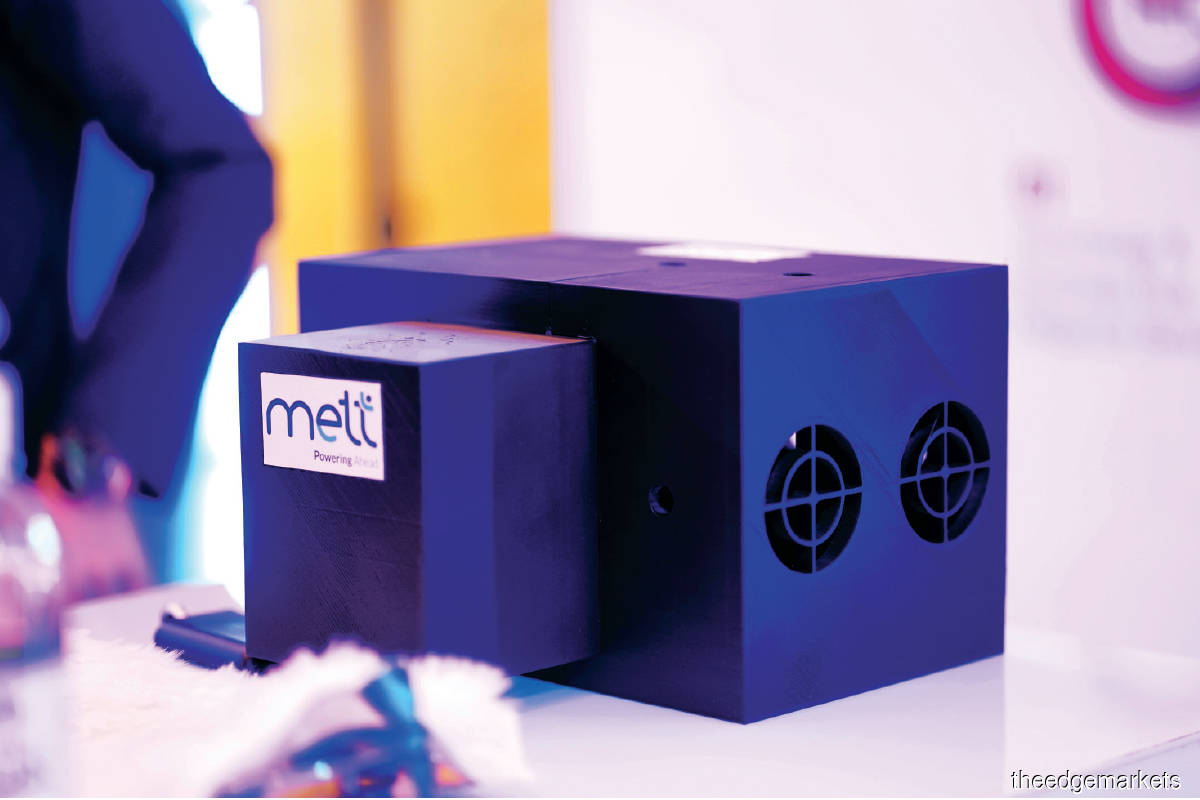 When NanoMalaysia Bhd and Enhance Track Sdn Bhd launched Malaysia's first nanotech wireless charger, Malaysia Energy Transmission Technology (METT), last month, it represented more than the launch of what NanoMalaysia CEO Dr Rezal Khairi Ahmad referred to as a "near-term game changer".
The charger, which allows remote contactless non-inductive charging over the range of a few metres and has the ability to power 5V-based mobile devices, was a demonstration of a successful collaboration between government, academia and industry.
This technology was developed under the National Graphene Action Plan of Nano­Malaysia, which focuses on developing graphene-based technology through smart partnerships between Malaysian industry and universities.
"The wireless charger comes from co-ideation with Universiti Tenaga Nasional (Uniten). We did a megatrend search and found that the trend leads towards wireless power transmission," Rezal tells Digital Edge.
Wireless power transmission is not new, but it always required contact with a particular surface. "So, we partnered with Uniten on a gig innovation basis. We had to find a researcher who had that capability to develop this product and we also found a small company called Enhance Track, which had some basic know-how on how to productise this."
Why Enhance Track in particular? "The CEO of that company has a good relationship with the innovator from Uniten. Also, this company has some competency in the electronics equipment sector in basic circuitry, PCB (printed circuit boards); so, they have that level of electrical engineering competency."
How does METT work? "The dongle is like your radio antenna and it captures wireless signals. Instead of converting these into audio signals, it converts them into electricity and charges the device.
"Normally, you just receive data, right? With just a bit of tweaking, we're converting those waves into energy. So, it serves for both data as well as power transmission," he points out.
Rezal adds that when you can tune into this on a larger scale, you can literally harvest energy from nearby base stations, which has huge implications, not only for the charging of mobile devices, but for electric vehicles and the Internet of Things (IoT) sensors as well.
"Imagine IoT devices being able to self-power everywhere you put it, without batteries. And how about electric vehicles? Just park and wirelessly charge. That's the big boy's market," he declares.
Right now, METT is undergoing final optimisation and improvement. It is expected to enter the market by mid-2021, when it is expected to generate a revenue of close to RM1.9 billion and create up to 2,800 job opportunities, says Rezal.
He feels it is important for Malaysia to have its own intellectual property (IP) in strategic areas such as this because the world is going through what he refers to as a process of "deglobalisation" with the "Trump effect" and the US-China trade war.
"In the wake of the Covid-19 pandemic, most economies are getting more insular. What if some day China, the US and some other parts of the world decide to cut off international licensing of their technologies? Where would Malaysia stand?
"At the very least, we need to have a version of what is available out there that is good enough. Then we can survive and progress to solutions," he says.
It is a matter of encouraging DDI (domestic direct investment) as opposed to always looking for FDI (foreign direct investment), creating more cash to circulate within the country.
For this, government-private sector-academia collaborations become even more crucial.
He adds that Enhance Track had never dealt with anything like this before but it had the overall infrastructure to take the product to market. "It is a good landing platform for this idea from the university to industry."
The idea, he points out, came from NanoMalaysia and Uniten. "We came up with the IP, leveraging the know-how already available to quickly develop a prototype. It took us 1½ years to develop the prototype and the next stage is to pre-capture the consumer market. We are working with the big names so this product will be well integrated onto their mobile devices."
What does he mean by "pre-capturing" the market? "It's a pre-order thing. We get the big corporations to order a certain number of units. And we get banks to finance this procurement rather than the development of our technology or the expansion of the company.
"It's called demand-driven financing. That's where the concept of sandboxing comes into play. You get the uptaker [of the product] involved halfway through the process — in this case, where there is already a prototype — and the second half of the process is where we customise the product according to their needs.
"Say, for an IoT device, it will be a certain set of specifications and, for electric vehicles (EVs), it will be another set. So, all these other functions will create sub-IPs or application IPs and that is where strategy comes into play. That IP is exclusive for that application to that particular party. So, they get locked in for the long term," he says.
Rezal says the company will commercialise accordingly to address those market segments. "That's how we work. If we want to go into another application, we will look for another sandbox, another partner and another sub-IP because every IP is unique. But we have a mother IP, which is the original prototype."
He says NanoMalaysia sees itself as more of an IP-based organisation and producer or manufacturer. "It keeps our overheads really low because, in terms of manufacturing, sales and distribution, we work with partners.
"So, we get our returns through equity or direct licensing and, at some point, if we want to move on, we just sell outright at a certain market value, deemed to be a fair price for us."
What is the commercial potential for these chargers? "We've done a market survey and we're thinking it's roughly US$17 billion (RM70.7 billion) in the Asia-Pacific for the next three to four years."
When Enhance Track and NanoMalaysia first released news of the wireless charger in August, saying that they had successfully completed a working prototype of a radio-frequency wireless mobile phone charger, they were inundated with calls.
"We received calls from Australia, China, Japan and Indonesia. We had to put some brakes on it because we wished to take it further and get some government acknowledgement of our achievement through a proper product launch to showcase and demonstrate the product," he says.
The product launch took place on Sept 29 and was officiated by Science, Technology and Innovation Minister Khairy Jamaluddin and Secretary General Datuk Dr Siti Hamisah Tapsir.
Rezal adds that the company will be working with "friendly parties" to get the product out to market worldwide. "We have to forget about total world domination. We're not going to the US because of their 'blue ocean' approach to IPs and Trump policies. We prefer to focus on Asia-Pacific."
What are blue ocean IPs? "It's where a big company understands where the trend is moving towards and patents an idea without a tangible product."
But can you do that? "Yes, you can. You can actually protect an idea, ring-fence an IP. It's a so-called forward defence where you have an idea but you don't have the resources yet to productise the idea. So, you pre-capture it under a blue ocean IP, allow smaller companies to create the so-called physical product and then activate your litigation and legal notice to say, 'Hey, you have infringed on our blue ocean IP 1, 2, 3 and 4. Surrender, or cut a deal.'"
Rezal says this is one way to "outsource" product development without literally outsourcing it. "For us to protect our IP in the US, we have to be mindful about this possibility. So, we are looking elsewhere, maybe Australia or China or Japan, friendly environments or willing coalitions or parties that would be happy to work with us."
The most important thing is to commercialise the product and move forward, thereby demonstrating the success of the triple-helix approach in Malaysia — a collaboration of government, industry and academia.
"It works, but you need to know how to put all these three entities together towards a common goal," he points out.
This concept of development, Rezal adds, is known as the venture builder model. "It's different from venture capitalists, who basically invest and hope the company grows. The venture builder co-ideates the IP, builds the team, nurtures and handholds it, and then lets go."
This is part of his overarching philosophy of a "future by design" rather than a "future by chance". He says Malaysia lacks the economies of scale to grow by chance.
"There are millions of innovators in the US and Europe, so a 10% success rate is still feasible for them. For us, a 10% success rate would be too small. We have to, in a way, pick the winners, build the ecosystem by design and follow through. This involves continual investment, development and pushing the products to the market," he says.