This article first appeared in Personal Wealth, The Edge Malaysia Weekly, on September 30, 2019 - October 06, 2019.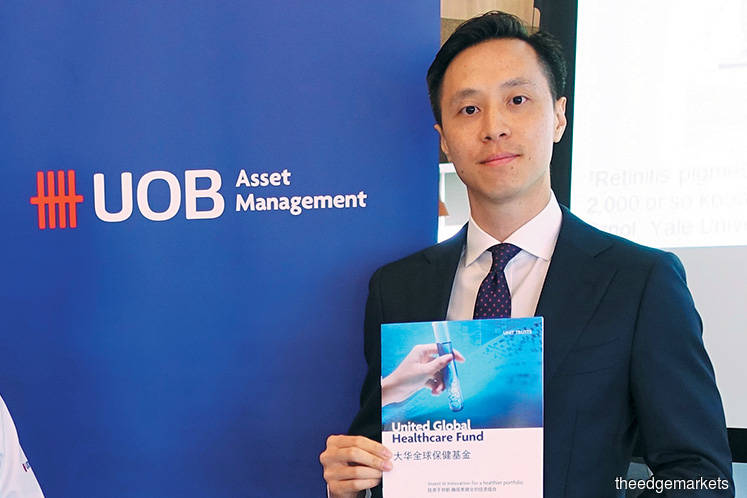 Unprecedented advances in drug discovery tools are rapidly expanding our understanding of molecular pathways, high-impact drug targets and drug candidates that offer the potential to dramatically change the course of disease. This R&D cycle could lead to substantial value creation for the industry. - Yeong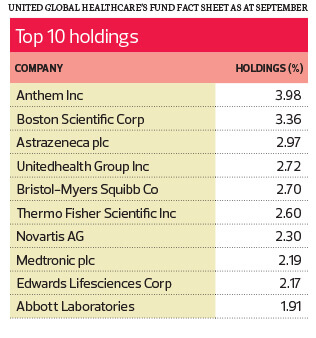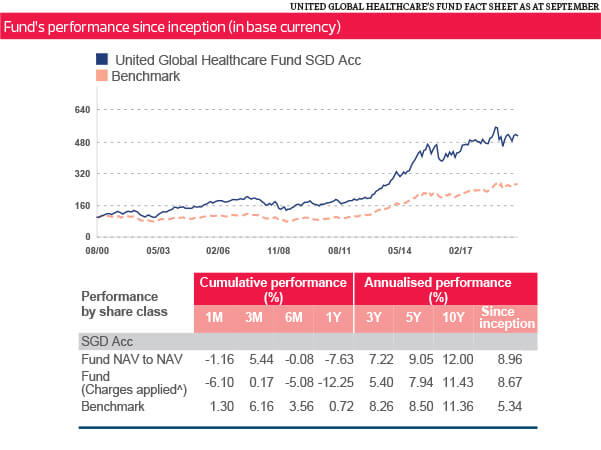 Changes abound in the healthcare sector. From the introduction of innovative cures to progress in robotic surgery, these developments provide a wealth of opportunities for investors, according to Brian Yeong, investment specialist at Wellington Management Singapore Pte Ltd.
The changes are driven by innovations in the biopharmaceutical sector, which covers biological medical products (biologics) such as vaccines and viral gene delivery, medical technology (medtech) and biotech-driven treatments such as gene therapy. This therapy involves the insertion of genes into an individual's cells or tissues to treat a disease.
"In our view, tremendous progress in fundamental biopharmaceutical innovation has been made over the past three years, even though overriding macro and politics-driven volatility have somewhat masked this in terms of share price gains," says Yeong, whose firm is the sub-manager of the United Global Healthcare Fund.
The fund was recently launched in Malaysia by UOB Asset Management (M) Bhd as the first healthcare fund for retail investors. Originally launched in 2000 in Singapore, the fund is now available to Malaysian investors under the Asean Collective Investment Schemes Framework.
"The themes of immuno-oncology and targeted anti-cancer medicine have shown ground-breaking new data at major medical conferences. The field of gene therapy has also notched notable wins, with exciting new data in [treating] sickle cell disease and Duchenne muscular dystrophy," says Yeong.
Immuno-oncology is a form of treatment that uses the body's immune system to fight cancer. Both sickle cell disease and Duchenne muscular dystrophy are caused by gene mutations.
The innovations in medtech and healthcare services are due to technological advancements and pressure to lower healthcare costs. "In medtech and healthcare services, company fundamentals have been as strong as ever, driven by robust uptake in robotic surgery, strong demand for life science tools and diagnostics as well as the development of new technologies and business models that use big data to drive down costs," says Yeong.
The case for investing in the healthcare sector is stronger now, compared to when the fund was launched, due to various developments, he observes. "During the 2000s, the healthcare sector was plagued by poor performance. The biopharmaceutical industry struggled with low R&D productivity and concerns about patent expirations. The entire healthcare sector was saddled with uncertainty about the changing structure of the US healthcare market."
Back then, the US was attempting to manage healthcare costs through various methods. "Today, many of those concerns have dissipated and the industry is emerging as a global growth driver. The biopharmaceutical industry is a good example. Over the past few years, the industry has weathered many significant patent expirations, leaving a base of more sustainable earnings," says Yeong.
The healthcare industry's growth has also been supported by the companies' expansion into emerging markets and the growth of adjacent sectors such as animal health. The free-pricing system for biopharmaceuticals has been supporting potential returns in the sector as well.
"Most importantly, a new R&D cycle is underway. Unprecedented advances in drug discovery tools are rapidly expanding our understanding of molecular pathways, high-impact drug targets and drug candidates that offer the potential to dramatically change the course of disease. This new and highly productive R&D cycle could lead to substantial value creation for the industry," says Yeong.
A long-term trend
Going forward, a few trends will continue to make the case for investing in healthcare over the long term. One is the global ageing trend, which sees the number of people above the age of 65 rapidly expanding compared with younger generations.
"As we age, we consume more healthcare services. Analysis shows that per person spending rises steadily with age, more than double between the ages of 70 and 95," says Yeong.
The globalisation of healthcare delivery is another factor. Emerging markets (EMs) such as China, India and Indonesia are home to half the world's population, but healthcare spending there is still less than half that of developed markets, according to Yeong.
"We believe public investment in healthcare in EMs will pick up in the next 10 years due to rapidly greying populations and a rising demand for modern healthcare services from the urban middle class," he says.
Innovative approaches in the healthcare sector will continue to shape the landscape as well. The innovation is occurring both in the realm of biology and healthcare delivery. The former is in the early cycle of innovation, Yeong observes.
It started with the first full mapping of the human genome in 2000, which was a 13-year project. The cost of doing genomic mapping has come down from US$3 billion per human genome to just US$1,000, with the cost expected to drop to US$100 in the next few years.
"This discovery matters because it gives scientists the knowledge of the genome structure to fundamentally change the way we diagnose, treat and prevent diseases," says Yeong.
Almost every disease has a genetic component to it. If scientists can fully understand the genetic profile of a disease, they can create specific medications to target the malfunction. "Some examples of areas where we have seen significant advancements in treatments include cystic fibrosis, Hepatitis C, Alzheimer's and cancer," he says.
Other breakthroughs Yeong is excited about include gene therapy to correct inborn genetic defects and gene editing to replace missing genes or deactivate harmful genes.
Meanwhile, healthcare delivery is being transformed from a fee-for-service model into a fee-for-value model. This means a higher focus on patient outcomes, quality of care and affordability. So, patients only pay for services that are actually effective.
"The biggest thing that will accelerate this trend is the use of big data and artificial intelligence to weed out the excess costs in the system and inefficient doctors. It will help bring down healthcare costs. This is leading to an explosion of new business models in healthcare services, such as telemedicine, as well as medical equipment companies working in the areas of robotics and non-invasive heart surgery," says Yeong.
Targeting innovations in biopharmaceuticals
In the light of the two trends in innovation, the fund's portfolio is 60% tilted towards companies that are producing innovative biological solutions and 40% towards innovative companies in medtech and services.
The Wellington investment team likes companies that have substantial R&D, focus on patient outcomes, are innovative and are able to scale their products and commercialise their research, according to Yeong. The team includes experts in the medical field.
According to the fund fact sheet (as at September), its biggest exposure was to biotechnology (30.25%), followed by pharmaceuticals (22.35%), healthcare equipment (20.18%) and managed healthcare (9.44%).
Yeong sees convergence in the biotech and pharmaceutical industries, collectively known as biopharmaceuticals. These companies are exploring similar solutions, with some of the biotech companies offering dividends as high as those of pharmaceutical stocks.
The big pharmaceutical companies are also improving their R&D efficiency. Some do so by acquiring smaller biotech firms. Yeong points to US-based Roche as an example. It has moved away from the primary care market to the more specialised field of biologics.
"To do that, it needed access to early research and discovery. So, big pharma companies increasingly formed relationships with academic centres. What followed was mega deals such as Roche's acquisition of Genentech in 2009. Today, Roche Pharmaceuticals is one of the leading players in biologic sales globally," he says.
The industry now has a record number of clinical trials going on across different areas. This means it may take some time before the treatments become commonplace. It also means that some of these trials may fail.
Wellington manages this risk by having a smaller exposure to numerous companies and by investing in those that have more than one key drug. According to Yeong, the exposure is up to 2% for "riskier" companies. The firm has put money in 50 to 75 companies in the biotech sector.
"An example to illustrate the potential of the sector would be Bluebird Bio [listed on the Nasdaq], which offers gene therapies for severe genetic disorders such as beta thalassemia and sickle cell disease. We are confident in the company's sickle cell gene therapy and CAR-T therapy for myeloma," he says.
CAR-T therapy modifies a patient's T cells, which is a type of immune system cell, to attack cancer cells.
In pharmaceuticals, Yeong finds the advances in oncology exciting. Scientists are beginning to understand how specific genetic mutations cause cancers. This understanding has translated into a new standard of care, where doctors will analyse a patient's gene panel and create targeted drugs to treat specific mutations.
"For example, through genetics, we now know that lung cancer is not a single disease but is more likely caused by up to 10 separate genetic mutations. This knowledge has helped scientists isolate genetic mutations and treat patients with more individualised care," he says.
A company in China that Yeong finds interesting is BeiGene, which is listed on the Nasdaq and Hong Kong Stock Exchange. It is a clinical-stage biopharmaceutical company that develops immuno-oncology drugs for cancer treatment.
"We believe that BeiGene is still in its early growth. We view the company as an oncology R&D pioneer with a globally competitive pipeline of drugs. In particular, we believe the opportunity for its cancer portfolio can be much bigger than currently modelled by the street," he says.
The fund has the biggest exposure to companies in the US (65.13%), followed by the UK (5.64%) and Japan (5.01%). In Asia, it is also exposed to China (3.58%). According to Yeong, the US has the highest R&D spend and patent applications in healthcare. It offers the most growth opportunities for innovative companies.
"However, it is important to note that many of our larger positions listed in the US and the UK, such as Boston Scientific and AstraZeneca, have meaningful revenue exposure from emerging markets and hence, do benefit from the growth in demand from those markets," he says.
China is a country to watch as it is one of the world's leading spenders on R&D and intellectual property protection. "The country spent almost nothing on R&D in 2000. But in 2017, it spent US$412 billion. This puts it nearly on a par with the US and far surpasses Japan, the UK and Germany. Chinese applications for international patents have increased as well, totalling nearly 49,000 in 2017," says Yeong.
"Today, there are around 4,000 pharmaceutical companies in China and about 250 of those are listed on China's domestic equity markets. More than half the world's leading developers of PD-1, a promising cancer drug, are Chinese companies. Many of these enterprises are seeing advances in immunotherapy and molecular-level disease treatments that rival the trials being done in the US and other biopharma hubs."
Advances in healthcare services and medtech
In healthcare services, Wellington targets companies that can control costs and help providers understand and manage risks. In this regard, health insurance companies can play a critical role.
Yeong cites the example of US-based insurance provider UnitedHealth Group (UNH). He believes that its technology capabilities are ahead of its competitors in terms of integrating medical and pharmacy data, generating insights and delivering information to care providers. "We believe the significance of UNH's technology assets, including OptumInsight and its consumer-facing tools in improving patient outcomes and lowering costs, continue to be overlooked by investors," he says.
In medtech, the rapid adoption of robotic surgery, especially in the US, is one of the drivers. Robotic surgery can result in minimally invasive surgeries, which can potentially contribute to less bleeding, less pain and faster recovery for patients.
"An example in this area would be Intuitive Surgical [listed on the Nasdaq], which is the market leader in robotic surgery globally and has historically served as the key innovator in the field. This is a high-quality business with recurring revenue that represents a large portion of total sales. Unlike competitors, it has a robotics platform that is able to perform a number of surgical procedures," says Yeong.
Fund's performance and outlook
The United Global Healthcare Fund is suitable for retail investors with a moderately aggressive risk profile, according to UOB Asset Management (M) Bhd. It provides investors with opportunities for long-term capital growth. While many may invest in the healthcare sector for its defensiveness, this is actually a growth fund that targets the rapid technological innovations in the healthcare sector.
The fund has delivered an annualised return of 12% in the last 10 years (by net asset value in SGD account). After fees, it has underperformed its benchmark (MSCI All Country World Health Care Index) over one, three and five years, but outperformed it over 10 years.  
Brian Yeong, investment specialist at Wellington Management Singapore Pte Ltd, acknowledges that it has been challenging to invest in the healthcare sector since 2016 as its performance has lagged the broader market after five years of strong outperformance. "It is important to put this in the context of a very strong previous five years and the superior longer-term [absolute and relative] performance since 1992," he says.
In comparison to its healthcare peers, the fund has underperformed in the past three years. Yeong believes this is due to those funds' focus on specific subsectors or geographies, or that the funds are skewed towards large-cap stocks.
"But it is important to remember the difference in investment focus between our portfolio and those of our competitors. Wellington focuses on providing clients with diversified global exposure to the innovative themes across all subsectors of healthcare and across the market cap spectrum," he says.
Wellington believes this approach will give clients the most complete exposure to the sector and most sustainable upside potential in the future. This is in view of how some large-cap healthcare companies, which have traditionally been safe havens, are under pressure from competition, regulators and US politicians on drug prices.
"We have a strong conviction that such companies should serve as sources of alpha in the future and we would argue that many of these companies' high dividends will also be at risk with the introduction of biosimilars," says Yeong.
Biosimilars are similar versions of biologics that have comparable levels of efficacy but are cheaper.
Next year, he expects short-term volatility in the sector because of the US presidential election next year. Healthcare policy will be one of the main topics of discussion. Nevertheless, he expects the changes to be manageable.
"We retain our conviction that innovation will continue to be rewarded. Importantly, the US Food and Drug Administration approved a record number of new drugs last year. Biopharmaceutical companies continue to invest heavily to bring new drugs to market. This fundamental innovation, combined with the renewed interest in merger and acquisition activity among larger drug companies, should continue to lead the sector higher," says Yeong.
The fund is available in the ringgit, Singapore dollar or US dollar with a minimum investment of RM1,000, S$1,000 or US$1,000 respectively.