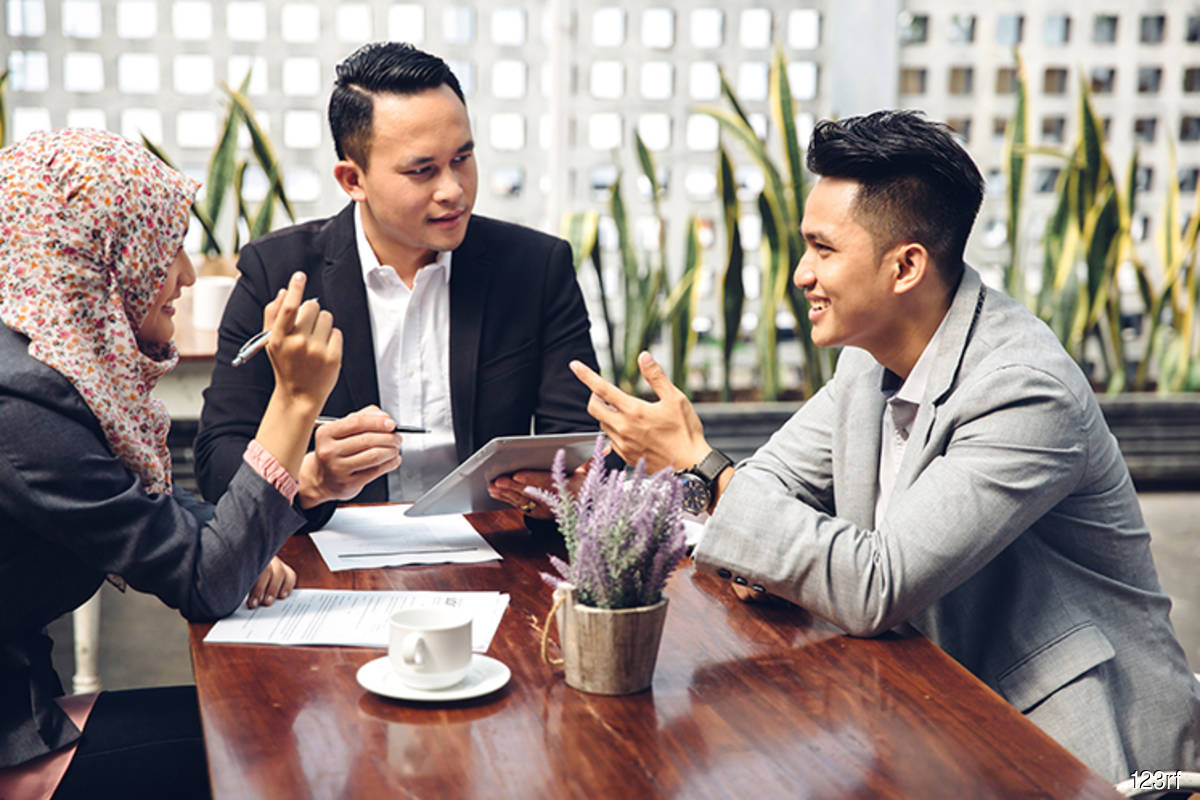 PETALING JAYA (Sept 15): As much has been talked about hybrid working, the question now is what can bring people back to the office? In the first instalment of CBRE Asia Pacific Research's RE Chatter on "A future office for a new normal" today, CBRE Asia Pacific's head of occupier research and data intelligence Ada Choi said that the office is better for meeting people, collaborating and innovating.
"Many of our clients are thinking about rebalancing their spaces between 'me' and 'we' spaces. The results of our survey show that demand for collaborative space continues to rise in the next two years, while large board meeting rooms for 20 people or more are expected to reduce," she said.
Other spaces that are expected to increase include communal space for socialising, meeting rooms for five people or less, and dedicated team area/project space.
"In terms of workplace setting, there's a huge difference between Asian and non-Asian companies. Many Asian companies have dedicated seat settings, very different from international and western companies, which are moving towards activity-based setting or hot desking. Nonetheless, both sides agree that we need more flexibility in the future," she added.
Choi also expects to see an increase in investment in collaborative technology, hotelisation of the office experience, green and healthy workplaces and the deployment of touchless technology.
Hines managing director, Singapore & Southeast Asia, Lim Kian Fong reckoned that wellness trends in buildings are also expected. "Increasingly, beyond the environment, I think the wellness index and air quality within the building are also high up on the agenda right now."
CBRE APAC's global head of investor thought leadership and head of research Henry Chin said offices have clearly got a future and are here to stay but flexibility is going to be the new norm.
"Over 70% of our occupiers want to bring people back to the offices. The key difference is how they are going to do that. They can encourage people to work in the office but also allow them to work from home if they wish to," he added.
He also noted that 72% of the 109 companies surveyed said they have guidelines covering remote work eligibility or scheduling. "Going forward, more guidance, boundaries and protocols are going to be in place as the new normal," he said, adding that he expects to see people working from home one- to two days a week or a month.
Standard Chartered Bank head of property, Asia Pacific, Shelley Boland said that her organisation has adopted flexible working models globally, even before the Covid-19 outbreak.
"Standard Chartered has been quite at the forefront of the future of work and we've been very much adopting the flexible working model, but this was definitely accelerated because of the challenging [Covid] conditions. As a result of the last 12 to 24 months, we definitely have to lift the level of flexibility and colleagues have very much expressed [through a global survey] a keen interest in hybrid working," she added.
"A big part of this is our partnership with HR and helping our staff move to more flexible working employment arrangements, coupled with the support the real estate team is providing. We've also introduced a number of programmes, for example with some of our office furniture and fixtures providers, to allow our colleagues to be able to access some of the ergonomic office-grade furniture at a reasonable price, so they can sit up at home."
She noted that sustainability and wellness are important agendas for her organisation. "We've made a commitment to transition to net zero and we are looking to our landlords and partners to offer carbon neutral infrastructure in terms of utilities, amenities and how the building is operated.
We're also looking at facilities that promote staffs' wellbeing, such as fitness facilities, healthy food and beverage offerings, and locations that give people that broad wellness experience when they come back to the office."
Lim added that Hines, for example, is looking at decarbonisation drives from an investment standpoint and not only from the operational aspect. "When we buy acquisitions, the embodied carbon, and the construction and development stage, is also something that we want to take a step further and look at very closely."
Meanwhile, CBRE's Chin observed that there is a gap between the occupier and investor standpoint in terms of future demand for physical office space. In a December 2020 survey, only 14% of 492 investors surveyed expect demand for physical office space to increase in the next three years, while 50% are expecting demand to decrease slightly. In contrast, a survey done in May 2021 of 103 occupiers revealed that 50% expect their real estate portfolio to increase over the next three years.
Brookfield managing director and head of Asia real estate Stuart Mercier is optimistic of the office market. "We're not having any difficulty focusing on the future of the office. Corporate occupiers are not going to zero. There will be a very strong future from both absorption and investment perspectives in this zero-interest rate environment for office buildings that are well managed and meet the needs of its tenants.
Where there will be opportunities in acquiring office buildings, from our perspective, are in locations or assets that don't meet all those needs correctly but could, with a great operator and additional capital investments. I think that's where the opportunity truly lies," he added.
Lim concurred, adding that the game changer here is about meeting the dynamic needs and requirements from end users.
"We take the same view but with a different lens that we are happy to take bets on certain slightly niche sectors like business parks and science parks. With the right amount of conviction, we'll go for those on top of city office… The game is about keeping itself relevant in this investment world. You need to think about how to future proof a building," he concluded.