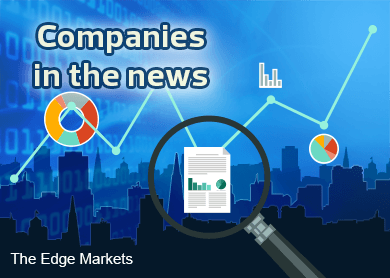 KUALA LUMPUR (June 25): Based on corporate announcements and news flow today, companies that may be in focus tomorrow (Friday, June 26) could be: Gamuda, Meda Inc, Bina Puri, Panasonic Manufacturing, SCGM, Heng Huat Resources, Masteel, Gabungan AQRS, TA Enterprise, TA Global, Aeon Credit, Texchem Resources, Salcon, Yinson, Knusford and Alam Maritim Resources.
Gamuda Bhd, in a joint venture (JV) with Evia Real Estate (7) Pte Ltd and Maxdin Pte Ltd, will acquire a parcel of leasehold land in Toa Payoh, Singapore, measuring 12,154.6 sq m, for S$345.86 million (RM967.01 million).
In a filing with Bursa Malaysia today, Gamuda (fundamental: 1.8; valuation: 1) said the Gamuda-Evia-Maxdin JV had on June 23 obtained Housing Development Board of Singapore's nod to acquire the tract.
The current type of allowable development on the land is condominium or flats or with written approval, a combination of flats and strata landed houses.
Gamuda said the acquisition is expected to be completed by the third quarter of 2015. It will be funded by a combination of cash and bank borrowings, to be satisfied by the JV company.
Following the Singapore authority's approval, a JV company will be formed in which Gamuda, via its wholly-owned subsidiary Gamuda (Singapore) Pte Ltd, will have a 50% stake, while Evia and Maxdin will hold 20% and 30% respectively.
Property developer Meda Inc Bhd has proposed to acquire a private company, which owns two parcels of contiguous freehold land in Kuala Lumpur that measure a collective 4.18 acres, for RM180 million.
In a filing with Bursa Malaysia today, Meda (fundamental: 0.35; valuation: 0.6) said it has entered into a conditional share sale agreement with BCM Holdings Sdn Bhd to acquire a 100% stake in the latter.
Meda said it will settle the purchase consideration by a combination of RM139.8 million cash; and the issuance of 67 million new shares at an issue price of 60 sen per share, worth RM40.2 million.
Meda said BCM's land, which carries a net book value of RM21.2 million as at May 31, 2015, is within a matured industrial estate known as Chan Sow Lin, the southern fringe of the city centre.
Meda said it intends to develop a mixed development on the plot that comprises serviced apartments and commercial properties, with an estimated gross development value (GDV) of RM881.91 million.
The development is expected to commence in the fourth quarter of 2015 and complete within 48 months.
Construction firm Bina Puri Holdings Bhd's subsidiary Bina Puri Sdn Bhd (BPSB) has been awarded a RM195 million contract to construct a 23-storey twin tower in Iskandar Malaysia's Medini Central Business District.
The project, awarded by Medini Development Sdn Bhd, is expected to be completed within 29 months, according to a statement from Bina Puri (fundamental: 0.15; valuation: 2) today.
This brings the total value of new projects that Bina Puri has secured this year to RM738 million, upping its unbuilt book order to RM2.13 billion to date.
The company's statement said BPSB accepted the letter of award from Medini Development on June 15, to undertake the development.
Panasonic Manufacturing Malaysia Bhd has declared dividends of RM1.27 per share, which comprises final dividend of 35 sen per share and special dividend of 92 sen per share.
This brings the total dividend declared for the financial year ended March 31, 2015 to RM1.42 per share, including an interim dividend of 15 sen — nearly double of the amount of 73 sen per share paid in the previous financial year.
Based on today's closing price of RM22, Panasonic's dividend yield was at 5.77%.
In two separate filings to Bursa Malaysia today, Panasonic (fundamental: 2.8; valuation: 2) said the dividend would be payable on Sept 21.
The cash rich electric appliances maker said its shares would trade ex-dividend on Sept 3.
Thermo-vacuum-formed plastic packaging products manufacturer SCGM Bhd, whose share price hit a record high today, is proposing a bonus issue of 40 million new shares on a one-for-two basis.
SCGM (fundamental: 1.5; valuation: 1.5) told Bursa Malaysia this evening that the bonus issue is reward to existing shareholders, while simultaneously enhancing its capital base.
Its share price has been on the rise from RM1.81 on Jan 2 to RM3.70 today. The stock has more than doubled year to date, with a market capitalisation of RM296 million.
Biomass material manufacturer Heng Huat Resources Group Bhd would be investing RM35 million in capital expenditure to build a new oil palm empty fruit bunch (EFB) fibre manufacturing facility in Gua Musang, Kelantan.
Its managing director H'ng Choon Seng said the expansion would allow it to cater to higher demand from China and target new export markets, including Australia, Korea and Japan.
The new plant, expected to be operational in the second quarter next year, would relieve some manufacturing load of the current facilities which had a utilisation rate of about 90%, said H'ng.
H'ng said of the RM35 million that would be financed through bank borrowings and internally-generated funds, RM11 million would be used to purchase the land and construct the building.
Another RM12 million would be used for new production machinery and RM2 million for supporting vehicles and equipment. The balance RM10 million would be utilised for a new biomass co-generation power plant.
Nexia SSY Chartered Accountants no longer wishes to act as Malaysia Steel Works Bhd's (Masteel) external auditors, following the issuance of a qualified opinion earlier this month on the company's accounts for the financial year ended Dec 31, 2014 (FY14).
In an announcement released to Bursa Malaysia today, Masteel(fundamental: 0.35; valuation: 1.4) said Nexia SSY does not wish to seek reappointment as the steelmaker's auditors at their upcoming annual general meeting (AGM).
The auditors' decision follows concerns raised by Nexia on June 22, over Masteel's sales transactions involving an oustanding amount of some RM287 million in 2014, which Nexia said it was "unable to verify the recoverability" of.
Construction services provider and property developer, Gabungan AQRS Bhd, which has an order book of RM1 billion, is tendering some RM700 million worth of construction projects.
Gabungan AQRS' (fundamental: 1.3; valuation: 1.8) executive director Datuk Azizan Jaafar said the tenders are a mixture of government and private projects.
He mentioned that the average success rate for the company is about 25% to 30%.
Azizan Jaafar also said the company is "optimistic" in securing at least one work package from the MRT line 2.
TA Enterprise Bhd's net profit jumped 81.5% to RM104.73 million in the first quarter ended April 30, 2015 (1QFY16), against RM57.71 million last year, mainly attributable to contribution from its credit and lending, and investment holding divisions.
This translates into an earnings per share of 6.12 sen versus 3.37 sen last year, the group's filing with Bursa Malaysia today showed.
TA Enterprise (fundamental: 0.8; valuation: 2.0)'s revenue however, contracted 7.67% to RM194.29 million, from RM210.43 million last year.
TA Enterprise's 63%-owned property development arm TA Global Bhd, on the other hand, saw its net profit contracted 11.45% to RM72.17 million, or 1.36 sen a share, for the first quarter ended April 30, 2015 (1QFY16), against RM81.5 million or 1.53 sen per share a year ago, mainly dragged by losses in the investment holding and property development divisions.
TA Global's (fundamental: 1.2; valuation: 2) quarterly revenue declined to RM140.66 million, from RM158.2 million for the same quarter last year, according to a filing to the Bursa Malaysia today.
Aeon Credit Service (M) Bhd registered a net profit of RM58.24 million or 37.96 sen per share for the first quarter ended May 31, 2015 (1QFY16).
Revenue for the quarter came in at RM232.44 million.
There were no comparative figures available, as the non-bank financial institution had changed its financial year-end to Feb 28, from Feb 20 previously.
In a filing with Bursa Malaysia today, Aeon Credit (fundamental: 1.1; valuation: 2.1) said its non-performing loans (NPL) ratio was 2.74% as at May 31, 2015, compared with 2.18% as at May 20, 2014.
Going forward, Aeon Credit expects to maintain its performance for the financial year ending Feb 29, 2016 (FY16), based on implementation of its business plan, with stronger performance in the second half of the financial year, based on anticipated increase in consumer spending.
The Singapore Exchange (SGX) has granted Texchem Resources Bhd, the majority shareholder of Texchem-Pack Holdings (S) Ltd (TXPH), an extension until August 7 to make a reasonable exit offer to TXPH's shareholders or risk being compulsorily delisted.
In a filing with Bursa Malaysia today, Texchem (fundamental: 0.75; valuation: 2) said the SGX had notified TXPH yesterday that Texchem, which holds a 70.48% stake in TXPH, has until August 7 to make a reasonable exit offer to TXPH's shareholders.
This is the third extension of time granted to Texchem, to make a reasonable exit offer to TXPH's shareholders, after the authority issued a delisting notification to TXPH on March 5, 2014.
Water infrastructure specialist Salcon Bhd (fundamental: 1.65; valuation: 1.2) is optimistic of securing between 30% and 40% of its targeted RM2 billion order book by end 2015, despite the opaque economic outlook.
Speaking after the company's annual general meeting today, its executive director Datuk Eddy Leong Kok Wah said on an average, the company's success rate on its order book was at around 20%, but if they were lucky, they could hit the targeted figure this year.
Leong revealed that the group's order book amounts up to RM2 billion, consisting mainly of domestic projects i.e. RM1.25 billion for local; and RM750 million for overseas projects.
Offshore support services provider Yinson Holdings Bhd intends to raise about RM299.5 million through private placement — a move to pare down its bank borrowings.
In a filing with Bursa Malaysia today, the group said by assuming the issue price for the placement share of RM2.90 apiece, it could raise gross proceeds of up to about RM299.5 million, of which RM289.51 million will be catered for repayment of bank borrowings, while the remaining will be for the corporate exercise expenses.
Yinson (fundamental: 1.5; valuation: 1.5) said the proposal is to undertake a private placement of new ordinary shares of up to 103.28 million shares, representing up to 10% of its issued and paid-up share capital.
Construction related player Knusford Bhd's wholly-owned unit Kota Ekspres Sdn Bhd (KESB) has entered into a joint venture (JV) agreement with Greenland Malaysia Urban Development Sdn Bhd to bid for construction contracts locally and abroad.
The JV agreement follows the heads of agreement signed on Feb 11.
According to Knusford's announcement to Bursa Malaysia, the JV company will be known as Greenland Knusford Construction Sdn Bhd.  
Greenland will hold a 55% stake in the JV company, while the balance 45% will be held by Knusford (fundamental: 2.1; valuation: 3.0).
Knusford expects the JV to contribute positively to its profitability and growth in the future, but does not expect the JV to have any material effect on its performance for the current financial year ending Dec 31.
Tycoon Tan Sri Quek Leng Chan has ceased to be a substantial shareholder in upstream oil and gas services provider Alam Maritim Resources Bhd.
In separate filings to Bursa Malaysia today, it was revealed that Quek, who had emerged as a substantial shareholder in Alam Maritim on June 5 last year with a deemed interest of 60 million shares or a 6.5% stake, had disposed of 19.4 million shares of his shareholdings on June 18 this year, or 2.1% of his stake in the company.
Quek, alongside HL Holdings Sdn Bhd, HLCM Assets Sdn Bhd and Hong Leong Company (Malaysia) Bhd, has a deemed interest in Alam Maritim via Associated Land Sdn Bhd, which has a direct 6.5% stake in the company.
All parties have ceased to be substantial shareholders in Alam Maritim (fundamental: 1.6; valuation: 1.5), with effect from June 18, 2015.
(Note: The Edge Research's fundamental score reflects a company's profitability and balance sheet strength, calculated based on historical numbers. The valuation score determines if a stock is attractively valued or not, also based on historical numbers. A score of 3 suggests strong fundamentals and attractive valuations.)