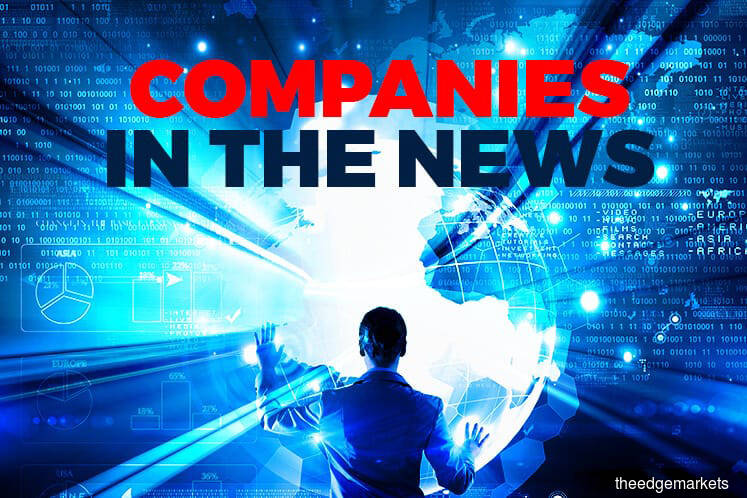 KUALA LUMPUR (Sept 17): Based on corporate announcements and news flow today, stocks in focus on Wednesday (Sept 18) may include: Genting Bhd, IHH Healthcare Bhd, KNM Group Bhd, Fintec Global Bhd, Yinson Holdings Bhd, Country Heights Holdings Bhd, Eversendai Corp Bhd, TDM Bhd, FGV Holdings Bhd and Datasonic Group Bhd.
Genting Bhd is establishing a medium term notes (MTNs) programme of RM10 billion in nominal value through its wholly-owned subsidiary Genting RMTN Bhd.
Genting said it will irrevocably and unconditionally guarantee the MTNs, which have been assigned an initial long-term rating of AAA by RAM Rating Services Bhd.
The net proceeds from the MTN programme will be utilised for Genting's operating expenses, capital expenditure, investment, refinancing, working capital requirements, general funding requirements or other general corporate purposes.
CIMB Investment Bank Bhd and Maybank Investment Bank Bhd have been appointed as the joint principal advisers and joint lead arrangers for the MTN programme.
IHH Healthcare Bhd has proposed to buy the entire stake of Prince Court Medical Centre Sdn Bhd (PCMC) for RM1.02 billion in cash.
IHH said its wholly-owned unit Pantai Holdings Sdn Bhd (PHSB) has signed a conditional share purchase agreement with Pulau Memutik Ventures Sdn Bhd (PMV), a wholly-owned subsidiary of Khazanah Nasional Bhd, for the acquisition of the stake comprising 100 million shares and 35,176 redeemable preference shares. PMV holds a 26.04% stake in IHH.
The acquisition will be funded via a combination of internally-generated funds and bank borrowings.
Noting that PMV's original cost of investment in PCMC on Aug 1 last year was RM1.09 billion, IHH said the fair market value range of 100% of the equity of PCMC is between RM960.7 million and RM1.08 billion as at March 31, 2019.
KNM Group Bhd has bagged a contract worth US$12.74 million (RM53.27 million) in Thailand from PSS Netherlands B.V. Sharjah Branch.
KNM said its unit KNM Process Systems Sdn Bhd had accepted a purchase order dated Sept 10 for the supply of big size CS/CLD columns and vessels up to 60MM for the Clean Fuel Project at the existing major oil refinery in Sriracha, Chonburi, on the east coast of Thailand, as operated by Thai Oil Public Co Ltd.
The supply and delivery duration of the contract is for a period not exceeding 12 months.
Fintec Global Bhd is acquiring a 19.82% stake in label printing and packaging solution services provider Komarkcorp Bhd for RM16.4 million.
Fintec Global's wholly-owned subsidiary Asiabio Capital Sdn Bhd is buying the stake from Koh Hong Muan @ Koh Gak Siong and Aimas Enterprise Sdn Bhd.
Fintec Global said the acquisition will be funded entirely from internally-generated funds.
Yinson Holdings Bhd's 49%-owned joint venture in Vietnam for a charter contract worth US$1 billion over a 15-year period has been terminated, due to a "prolonged force majeure event", which is widely understood to be the overlapping claims in South China Sea between Vietnam and China.
Yinson said the joint venture, PTSC Ca Rong Do Ltd, will assert its rights under all relevant contracts and in laws, for any advances, claims, liabilities, losses or damages against or suffered by it in any way concerning the matter.
Yinson owns 49% of PTSC Ca Rong through its indirect wholly-owned subsidiary Yinson Clover Ltd, while the remaining 51% stake is held by Vietnam's state-owned PetroVietnam Technical Services Corp (PTSC).
Country Heights Holdings Bhd group chief executive officer  Datuk Low Kok Thai has resigned just six months after he was appointed to the post.
The resignation, effective today, was "due to his unsuccessful efforts in assisting Country Heights and its group of companies in restructuring the debts, after exhausting all avenues with the local financial institutions".
Eversendai Corp Bhd announced the start of work for its first European offshore wind renewable project intended for Petrofac and Holland's transmission system operator Tennet.
Eversendai said its unit Eversendai Offshore will be carrying out the engineering and fabrication of the six-leg jacket structure for Hollandse Kust Zuid Alpha in its 550-metre waterfront and 200,000sq m fabrication yard in RAK Maritime City, Ras Al Khaimah, UAE.
It said the jacket will be a part of a wind farm located in Europe North Sea's Hollandse Kust Zuid grid connection in the Netherlands.
TDM Bhd has confirmed that Indonesian authorities have sealed off its subsidiary's plantation land in the republic, due to fire.
TDM said some 1,201 hectares belonging to PT Rafi Kamajaya Abadi (PTRKA) had been affected by fire, which has been extinguished.
It said reports to local authorities, including a police report, had been made on fire incidences.
The group said it practises the RSPO principles and is strictly governed by the 'No Burning' policy that there shall be no use of fire in the preparation of new planting, replanting or any other developments.
"We wish to reiterate that since 2016, there is neither new development nor land clearing activities [that have] been carried out within our area of operation," it said.
FGV Holdings Bhd's wholly-owned subsidiary Delima Oil Products Sdn Bhd has signed a distributorship agreement with DKSH (M) Sdn Bhd to widen the distribution of FGV's downstream products across hotels, restaurants and cafes in Peninsular Malaysia.
FGV and DKSH said the agreement involves the distribution of food manufacturer Delima's products including cooking oil, creamer and margarine, across Peninsular Malaysia's food service industry.
Datasonic Group Bhd is establishing a joint venture (JV) in Nigeria, with the group owning 40% in it, to tap into the country's 202 million population market.
Datasonic said it has entered into a JV agreement with one Nigerian company called Chrome Group to establish the JV company (JVCo), in wish the latter will own 60% stake.
Datasonic said the JVCo intends to explore and carry on business in information communications technology (ICT) in Nigeria including data centre, data mining, cloud computing, artificial intelligence, security printing, multi-application secure identity, e-Passport, e-Driving Licence, eHealth solutions, e-Commerce, e-Payment, Fintech, integrated security and surveillance systems, multimodal facial recognition solutions and border control system.
The group said the JVCo also intends to establish plants and factories in Nigeria for the purpose of delivery of these services.