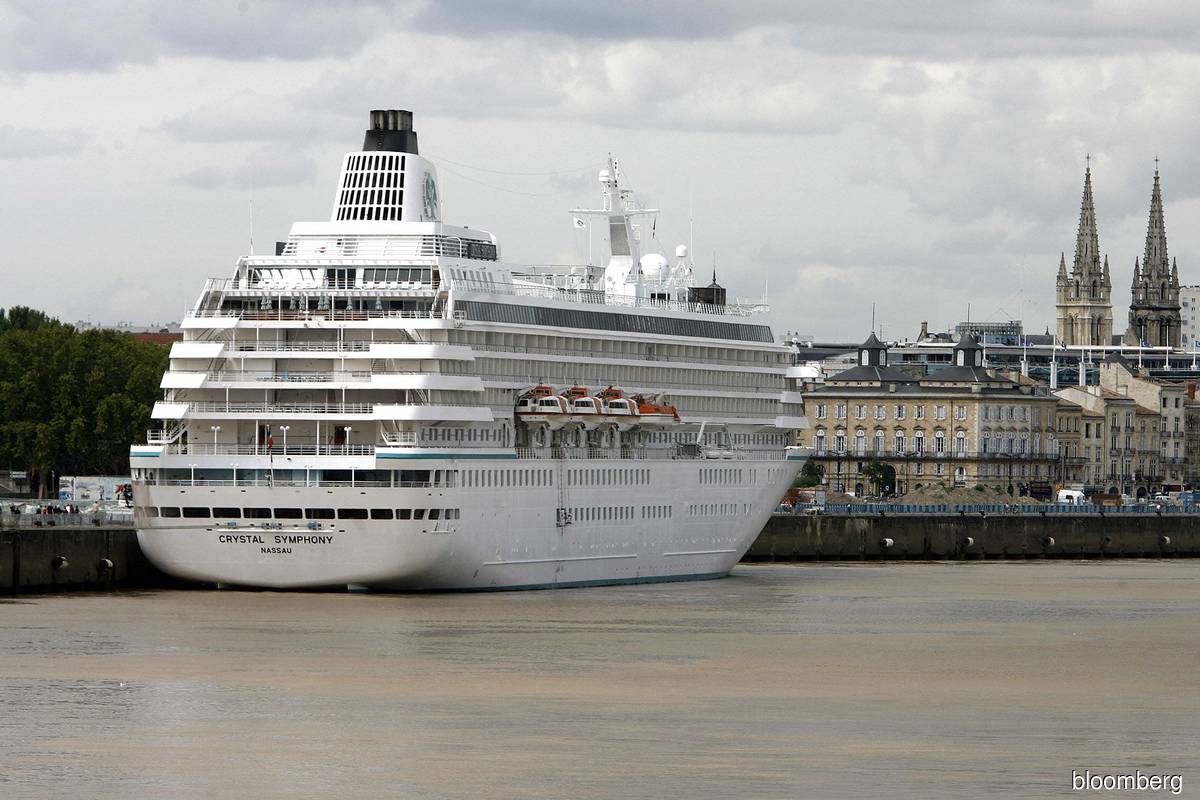 KUALA LUMPUR (June 17): Genting Hong Kong Ltd's cruise ships Crystal Serenity and Crystal Symphony, both of which have been under arrest in Bahamian waters for more than four months were sold on Tuesday (June 14) for a combined US$128 million (about RM564 million) via auction to CSE Ltd and CSY Ltd, Tribune Business reported, quoting the lawyer representing the ships' secured financier DNB Bank.
"Richard Horton, attorney and partner at Alexiou, Knowles and Company, who represented the Crystal Serenity and Crystal Symphony's secured financier, confirmed to this newspaper that the vessels were sold for US$103 million and US$25 million respectively," Tribune Business reported on Wednesday.
Horton said: "For the Serenity, the total amount paid for the vessel was US$103 million. The buyer was a company called CSE Ltd. For the Symphony, the amount agreed was US$25 million for the vessel, and the purchaser's name was CSY Ltd."
According to the report, CSE and CSY are likely special purpose vehicles or entities specifically created to acquire, and hold, the two now-former Crystal Cruises vessels, with CSE standing for "Crystal Serenity" and CSY for "Crystal Symphony".
CSE and CSY are believed to be owned by a London-based entity, according to the report.
The two Crystal Cruises vessels were initially arrested upon the filing of a Supreme Court action by Peninsula Petroleum Far East Pte Ltd, a Singapore-based shipping fuel supplier claiming to be owed some US$2.1 million for outstanding bunkers provided to the Crystal Cruises vessels, according to the report.
It was reported that Peninsula Petroleum ultimately passed the responsibility involving Crystal Cruises vessels-related legal matters over to DNB Bank.
"Financial strife at its immediate parent (Genting Hong Kong) caused Crystal Cruises, which pioneered home porting in The Bahamas alongside Royal Caribbean, to initially suspend operations until at least April 29, 2022. This was to allow management to assess the company's (Crystal Cruises) business, and determine its future options, with its parent set to run out of cash by end-January, but all rescue efforts proved futile and the cruise line is being wound up.
"Genting Hong Kong's woes, and Peninsula Petroleum's securing of US arrest warrants, saw both Crystal Serenity and Crystal Symphony cut their last Caribbean cruises short by calling at Bimini, where all passengers were forced to disembark and either fly back to south Florida or take the Balearia Express ferry," Tribune Business reported.
It was reported that senior commander Berne Wright, the Port Department's acting controller, and who as admiralty marshal has been responsible for arresting and detaining both cruise ships in Bahamian waters since early February 2022, said the purchase price for both vessels has been deposited with himself.
"Yes, that is accurate. I do a report to the [Supreme] Court, and I have since done that. A final report will be made to the court. There is a final process where there will be a hearing as to who gets what.
"I have sighted of both sales, and the funds have been deposited. Once that is done, as it has been done, then as admiralty marshal I would have no further dealings with the ships," Wright said.
Genting Hong Kong is facing severe financial difficulties after global movement restrictions due to the Covid-19 outbreak, which began in early 2020, disrupted the company's cruise operations, according to Genting Hong Kong.
"As previously announced, the group (Genting Hong Kong and its subsidiaries) is facing severe financial difficulties. These financial difficulties led to the presentation of a winding-up petition by the company (Genting Hong Kong) and the appointment of the joint provisional liquidators (JPLs).
"The primary duty of the JPLs is to maximise value and returns of creditors of the company," Genting Hong Kong said in a June 7, 2022 filing with The Stock Exchange of Hong Kong Ltd.
Genting Hong Kong said that given the severe liquidity constraints faced by the company and its subsidiaries, the JPLs do not consider that it is in the best interest of the group, its creditors and other stakeholders to allocate the very scarce resources of the group for the preparation of Genting Hong Kong's 2021 annual results.
"Furthermore, as disclosed in the previous announcements, there is currently no audit committee to review the 2021 annual results. Accordingly, the company (Genting Hong Kong) is currently unable to publish the 2021 annual results or to despatch the 2021 annual report.
"Application was made to the stock exchange for the suspension of trading in the shares of the company with effect from 9am on Jan 18, 2022 and will remain suspended until further notice," Genting Hong Kong said.