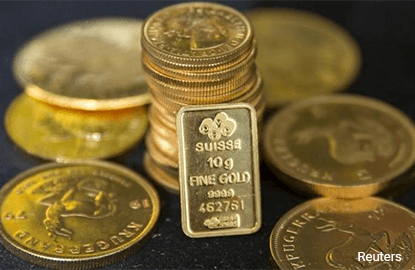 LONDON (March 1): Gold fell on Wednesday as the US dollar gained after comments from US Federal Reserve officials raised expectations of an interest rate hike in March and overshadowed President Donald Trump's first major policy speech to Congress.
New York Fed President William Dudley — one of the most influential US central bankers — said the case for tightening monetary policy had become "a lot more compelling", while San Francisco Fed President John Williams said he saw "no need to delay" raising rates.
Money market futures are now pricing in close to a 70% chance of a rise in official interest rates in March, compared with a little more than 30% on Tuesday.
"Rate rises are now priced in to futures but not in to gold, so the risk is to the downside (for gold)," said Mitsubishi analyst Jonathan Butler.
Gold is highly sensitive to rising US interest rates, which increase the opportunity cost of holding non-yielding bullion while boosting the US dollar in which it is priced.
Spot gold dropped 0.2% to US$1,244.86 an ounce by 1104 GMT, heading for a third straight day of losses. The metal hit its highest since Nov 11 at US$1,263.80 on Feb 27.
US gold futures fell 0.6% to US$1,246.40.
"Fed Chair Yellen will be giving a speech on Friday. If Yellen's remarks also point to a rate hike in the near future,  this will presumably cause the dollar to further appreciate and will weigh on the gold price," Commerzbank said in a note.
Expectations that Trump would give details on stimulus plans on Tuesday were largely disappointed, with the President failing again to provide detail on tax reform and infrastructure spending.
The speech did, however, contrast with the harsher rhetoric heard during Trump's election campaign, tempting some investors back into riskier assets and slightly knocking gold's appeal as a safe haven in times of political or economic upheaval.
"Gold prices are reacting to the bullishness in other markets and are easing accordingly. That said, with US President Trump's speech not giving much substance there is still room for disappointment," said FastMarkets analyst William Adams.
The dollar index was up 0.5% at 101.65.
India's February gold imports surged more than 82% from a year ago as consumers ramped up purchases for weddings, provisional data from consultancy GFMS showed.
Spot silver rose 0.4% to US$18.39 an ounce, platinum was also up 4% at US$1,026.9 and palladium gained 0.9% to US$777.49.