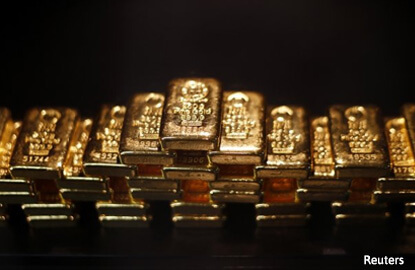 BENGALURU (March 1): Gold fell on Wednesday as the dollar gained after comments from U.S. Federal Reserve officials raised expectations of a rate hike in March, while an eagerly awaited speech by U.S. President Donald Trump offered few details on infrastructure spending and tax reforms.
Spot gold had dropped 0.4% to US$1,243.86 per ounce by 0647 GMT. The metal hit its highest since Nov 11 at US$1,263.80 on Feb 27.
U.S. gold futures fell 0.8% to US$1,244.30.
Trump pledged to overhaul the immigration system, improve jobs and wages for Americans and promised "massive" tax relief to the middle class and tax cuts for companies, but offered few clues on how they would be achieved.         
"The speech was very light on detail ... I suspect it has a bit turned into a damp squib. There were no new policy announcements there and a lot of it is already built into the U.S. dollar," said Jeffrey Halley, senior market analyst at OANDA.
The president had said on Monday that he would propose a budget that would increase spending on defence, while seeking savings elsewhere.   
The dollar index was up 0.5% at 101.580. 
"The market appeared a little disappointed by the lack of specifics and was met with a pullback in the greenback," MKS PAMP Group trader Alex Thorndike said.
 
A handful of Fed policymakers on Tuesday boosted expectations for a March U.S. interest rate increase.
Interest rate futures implied traders saw nearly a 57% chance the Fed would raise rates at its March 14-15 meeting, up from roughly 31% late on Monday, and around
20% a week ago, according to Reuters data.
"I believe that the March Fed meeting is live now and we may even see a rate hike. Maybe the markets will turn their attention towards that," Halley said.
"But, Fed Chair Janet Yellen speaking on Friday should be quite important now. If she is towards the hawkish side, then the March meeting will be live and strengthen the dollar."
Spot gold may stabilize around support at US$1,244 per ounce, and then rise into a range of US$1,252-US$1,258, according to Reuters technical analyst Wang Tao. 
"With the market pricing in a greater chance of a March rate hike from the Fed, gold is likely to remain under pressure in the short term," MKS PAMP's Thorndike said, adding that the immediate support for gold is at US$1244-45, followed by a stronger one at US$1241.50.
Spot silver edged down 0.1% to US$18.28 per ounce. 
Platinum was firm at US$1,022.80, while palladium rose 0.4% to US$771.90.