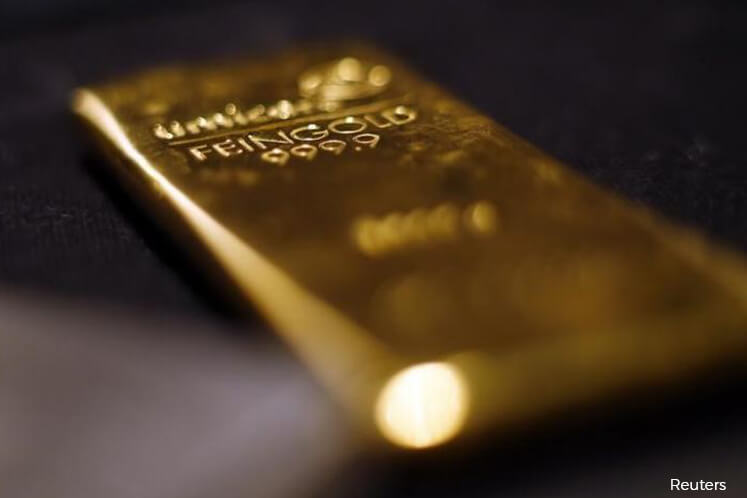 LONDON (April 11): Gold rose on Tuesday as investors sought assets seen as havens from risk as political and security tensions rose over North Korea, the Middle East and the looming French election.
Spot gold inched up 0.15% to US$1,256.10 per ounce by 0935 GMT, while US gold futures rose 0.5% to US$1,259.50.
Heightened tensions in the Korean peninsula and Middle East following US missile strikes on Syria, along with uncertainty about the result of the upcoming French presidential election, have made investors nervous.                         
"There a lot of supporting factors for gold at play here," said Carsten Fritsch, commodity analyst at Commerzbank referring to safe-haven buys on risk-aversion.
Investors also bought the Japanese yen and US Treasuries, while the dollar index softened and stocks took a knock.
Meanwhile, the Federal Reserve plans to raise US interest rates gradually so as to sustain healthy growth without letting the economy overheat, Fed Chair Janet Yellen said on Monday. Rising interest rates lift the opportunity cost of holding non-yielding bullion.             
From a technical viewpoint, a rally above US$1,260 could be hard to sustain "as gold lacks momentum", Jeffrey Halley, senior market analyst at OANDA said.
"A break of US$1,240 will prelude a deeper correction," he said.
Commerzbank's Fritsch said Tuesday's drop below US$1,250 prompted buying interest, establishing it as solid support.
Gold has been failing to break key chart resistance at its 200-day moving average.
"Geopolitical developments are likely to continue to provide an underlying level of support over the short term, however the continued failed breaks above the 200-day moving average do not instil confidence in the metal's ability to break higher out of the recent range," MKS PAMP Group trader Sam Laughlin said.
Holdings of SPDR Gold Trust, the world's largest gold-backed exchange-traded fund, rose 0.21% to 838.26 tonnes on Monday from 836.49 tonnes on Friday.          
Spot silver edged up 0.1% to US$17.93 an ounce. In the previous session, it marked its lowest in over two weeks at US$17.71.
Platinum rose 0.6% to US$941.60 an ounce, after hitting its weakest in over three weeks at US$931.85 on Monday.
The spread between gold and platinum hit its highest since October 2016 at US$318.23.
"There is certainly more geopolitical risks at the moment and that is more positive (for) gold than platinum and there is no surprise in that sense to see the spread widen ... There is generally a downbeat (sentiment) about diesel cars in Europe," a London-based market analyst with a mining company said.
Platinum is used in catalysts in diesel-powered vehicles, which are going out of favour in Europe.
Palladium slipped 0.2% to US$796.75, after touching its weakest in more than a week at US$784.72 in the previous session.