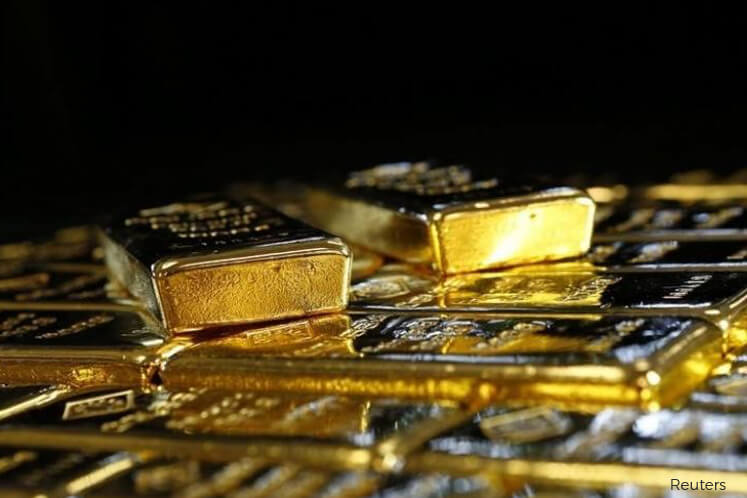 (April 12): Gold climbed to a 5-month high on Wednesday, extending its nearly 2% gains from the previous session, as investors shifted to safe-haven assets with tensions rising over the United States' relations with North Korea and Russia.
Spot gold was mostly unchanged at US$1,274 per ounce by 0716 GMT after hitting its strongest since Nov 10 at 1,279.80 earlier in the session.    
US gold futures rose 0.2% to US$1,276.
Heightened tensions in the Korean peninsula, and the Middle East following US strikes on Syria, along with the upcoming French presidential election, have left investors nervous.
"Recently a degree of uncertainty has found its way into previously seemingly bulletproof financial markets," ANZ analysts wrote in a note.
"There is clearly some nervousness out there, with geopolitical tensions around North Korea ratcheting higher and adding to an already heightened geopolitical environment."
North Korean state media warned on Tuesday of a nuclear attack on the United States at any sign of American aggression, as a US Navy strike group steamed toward the western Pacific — a force US President Donald Trump described as an "armada".
Trump said in a tweet that North Korea was "looking for trouble" and the United States would "solve the problem" with or without China's help.
Meanwhile, the United States accused Russia on Tuesday of trying to shield Syria's leader from blame for a deadly poison gas attack last week, as US Secretary of State Rex Tillerson brought a Western message to Moscow condemning its support for Syrian President Bashar al-Assad.             
Elsewhere, French centrist Emmanuel Macron and far-right leader Marine Le Pen clung on as frontrunners on Tuesday in France's tight presidential race, but the unpredictable outcome is pushing some pollsters to calculate the most extreme runoff scenarios.             
Gold on Tuesday closed above the 200-day moving average for the first time this year after struggling to do so over the past few weeks.
"Gold has finally broken and closed above its 200-day moving average at US$1,257.50, which now becomes a support. From a technical perspective, the way is now clear for a run at US$1,300 and possibly higher," said Jeffrey Halley, senior market analyst at OANDA.
"The safe-haven effect is clearly in play once again ahead of the Easter holiday with volumes in both spot and options well above average."
Holdings of SPDR Gold Trust, the world's largest gold-backed exchange-traded fund (ETF), rose 0.50% to 842.41 tonnes on Tuesday. The ETF has seen about six tonnes of inflows this week.
Among other precious metals, spot silver was firm at US$18.31 an ounce.
Platinum fell 0.1% to US$966.10 per ounce after rising over 3% in the previous session, while palladium dropped 0.3% to US$800.63.