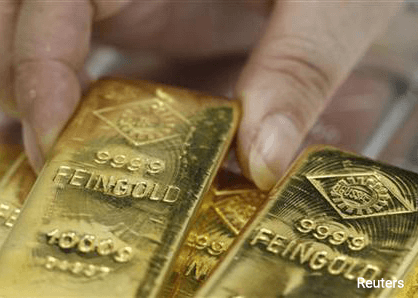 LONDON (Feb 27): Gold steadied on Monday near to the 3½-month highs hit last week as investors waited for US President Donald Trump to outline plans for tax cuts, infrastructure spending, levies on imports and foreign policy.
Spot gold rose 0.2% to US$1,258.5 an ounce at 1443 GMT, having touched its highest since Nov 11 at US$1,260.10 on Friday. US gold futures rose 0.1% to US$1,259.3.
Trump is due to address Congress on Tuesday.             
"What he reveals might be important for gold. For example, if he announces significant fiscal easing, that would raise inflation expectations and lead investors into gold," said Danske Bank analyst Jens Pederson.
"But the border adjustment tax (import tax) could push the US dollar higher and that could be negative for gold ... The whole area of foreign policy may mean more political uncertainty and that's positive for gold."
Analysts also expect nervousness ahead of elections in the Netherlands, France and Germany to help to buoy gold prices over the course of this year but say that US interest rates are also important.
Higher US rates could mean a stronger US currency, which makes US dollar-denominated metals more expensive for holders of other currencies.
"Most of the market still expects the US Federal Reserve to pass on raising rates for now. We would agree with this consensus view," said INTL FCStone analyst Edward Meir. "This could offer gold more upside, at least going into March."
The US central bank meets March 14-15, though rate increases are largely expected to be postponed until the June meeting.
Bets on higher prices can be seen in data from the CFTC, showing hedge funds and money managers holding larger net long positions in COMEX gold, reaching the highest in nearly three months during the week to Feb 21.             
Holdings of the largest gold-backed exchange-traded fund, New York's SPDR Gold Trust, have also risen more than 5% this month.
However, attempts to push prices higher have met strong resistance in recent days at US$1,260, near the 200-day moving average, traders said.
Spot silver gained 0.1%% to US$18.37 an ounce.
Platinum gained 1.7% to US$1,040.7, having earlier marked its strongest in nearly five months at US$1,041.70.
Palladium rose 1.6% to US$780.4.
Societe Generale sees robust demand for palladium auto catalysts from Chinese car manufacturers.
"The average palladium loading on a Chinese gasoline car is set to grow again as Chinese standards for light duty gasoline vehicles are implemented nationally," said Societe Generale analyst Robin Bhar.
"The demand outlook remains less compelling for platinum due to its exposure to diesel technology, which remains under scrutiny from the emissions scandal."