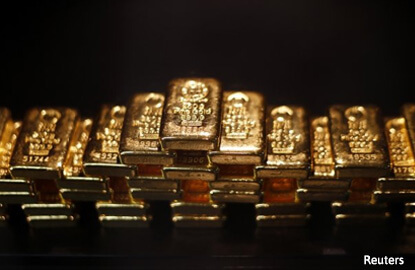 BENGALURU (March 8): Gold prices inched up on Wednesday, but remained near four-week lows hit in the previous session as expectations for a U.S. rate hike in March gathered momentum.
Federal Reserve Chair Janet Yellen last week said the central bank was poised to lift benchmark U.S. rates provided jobs and inflation data held up, comments seen as cementing plans for an increase at the Fed's March 14-15 meeting.
           
Investors are now awaiting non-farm payrolls data for February on Friday, as a key barometer of the U.S. economy.
"Gold has made a modest recovery this morning as early Asian buyers are sighted. Whether they are picking up gold at a bargain rate or are catching a falling knife remains to be seen," said Jeffrey Halley, senior market analyst at OANDA.
Spot gold had edged up 0.1% to US$1,217.2 per ounce at 0643 GMT. It marked its lowest since Feb 3 at US$1,213.6 an ounce in the previous session.
Bullion is highly-sensitive to rising U.S. interest rates, as these increase the opportunity cost of holding the non-yielding metal, while boosting the dollar in which it is priced.
"Gold will likely trade in a narrow band, between the US$1,210 and US$1,220 levels, leading up to the non-farm payroll data and will exhibit a declining trend going into the Fed meeting," said Jiang Shu, chief analyst at Shandong Gold Group.
However, he said there could be a short-term upwards correction, if the payroll data was not as strong as expected.
"(But) if the numbers are positive, prices could jump below US$1,200," Shu added.
Spot gold may stabilize in a support zone of US$1,210-US$1,213 per ounce and then bounce towards a narrow range of US$1,219-US$1,223, according to Reuters technical analyst Wang Tao.
            
"We still see specs using dips to build inventory, however we may see some nervousness creep into the market should we test support at US$1,210 and open up US$1,200," MKS PAMP Group trader Sam Laughlin said in a note.
Jeffrey Gundlach, chief executive officer at DoubleLine Capital, said on Tuesday he expected the Fed to begin a campaign this month of "old school" sequential interest rate hikes until "something breaks", such as a U.S. recession.    
In other precious metals, silver edged down by 0.1% to US$17.47 per ounce, after touching US$17.42 earlier in the session, matching the low last hit on Feb 6.
Platinum inched lower by 0.3% to US$956.95 per ounce. The metal hit its lowest since Jan 20 at US$954 in the previous session.
Palladium eased 0.2% to US$770.43 per ounce.